I've been to the Manchester Christmas Markets for the best part of a decade, having reviewed the festive extravaganza on my blog for the last two years in 2020 and 2021, and I always get excited to see which stalls have returned for another year, and who's the next viral sensation.
This year, instead of just one annual visit to the markets, I've been every single week since they opened on November 10, eating and drinking my way around the markets to find the best value and most delicious stalls.
Now in it's 24th year, there are over 220 stalls set across nine sites throughout the city centre attracting Mancunians and visitors alike to the city in their thousands to fill up on the fantastic festive treats on offer.
Piccadilly Gardens has been transformed into a ski chalet market for the Winter Gardens – complete with a double tipi, with more to be discovered across Market Street, Cathedral Gardens, Exchange Street, New Cathedral Street, St Ann's Square, Exchange Square, The Corn Exchange and King Street.
Manchester Christmas Markets are free to visit and run until Thursday, December 22. Most stalls open from 10am to 8pm, with food stalls operating from 11am to 9pm, Monday to Sunday. Here are my top picks of the food and drink offerings at the Manchester Christmas Markets 2022.
Oi Dumplings
Piccadilly Winter Gardens is home to Marsden-based Oi Dumplings, dishing out delicious Asian-style street food with a twist. Operated by Mollie Power and Maisie Davies, their rice bowls, dumplings and peanut fries have been extremely popular at the market.
Fun neon lights, Instagram-worthy branding and pink menu boards draw you in, but the delicious, photo-worthy food keeps you coming back.
New for Christmas 2022, the pop up has put their own twist on a dessert dumpling, which will set you back £7. Their chocolate dumplings come on a skewer with three dumplings book-ended by marshmallows drizzled in even more chocolate.
Panc
Manchester's very own Panc were named best hotdog at the markets in 2021, and they're a must-visit this year too, located just next door to Oi Dumplings in the Piccadilly Winter Gardens.
Panc pride themselves on a 'joyful approach to food' offering 100 per cent plant based burgers, hot dogs and wraps in brightly coloured buns. Whether you're a dedicated vegan or just want to post a funky photo to Instagram, a trip to Piccadilly Gardens' Panc is an absolute must this festive season.
I tried the £8 Vegan Festive Dawg, made with a grilled vegan sausage, honey glazed grilled onions, ketchup and mustard, served in a hot pink bun. I've tried vegan meat alternatives on a number of occasions and not felt it was quite 'right' but this was a remarkably convincing replacement and thoroughly enjoyable.
Crunch
Also at the Winter Gardens is, returning for another year, is Crunch, offering a Korean twist on the standard hotdog. They offer a selection of fried hot dogs – similar to the American corn dog – which can also feature cheese, be rolled in potato pieces, and sprinkled with sugar. Their unusual sweet and salty delights really are mindblowing. It's so wrong but so right – like eating a hotdog and a doughnut in one.
I'm a big fan of their 'potato half and half' (£6.50) which is half potato and half sausage corn dog, rolled in sugar before being drizzled with your condiments of choice. The cheese is insanely stringy and the dessert-style casing makes it a very interesting dish indeed. They're also frying up spiral potato twists on a stick, smothered in delicious Korean spices, and they almost look like a Christmas tree.
Porky Pig
Porky Pig has become a Manchester Christmas Market must over the years, famed for their Yorkshire Pudding wraps with queues down the street. But queues very much worth waiting in.
Porky Pig are one of Manchester Christmas Markets' busiest stalls, and they're back in their spot outside Selfridges on Exchange Square, serving up festive feasts for under a tenner.
The fact it can see over 1,000 customers a day on weekends is testament to the quality – they're a stall absolutely worth the hype.
Over the last few weeks I've tried out battered pigs in blankets, which cost £6.50 for two, complete with a pot of gravy, as well as the £10 carvery box, which includes a meat of choice and all of the trimmings inside a giant Yorkshire pudding and boxed up ready to eat or take away.
Clarkes Bar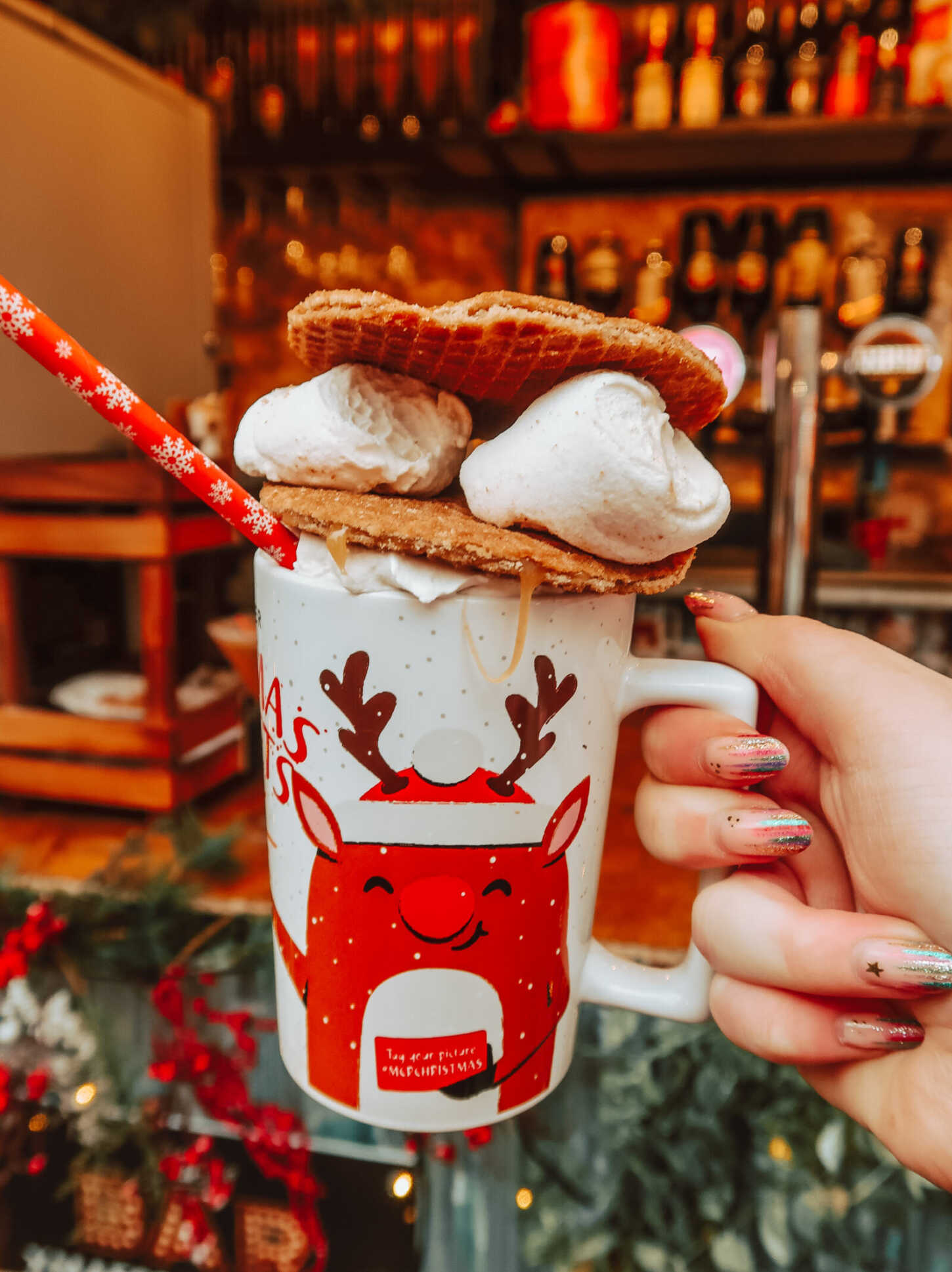 Just opposite Porky Pig you'll find Clarkes Bar, where you can order mulled wine, prosecco, cocktails and hot chocolate, as well as have a go on the karaoke machine.
The hut is run by the team behind Elsie May's ever-popular cookie dough stands, so of course, there are some surprises to be had here – including a cosmopolitan cocktail served in a Christmas bauble.
If you're in need of a winter warmer, though, the hot chocolates are a must. I've not had a chance to sample the Bailey's hot chocolate yet, but their £6.00 S'mores hot chocolate is to die for.
The creamy and rich hot chocolate has been topped with cream and a tasty camping treat made with Stroopwaffles and toasted marshmallows, which slowly melt from the heat of the beverage rising. It's a real festive delight.
The hot chocolates come served in the Manchester Markets 2022 mugs, which have a really sweet design this year. A £3 deposit is required for the mugs, but you can either keep it as a souvenir or return it for your pennies back.
The Mill Exchange
For mulled wine and other spiced beverages, like cider and rum, you'll want to visit The Mill Exchange, also in Exchange Square where you can get a range of fun flavours like gin and cherry mulled wine, as well as blackberry and apple, and raspberry mulled wine. Or perhaps mulled cider is more your thing?
Mixed with Christmas spices, you can get a small mug for £5.50 or go large for £7.50, with that £3 mug deposit which, like at Clarkes, you can return for your deposit back.
Mill Exchange have gone all out with the decorations and it's a really festive spot to shelter from the elements and have a warm before going off to explore what else is on offer.
Bratwurst
Almost every other stall at Manchester's Christmas markets is selling bratwursts, but for me, this is the only one worth your money. Head to St Ann's Square and you'll see the word 'Bratwurst' lit up in twinkling lights. Here, you can purchase a half metre sausage for just £6 – which is cheaper than most of the other, regular sized bratwursts at the markets.
You can either have the complete, intact, 50cm sausage whole, or chop it in half, doubling it up in the bun to make it easier to eat. I'd go so far as to say you can split it between two people, too, saving even more money.
Yard and Coop
Yard and Coop are a favourite lunch haunt of mine in the Northern Quarter anytime, so of course I had to see what festive offerings were being dished out at the Christmas markets, too.
This is their fifth year of festive markets in Manchester, so at this point, they really know what they're doing. This year, they're located on St Ann's Square, right next to the stall selling half a metre Bratwursts.
Their best seller so far has been the salt and pepper tray, but it's their Christmas Dinner Tray I'm truly obsessed with.
The £10 tray is filled with Yard and Coop's legendary buttermilk fried chicken served with chips, carrot and parsnip crisps, cranberry sauce and drizzled in homemade chicken gravy. It's salty, sweet, moist, flavourful and basically everything I love about street food.
The Strudel Man
Kaiserschmarrn – also known as scrambled pancakes – is an Austrian apres-ski delicacy and can be found at the very bottom of St Ann's Square near to the church. The sweet treat is made of fluffy shredded pancakes, made in a large pan and broken up as though scrambling an egg. They can then be topped with apple compote or custard for just £6. Be mindful that this stall is cash only, though.
A portion is approximately a 12 inch pancake shredded into bite sized chunks, with a generous pouring of custard, ideal for sharing – or not. I won't judge. This delightfully stodgey dessert is the ultimate comforting and carby treat to mop up all of the mulled wine.
If pancakes isn't your thing, The Strudel Manalso have apple and cherry strudel that's to die for.
The Cocktail Co
First arriving at Manchester Christmas Markets in 2018 was The Cocktail Co, who used it as an opportunity to trial their pre-batched cocktails, including their delicious hot apple pie tipple. From here, their Ready To Drink cocktails idea was born.
Now with a stall on New Cathedral Street, they're selling premium bottled cocktails that are ready to drink. As well as their £5 cocktails, which include Brambles, Cosmos, Espresso Martinis and more, you can now buy larger bottles to share with friends and family, and create gift boxes like the prosecco box or self care box, with prices from £25 to £45.
All of the cocktails are designed with no additives, are gluten free, vegan and have a 12-month shelf life – not to mention absolutely delicious – so they're always worth a visit.
Triple B
Eat New York is also back at New Cathedral Street with their Triple B stand, selling the biggest loaded bagels and dirtiest fries you've ever seen. The team are usually based on Bury New Road, in Prestwich, as well as every match day at Manchester City's Etihad Campus.
Triple B almost always has a queue, but it is worth standing in. They posted on Instagram after one particularly busy Saturday writing: "For roughly 8 hours we had a queue at least 20-30 deep at all times." Once ordered you'll wait around 5-10 minutes for food to be assembled.
At the markets, the Turkey Reuben is the one shoppers can't get enough of, made of carved turkey, stuffing patty, sauerkraut and swiss cheese and a huge wodge of pastrami, but for me, I love the fried camembert bagel, complete with a wintery slaw and port chutnet, as well as an entire wheel of camembert. The doorstop bagels are priced between £8 and £9.50 and are worth every single penny.