For me, date night makeup is all about soft, flirty makeup, with doe eyes and big lips. Innocent but sultry – not too much, but definitely making an effort. I picked up the Benefit 'Date Night With Mr Right' set (in a cheeky clearance sale for £6.50), which has handpicked four products to help you create the perfect date look.
In the set you get a They're Real Double The Lip Lipstick in Lusty Rose, Rockateur blush, They're Real mascara and Watt's Up highlighter. I also used a few old faithfuls and some extra Benefit products that were gifted to me by the team at Debenhams. Here's how I created the look.
I started by using the Benefit PoreFessional Pore Primer (green) on my nose and chin. This primer is designed to be used just where pores are an issue, rather than an all over primer. I went on to use the Benefir PoreFessional Pearl Primer (pink) which is more glowy and illuminating on the rest of my face.
I then used my Revlon ColourStay foundation (Ivory 110) and Collection lasting perfection concealer to create a flawless base.
Now, you all probably know my brow routine by now, but today we threw another product into the brow mix. Benefit's Browvo Conditioning Primer is an all in one serum that smooths and tames unruly brows and enhances the longevity of other brow products. I primed my brows with this before coating them in Natural Collection's brow gel and Anastasia Beverly Hills Dipbrow Pomade. To set, I used the Benefit Ready, Set, Brow clear brow gel.
I created a soft smokey look on my eyes using the Anastasia Beverley Hills Modern Renaissance palette. Using mostly Warm Taupe and Antique Bronze I created a nude smoked lid. I dusted Love Letter on the lower lash line for a subtle pop of pink (to make the boys wink…)
I finished off my eyes with They're Real mascara, a jet-black formula that provides luscious long lashes. The unique domed tip allows you to separate and fan out lashes to achieve that doe-eyed, fluttery look.
I contoured with my trusty Benefit Hoola bronzer then used the Rockateur blush. I'm a little bit frightened of using blusher, but Rockateur is a natural shade that just adds a rosy flush. To highlight, I used the Benefit Watts Up stick highlighter. I've used High Beam before, but Watts Up was a new one for me. It's a gorgeous champagne colour, but it's only a mini so it was difficult to apply to a larger area.
To complete the look I used the Benefit They're Real Double The Lip lipstick, which has a teardrop applicator that's great for creating sharp lines. It provides a bit of an ombre lip look to make lips look fuller (and more kissable!)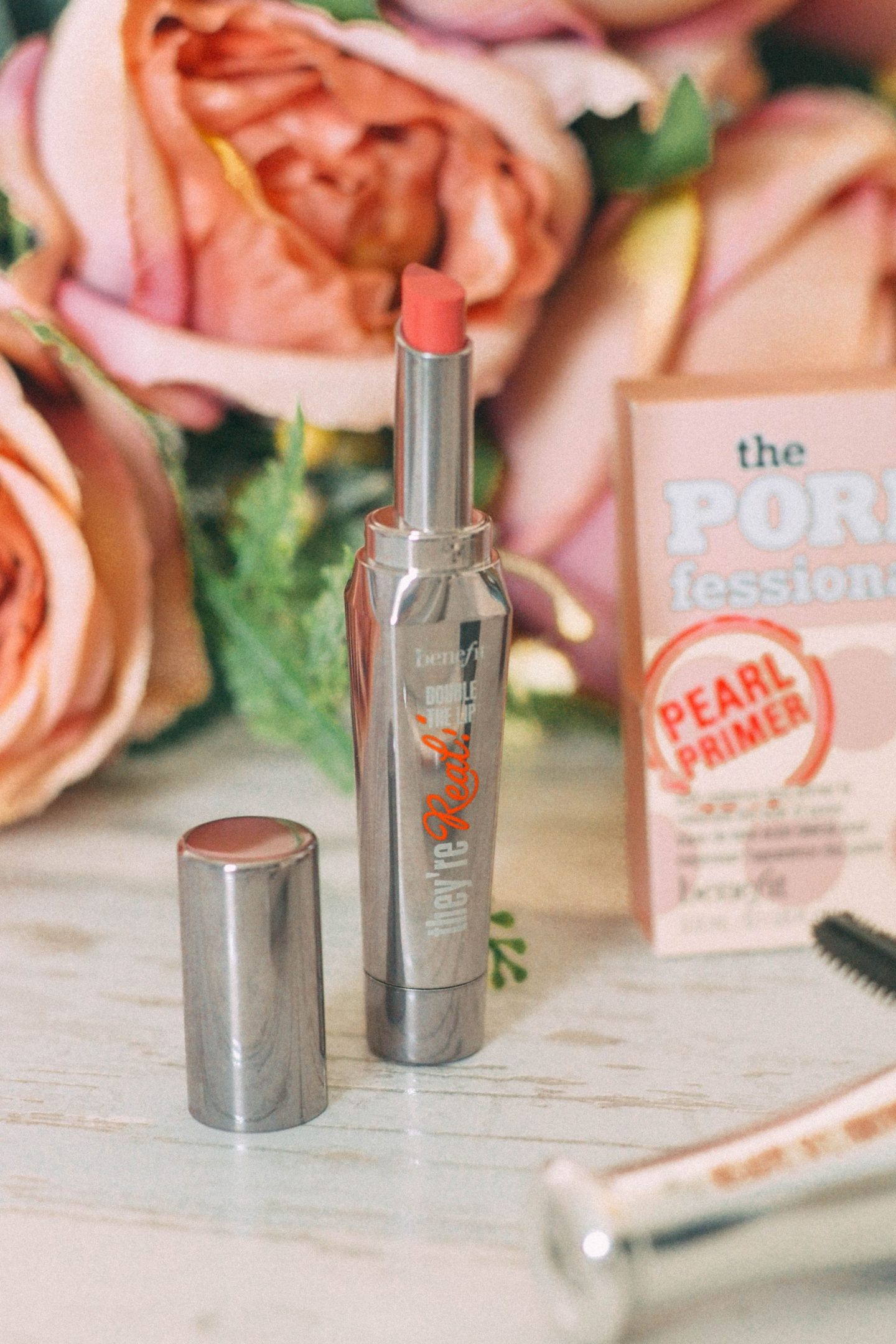 And here is the finished look!