I'm a Journalism student and my boyfriend, Jake, is an apprentice mechanic – safe to say we ain't rolling in cash. We did, however, just go to New York – as I'm sure you've all seen all over my social media.
When the opportunity to go to New York came up, there was no way I was going to say no. I've been planning this trip since February 2018, the minute I got back from Florence.
Peoples' initial thoughts on New York is bright lights, big city, big ol' price tag with a gigantic dollar sign. On the face of it, it is, but you can totally still enjoy New York when you're a skint young couple desperate to see the Big Apple.
Our flights, accommodation and transfers were all organised by my university, which came in at around £700. This included economy tickets with Virgin Atlantic, which, by the way, is the most hospitable and comfortable flight I've ever had, and our stay at Hotel Pennsylvania.
Hotel Penn is on Broadway, opposite Madison Square Gardens and rakes in an appealing score of 2* out of 5* on Trip Advisor. I mean, we got there and the leg of the sink fell off in my hand and the whole room had a creepy horror movie vibe about it.
That being said, I'd stay there again in a heartbeat. It's cheap, central and dog-friendly, so when you book on the same week as the American Kennel Club Dog Show like us, it's bloody full of dogs and it's great. You'll be spending 99.9% of your time outside of the hotel, so who cares if it isn't as cushy as the IBIS Budget in Salford Quays? It's a bed to sleep in, and that's all your little legs will care about after 30k steps a day.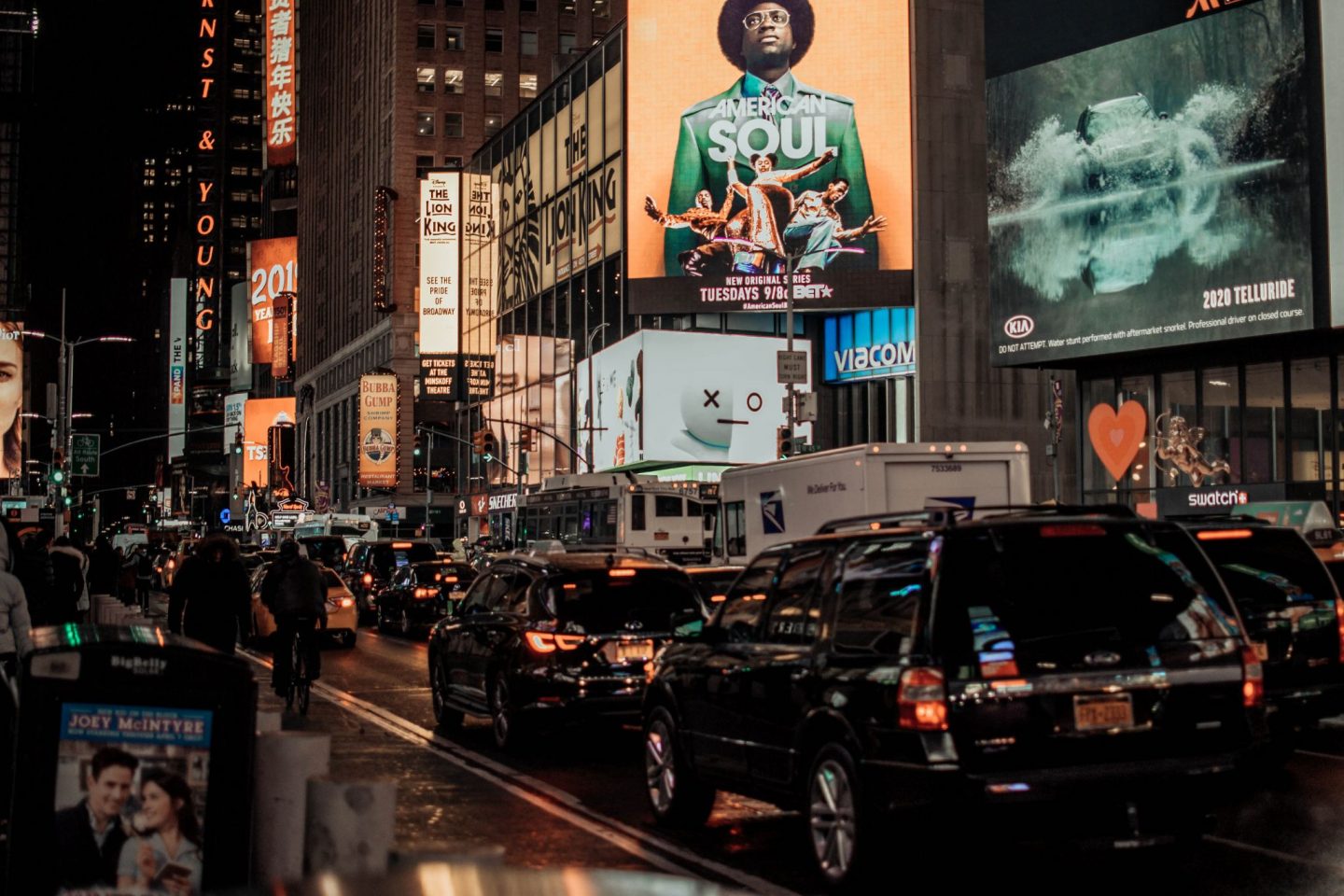 Wednesday
We arrived at our hotel around 3:30pm, exhausted and bleary eyed, since we had been up since 4am and our body clocks felt like it was 8:30pm. After checking in and unpacking some bits, we took a wander around the immediate area to get used to our surroundings. During that period we fell into a McDonalds and ordered a mass of food because travelling makes me hungry. After stuffing my face with buttermilk chicken tenders (that chicken selects to us Brits) and cheesy bacon fries, we took off in the direction of Times Square. The hustle and bustle of New York City was quite overwhelming, and Times Square is a lot to take in when you're jetlagged and been travelling for almost 15 hours.
We started to head back to the Hotel, popping in and out of shops on the way, from the Disney shop to Dr Martens before crawling into bed and falling asleep before our heads hit the pillow.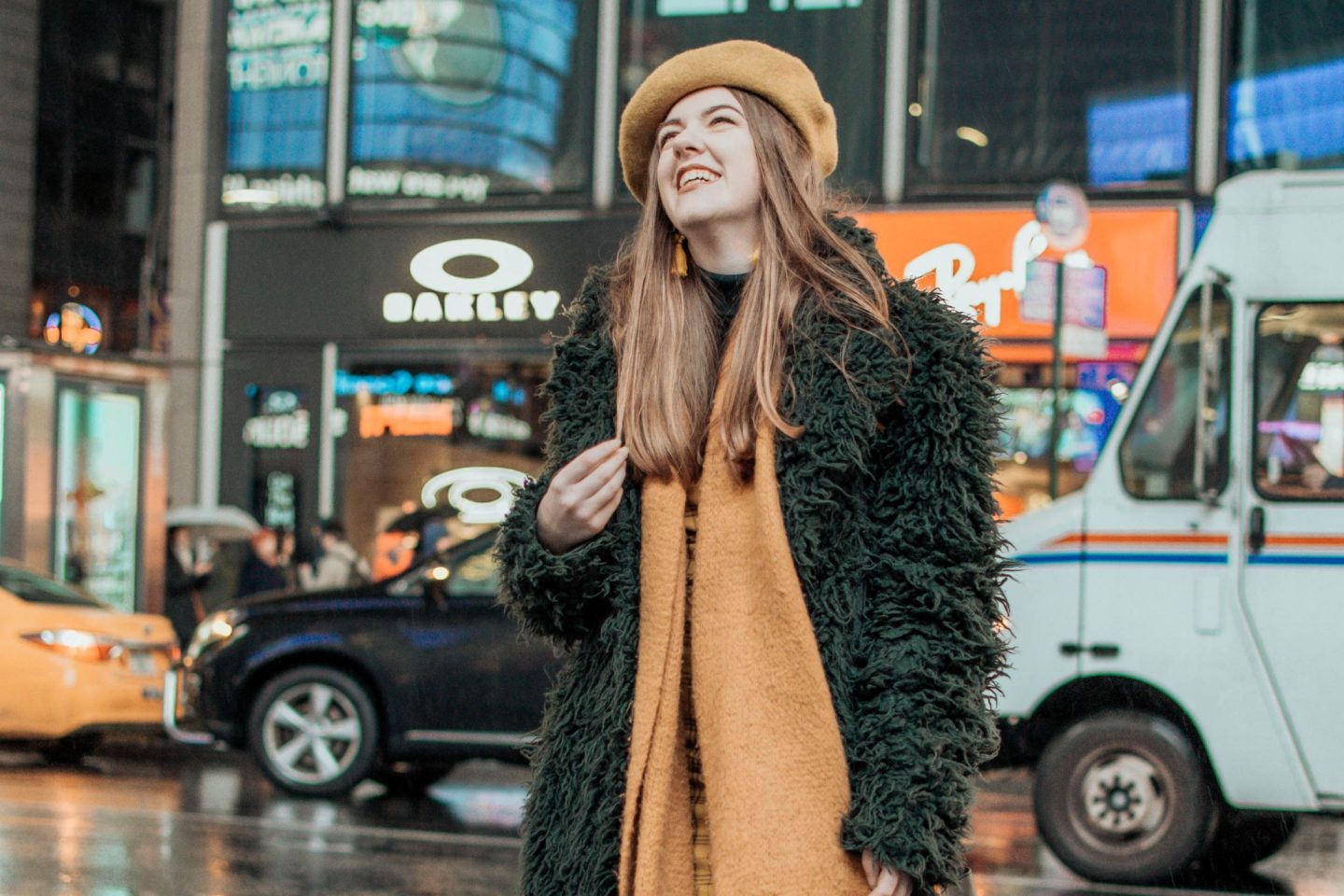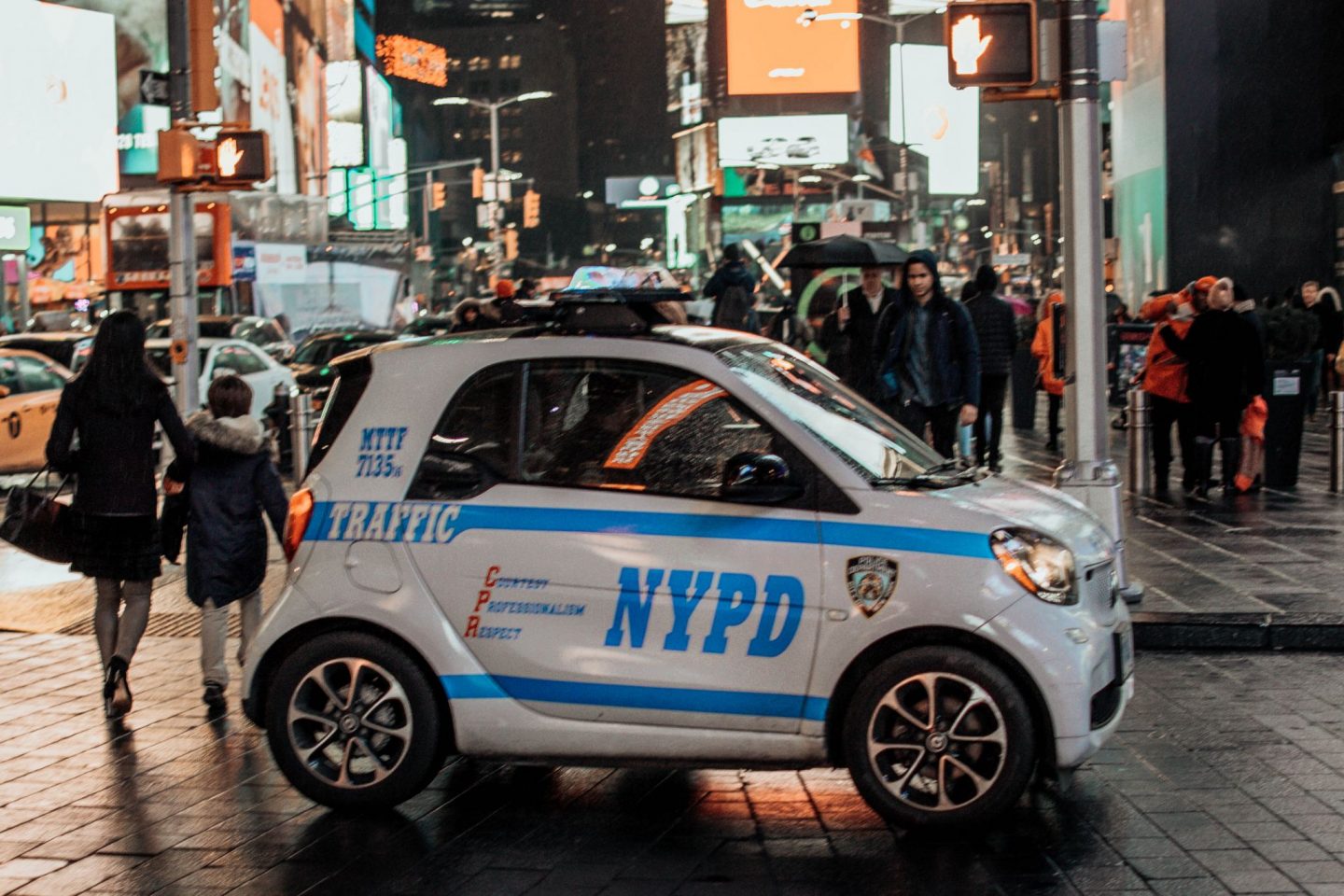 Thursday
On our first morning, we woke up around 6:30am and took advantage of the jetlag. Getting up early means you can fit more into your schedule. It was a chilly morning, so we wrapped up warm and walked up 7th Avenue to Central Park. After a bit of aimless wandering, Jake and I were chatting away when a little old New Yorker stopped us and asked where we were from. He got a bit excited when we said we were from Stoke-on-Trent, and began telling us where to find the John Lennon memorial and Lennon's old apartment. He told us where to find the Cherry Hill (F.R.I.E.N.D.S) fountain and also directed us to the Bethesda Terrace where the ceiling tiles were made in The Potteries. You can take the girl out of Stoke, but somehow, it will always follow her.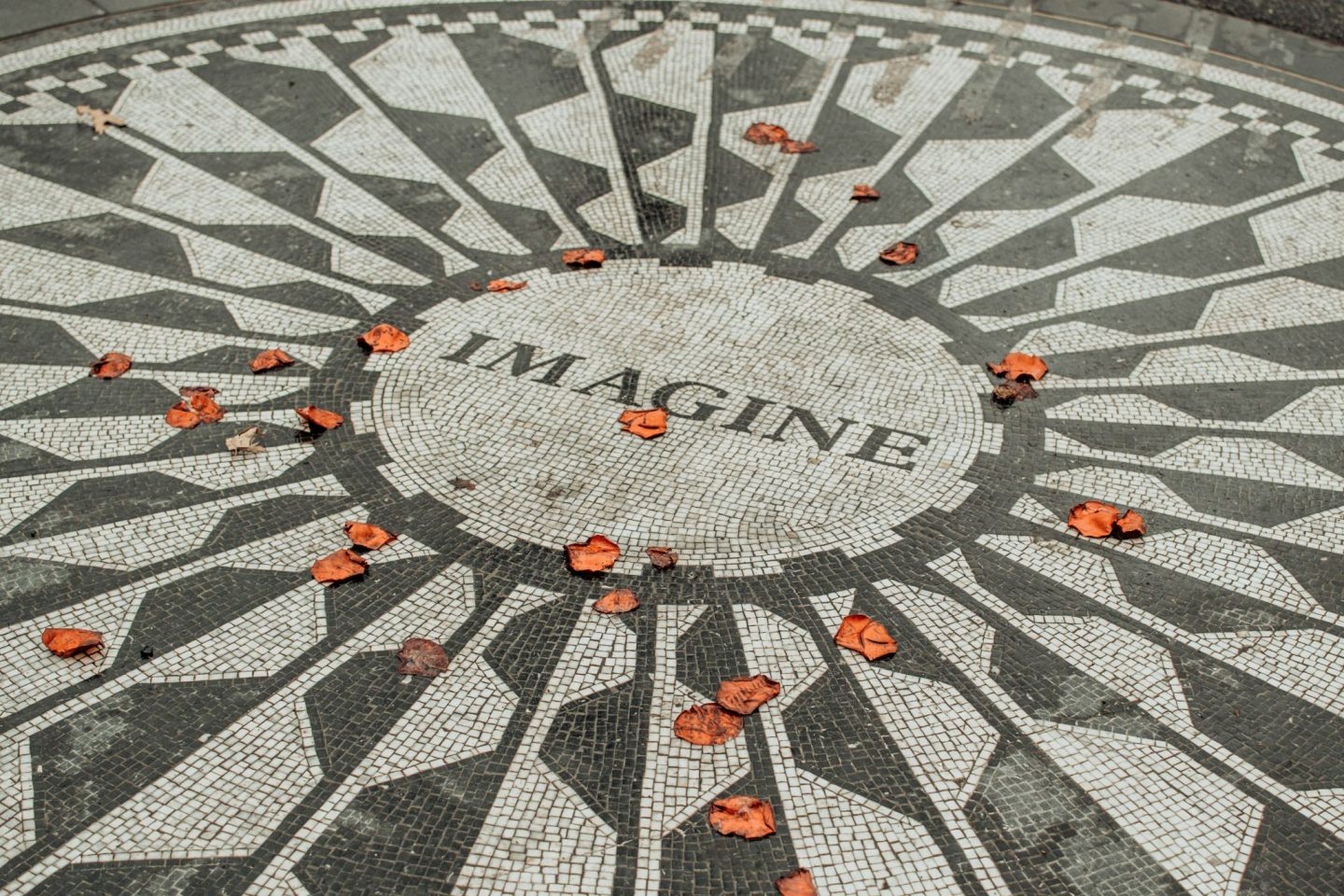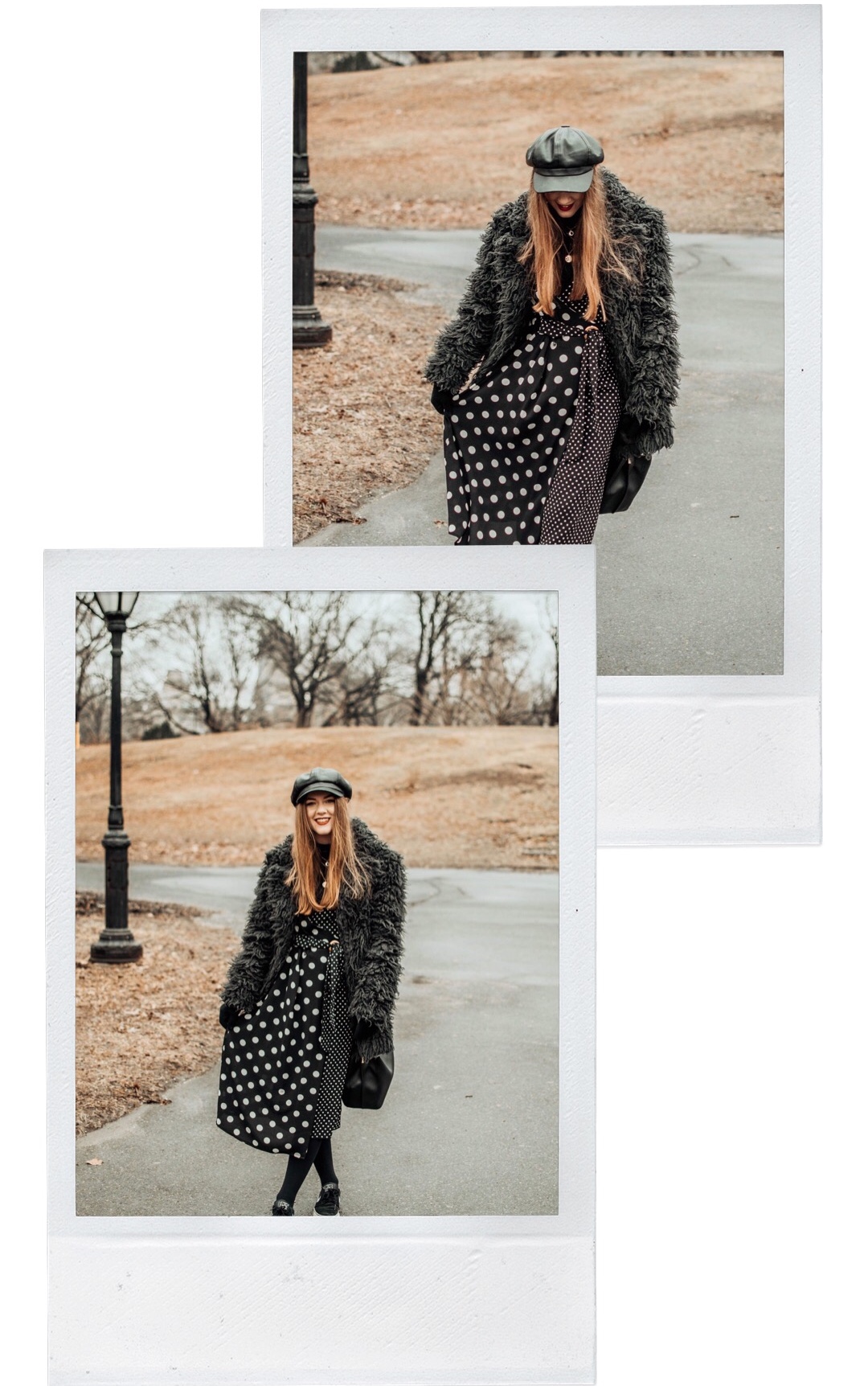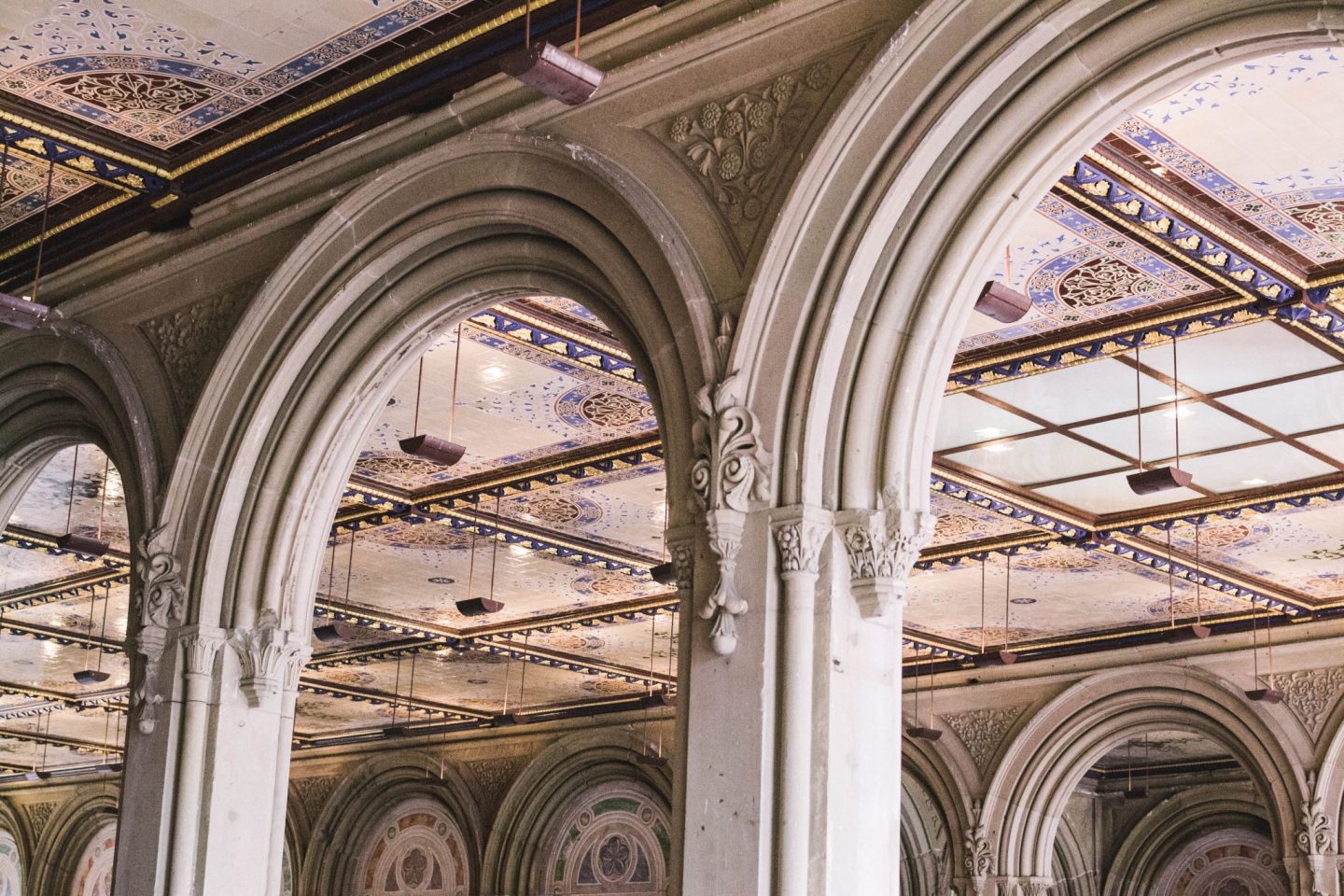 We exited Central Park on 5th Avenue on the Upper East Side (xoxo Gossip Girl). As we turned the corner onto Madison Avenue, a swarm of photographers gathered outside Ralph Lauren. I was desperate to see what was going on so we hung around for a little while and that's when Rainey Qualley came through the doors of the store in a slinky black dress. I had completely forgotten it was fashion week. I've never grabbed my camera out of my bag so quickly. I snapped some pictures before moving on and finding two more gorgeous models posing for pictures.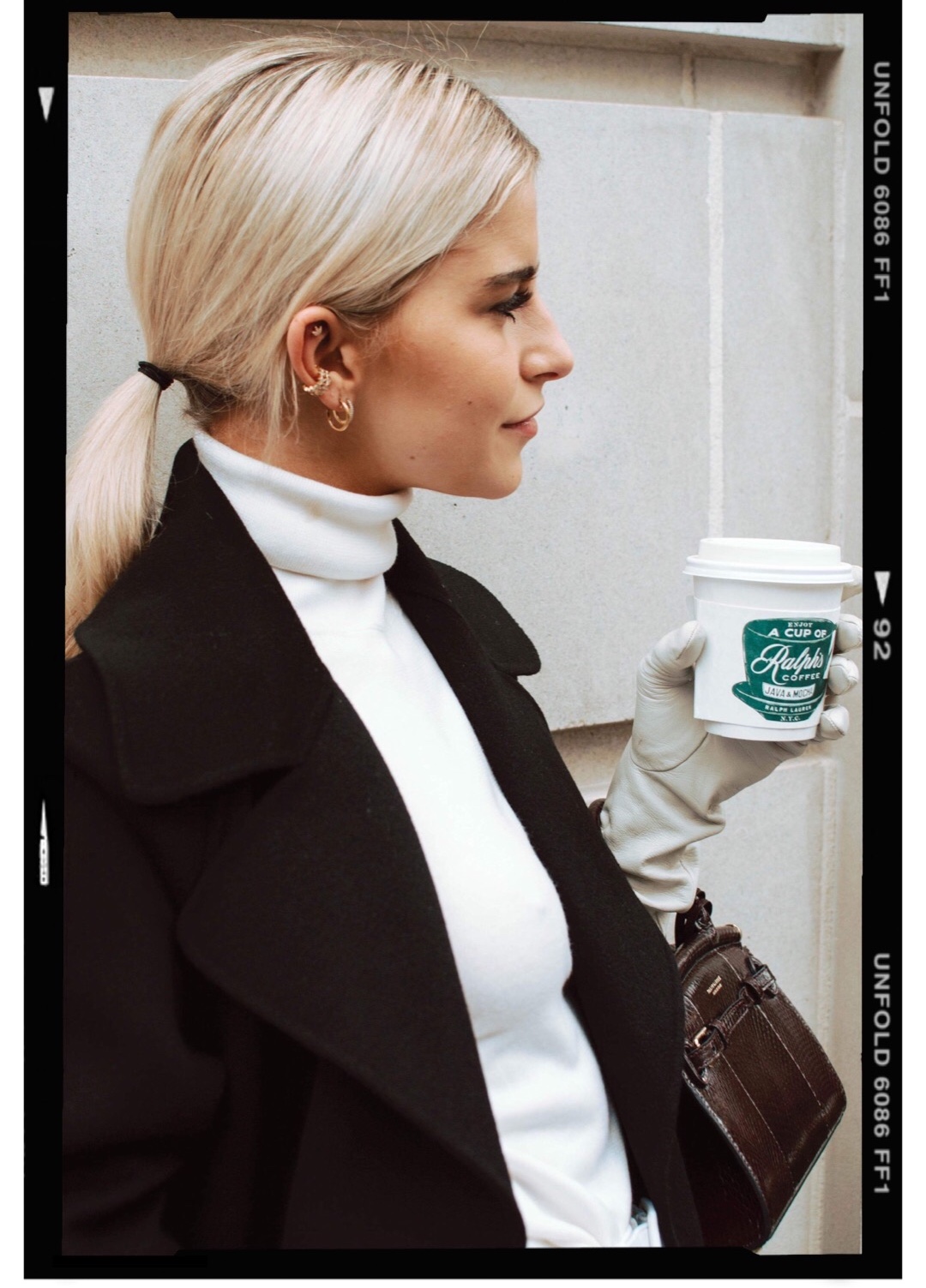 Jake and I were stopped by the Wall Street Journal magazine and asked if we would pose for a picture ourselves because "we looked cool" – can I put that in my IG bio?
After a bite to eat, we headed to Grand Central Station. I didn't spot Serena Van Der Woodsen, but I did manage to get some photos of Gwen Van Meir, Scarlett Leithold and Hanna Edwinson modelling some Sherri Hill dresses in the terminal.
I grabbed an iced chocolate from a Pret-a-Manger and Jake ordered himself a coffee and we spent a few minutes at Bryant Park, admiring the ice-skating rink before going back to the hotel to rest our legs for an hour. One of my biggest NYC travel tips would be head back to the hotel around 3pm to just take some time to rest and relax.
We wandered back up to Times Square to stand on top of the iconic red stairs and just took everything in. New York is such a beautiful city with so much to do, and I don't think either me or Jake could really believe we were there, together, for our three year anniversary. It all felt a little bit like a dream.
Friday
On Thursday night, I wrote a list of everything else we wanted to do before we left, and figured out the best order to do it in. On Friday, we did everything in the Downtown area, and worked our way back up the island having a no-spend day. We didn't have to pay entry anywhere; and just bought ourselves food and drinks throughout the day. The first thing we did was buy a Metro card, and a lady in the station helped us pick the right card (in hindsight, we should have got a cheaper one, but before we left we gave our cards to a lady about to purchase one, and there was about $15 left between the two cards.) When buying your Metro card, work out roughly how many trips you will make an allocate $3 for each trip.
The metro stopped right by the One World Trade Centre, so we began the slightly rainy day at Ground 0. Words cannot describe the emotions felt at this beautiful memorial. You really have to be there and see it for real to get that feeling. As we were leaving, we spotted a single white rose slotted into one of the names on the edge of the memorial.
From here we walked to Century 21 and then continued on to Wall Street. We stopped at the cutest coffee shop (Joe and the Juice), before then heading to the Brooklyn Bridge. You will find yourselves constantly trying to find coffee shops just so that you can sit down for five minutes because NYC is the ultimate leg workout. Oh, and if you were wondering where Jake and I stopped for food and drinks, there's a whole separate post here.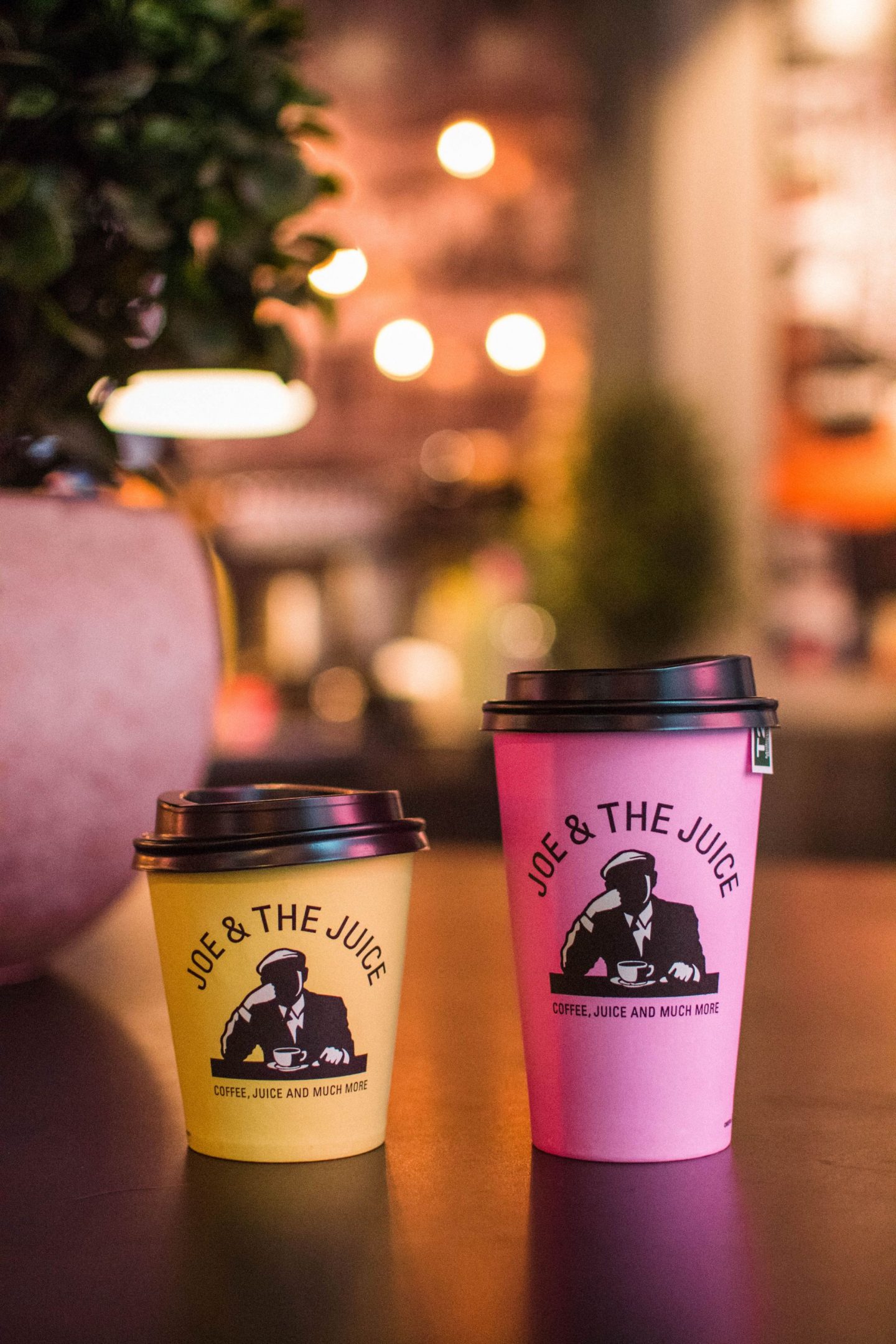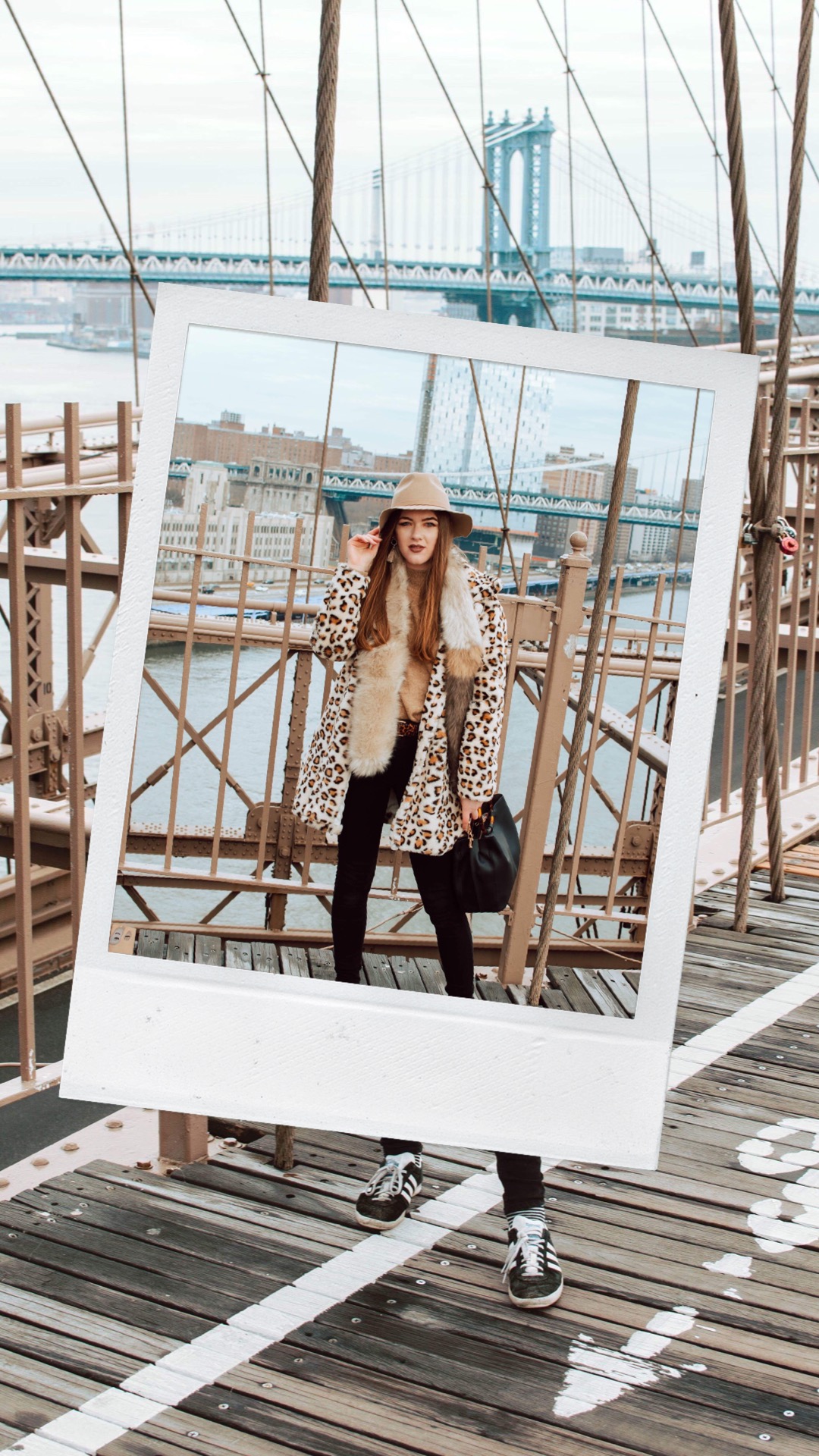 We walked to the Washington Square Arch via Chinatown, before going on a hunt for the F.R.I.E.N.D.S. apartment. The only things we spent cash on was food and our Metro card, so that left us plenty of money to go and do all of the touristy things on Saturday.
Saturday
People will usually recommend you do the Empire State building in the day and the Rockefeller at night, so that you get to see both breath-taking views of the city. If you can look up and see the top of the Empire State, it's a good day to go – if it's foggy, there's not point. I also recommend buying tickets online to avoid queues! The view from the Empire State is so beautiful, and the sun glistened off the Hudson River and you can see the city in all its glory. It was pretty blooming cold up there though, so after snapping some photos we hopped on the subway to Downtown.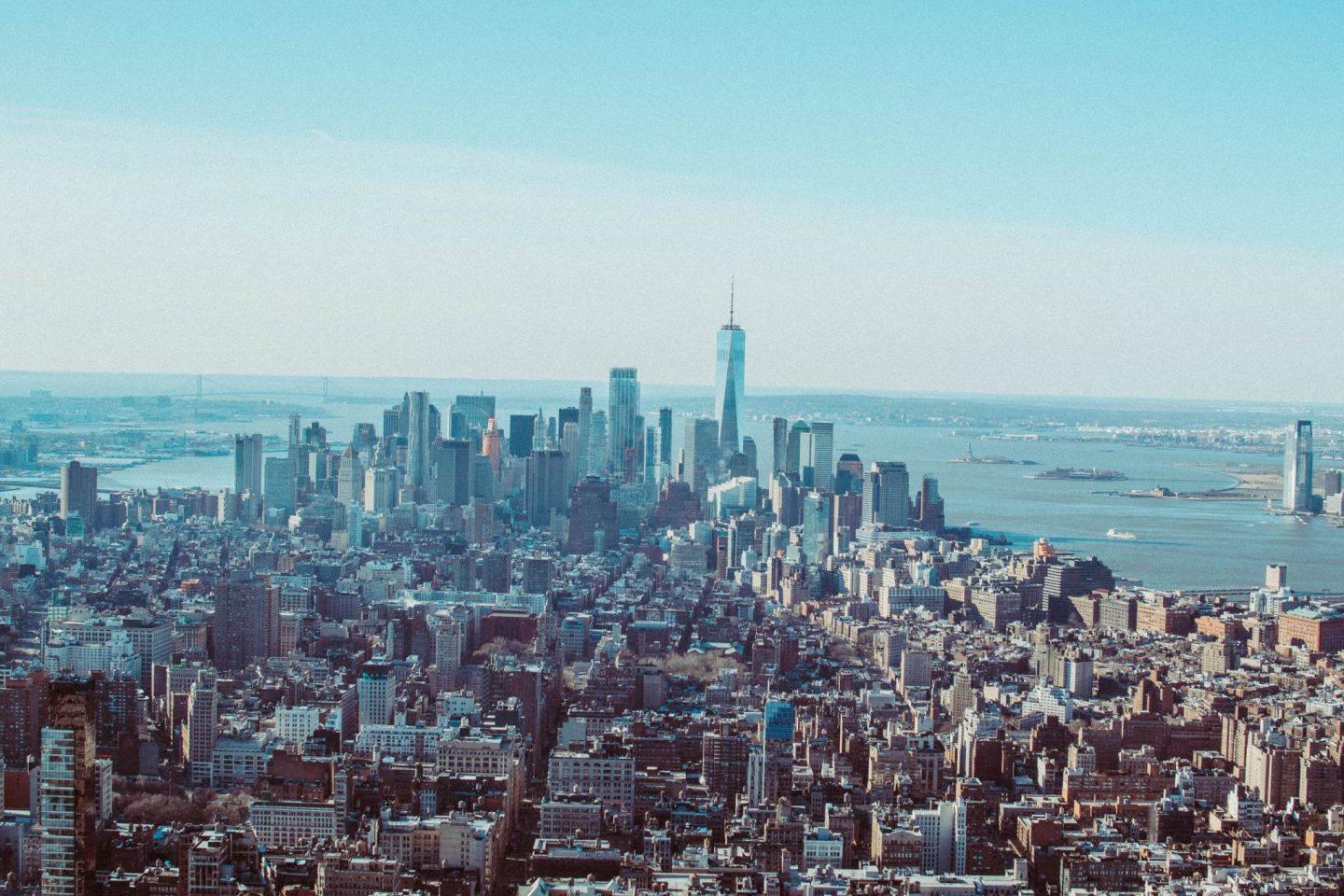 We had planned on using the free Staten Island ferry to sail past the Statue of Liberty. A salesman collared us in the hopes to recruit us onto his $35 ferry, but managed to let it slip that if we walked to the harbour, we would see the statue from a similar distance to the Staten Island ferry. It's about 2 miles off-shore, but hey, once you've seen it, you've seen it.
By now, the wind was picking up, so we hopped on the subway back up towards Central Park to go to the Museum of Natural History. What I didn't know is that their general admission works on a donation basis. Jake and I offered to pay $20 each, but the cashier said we were welcome to pay less if we wished. We paid $15 each, but if you wanted to pay less, you absolutely could. We spent the next few hours pointing out members of the Night at the Museum cast and admiring the stunning exhibits.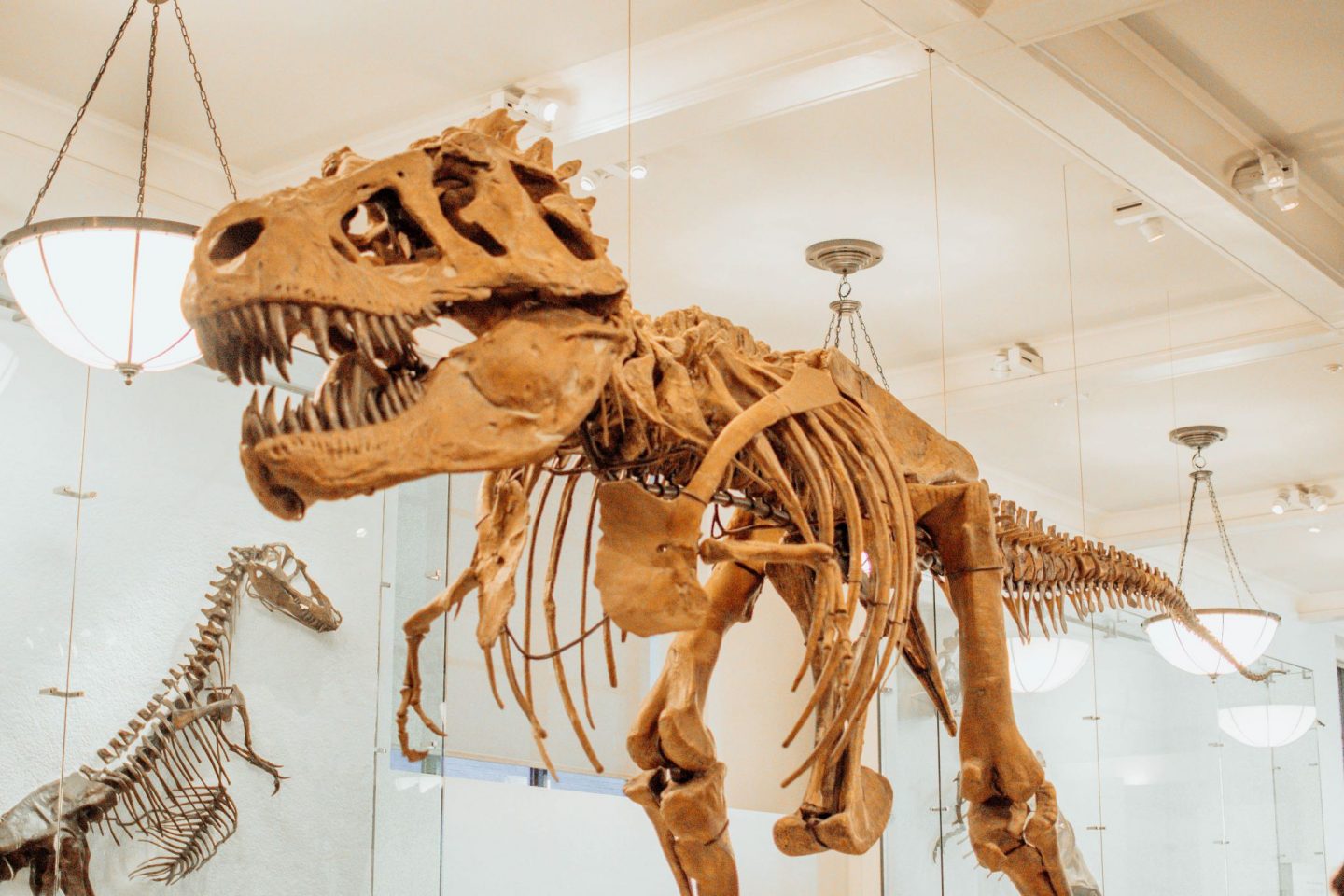 From here, we grabbed a hotdog and a pretzel from a street cart and munched as we walked to the Rockefeller centre. Our slot was booked at 5:10pm, with sunset at 5:25pm. When we arrived we were put through security and made to watch a 12 minute video clip. We were antsy that we were going to miss the sunset, but when we finally got to the Top of the Rock, the sun had just set, leaving behind a stunning orange glow behind the illuminated skyline. Jake wrapped his arms around my waist and I could have stayed on top of that building forever if those moments could have lasted a lifetime. I don't think any view will beat the Top of the Rock at sunset.
Sunday
On our final day, we packed our bags and checked out, leaving our cases in a locker until we were due to leave at 3pm. We used our Metro card to get to the top end of Central Park to walk around the Jacqueline Kennedy Onassis Reservoir before exiting on the Upper East Side to grab a Dunkin' Donut and a hot drink. On the Subway back, we gave our Metro cards to a local, who seemed so made up and offered to pay for them, but we didn't need them and I think it made her day. If you do have a bit of cash left on your Metro card before you leave, it's a nice act of kindness, which could just inspire someone to spread the love too.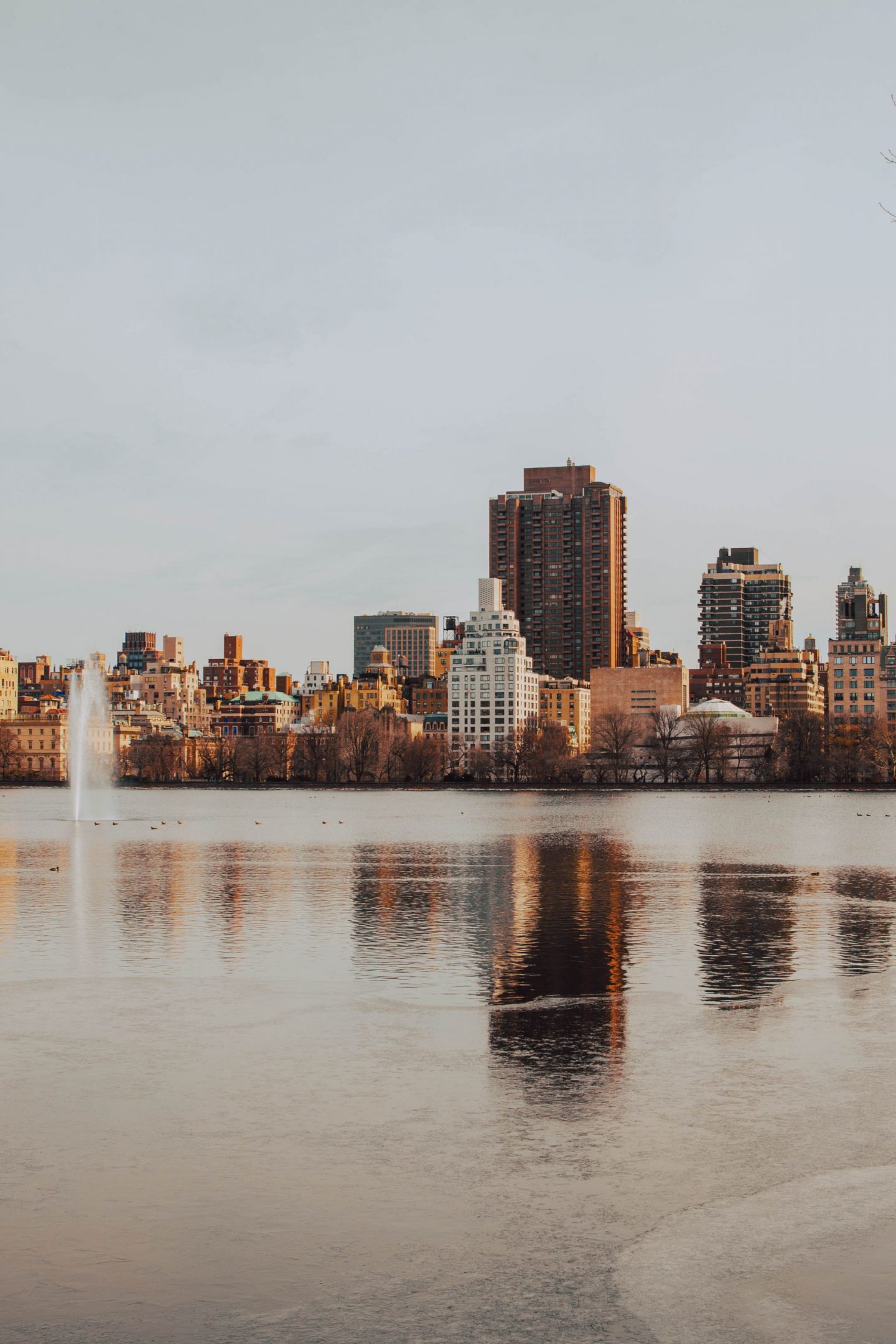 New York City, you have my heart, and I would return in a heartbeat. I'd love love love to intern over there, or just go back for fashion week. Over the four days, Jake and I spent less than £400 each, and could have easily done it cheaper if we wanted to. I thought I would spend a lot more, but you find that a lot of the stuff you want to do is free.
Our biggest spends were the Empire State and Top of the Rock, as well as our Hooters bill. You could save even more money by only doing one of the two buildings, and if that's what you decided I would definitely go with the Rockefeller. You can buy tickets that allow you to go up once in the day and once at night to get the same two views; and you can see the Empire State building too.