Some of you may think that that title sounds dramatic… clickbait-y, even. But, it's not.
As an acne sufferer, I have a love-hate relationship with skincare. What works for me one week makes me break out the next. Whilst I have a few trusty products (I'm looking at you St. Ives blemish-fighting exfoliator), I've never really come across a brand where I fall in love with the entire range. That is until I became a Dermalogica #Skinfluencer.
When I arrived back from New York, my gifted Dermalogica box was waiting for me, and I've been using their five skincare heroes religiously ever since. I think it's even easier to fall out of your skincare routine when you don't love the products, so when you find something that works and leaves you feeling great, it makes that time of the day more exciting and enjoyable.
Dermalogica has revolutionised my skincare routine, and although I do love my 'regular' products, this fab five have really helped my skin out of a rough patch.
Dermalogica PreCleanse
This little beauty is step one of two of your double cleanse. Essentially, your first cleanse scratches the surface, and your second gets deeper into the skin. The PreCleanse is a beautifully citrus fragranced oil based cleanser. One pump is more than generous and as I massage it into my face, I can not only see my eyebrows melting before my very eyes, but I can feel the grime working its way out of my pores.
Despite having oily skin, this product melts away the excess sebum produced by my skin and even tackles my stubborn mascara – anyone that wears BadGal BANG will know what I mean.
After around a week of using this product religiously with my other Dermalogica products, I noticed a huge difference in my skin. As a past acne-sufferer, I have always had a bit of a rubbish relationship with my skin, but I was literally glowing. I was going out and about with no makeup on and my skin was the clearest I've seen it since I was about 10 years old.
Now, even when I'm not doing my full skincare regime, I will always use this to take off my makeup.
Dermalogica Special Cleansing Gel
The Special Cleansing Gel is your step 2 of 2, which gets much deeper into the pores to remove toxins and impurities.
I use a small amount of this on a damp hand and lather it between my fingers before massaging my face in a circular motion, concentrating mostly on my t-zone and acne-prone areas to avoid a breakout.
This is a really gentle cleanser and leaves my skin feeling fresh and clean, without feeling like it's been stripped. This and the PreCleanse are a match made in heaven. They have left my skin looking mega smooth and almost airbrushed at times!
Dermalogica Daily Microfoliant
At first, this product was so bizarre to me. I am so used to using liquid/ready-made exfoliators but this one comes in powder form. To exfoliate, I use half a teaspoon of the Daily Microfoliant, which is a rice-based powder and add water. This creates a paste-like consistency with just enough grit to exfoliate. I do prefer a more abrasive exfoliator, but this one is gentle for everyday use.
The ingredients are designed to balance skin tone whilst smoothing and calming the skin. Even better, this exfoliator is both vegan and cruelty free, so no nasty microbeads either. I do think if I were to buy another Dermalogica exfoliator it would be one in a tube, though.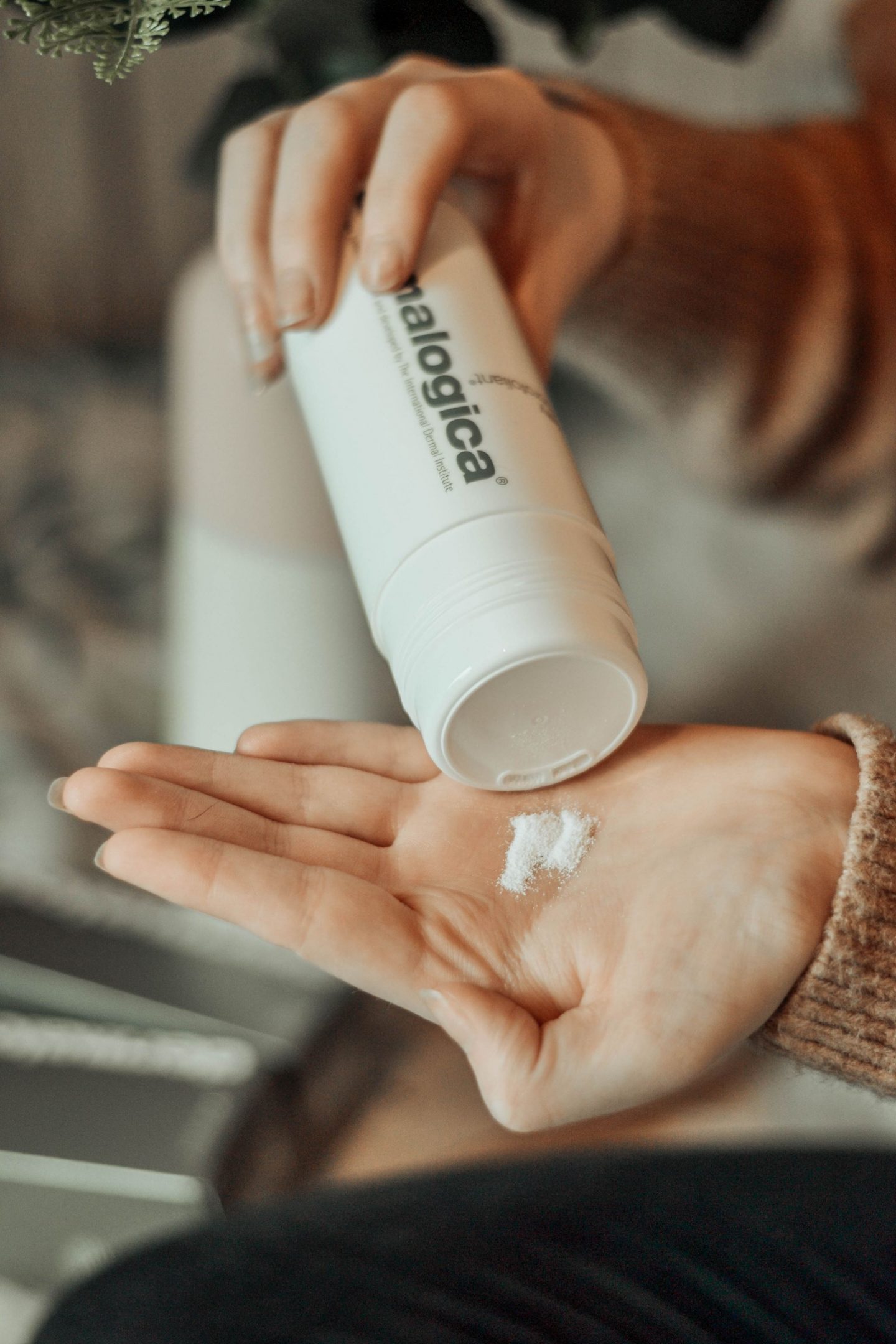 Dermalogica Skin Smoothing Cream
The description surrounding this moisturiser is a bit jargon-y. Terms like HydraMesh Technology and Trans-Epidermal Water Loss, whatever they are. However, the ingredients speak for themselves, packed with Hyaluronic Acid, Cucumber and Arnica, alongside antioxidant Grape Seed Extract and Vitamins C & E.
It is said to lock moisture into the skin for 48 hours, and it really does last a while. The consistency is thick enough to hydrate and moisturise, but doesn't leave my skin greasy, which is really important for someone with oily skin. If it did, my makeup would slide off my face faster than the PreCleanse could remove it for me.
Dermalogica SkinPerfect Primer
This all-in-one product triples up as a primer, sun protection and anti-aging treatment. It feels like velvet as you smooth it over your skin, instantly blurring pores and making skin look visible smoother. Dermalogica call this the 'soft focus' effect. It provides the perfect base for flawless makeup application.
Out of all five products the PreCleanse is 100% my favourite, and I would definitely repurchase this myself. I truly love all of the products. Howver, due to being a luxe brand with a hefty price tag, I wouldn't be able to upkeep the regime long-term. I am incredibly lucky to have been gifted these by Dermalogica. After using these all together for a few weeks my skin has looked amazing, smooth and glowy. I am so excited to work these into my regular routine.