If you saw my 'What I got for Christmas' vlog, you'll have seen I got quite a lot of Revolution make up to play with.
Put that with all of the lip products I opened in my Revolution beauty advent calendar (lip edition) and I had almost everything I could ever need from Revolution.
I decided to do a full-face look using some of my new products so that I could get a feel for them and see what my first impressions were.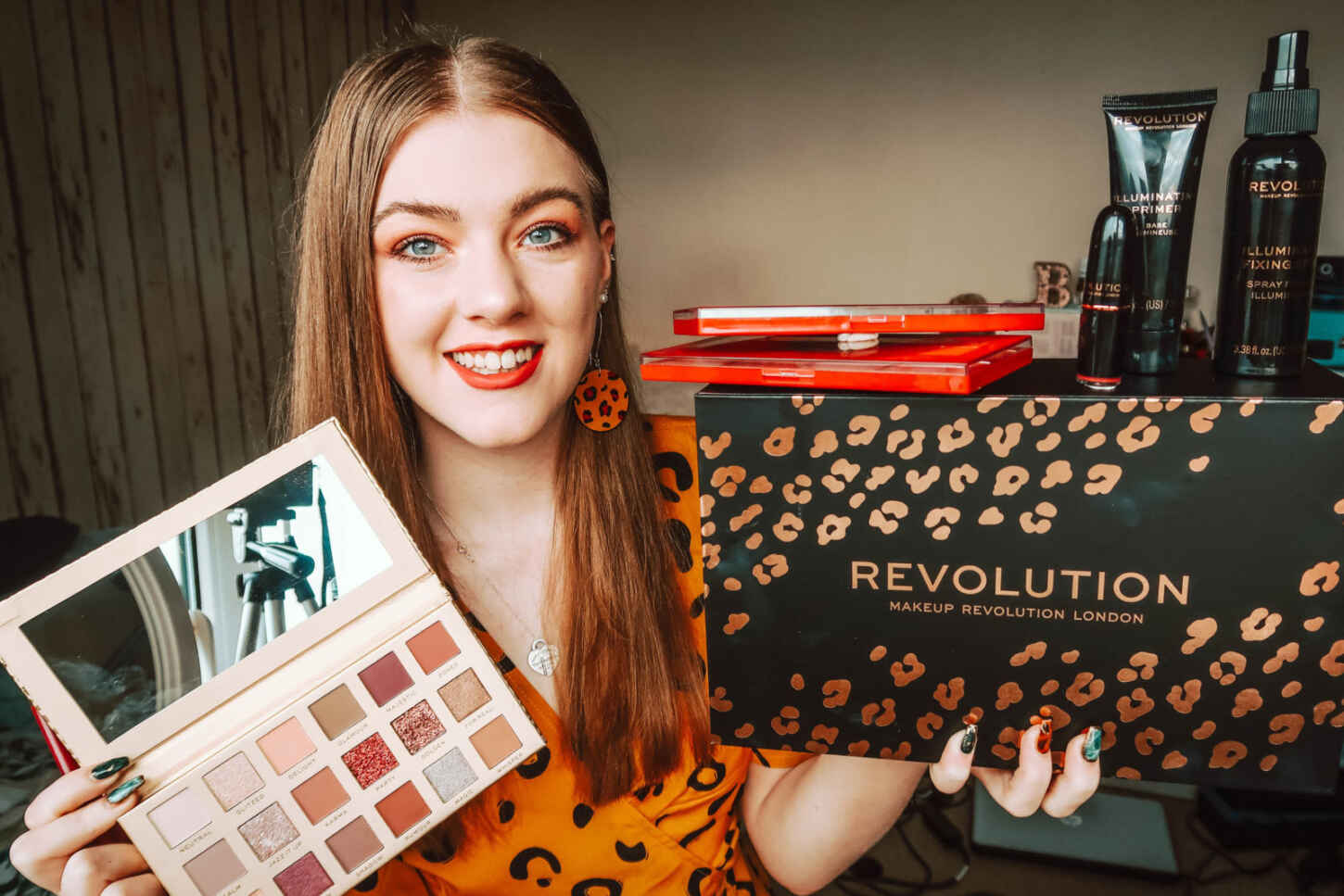 You can watch the video below, where I chat about each product and swatch most of them.
But I just wanted to do a quick round-up of the products I used. I've really struggled to find some of them online, but I've linked matches to what I was able to find.
Inside the beauty box there were five palettes. This included a contour, blush and three shadow palettes. I also had one blush and highlight palette from a few months back.
The contour palette is highly pigmented and I only touched it lightly with my brush before getting a face full of bronzer and having to blend for my life. I even used the lightest shade! You only need a tiny amount of product when it comes to Revolution, which I love.
My favourite palette –bought by my mum – is the Revolution Pro New Neutral shadow palette. This retails at £12.00 in Superdrug and features 18 incredible shades. There are 11 neutral mattes, sitting alongside four shimmers and three pressed glitters. This palette is amazing for a night out look, or even a date night, with Valentine's day coming up. In the video I use the pressed glitter 'golden' on my eyes.
Also inside the box was an Illuminating Primer, which is super light and gives a slight dewy glow beneath foundation. You can really make our skin pop by using the Illuminating Fixing Spray once you're look is complete.
Instead of my trusty Anastasia Beverly Hills Dipbrow pomade, I used a Revolution gel pencil, which really glided on so softly and left me with natural, fluffy brows – one thing that will be huge in 2020. Mark my words.
I also received four makeup brushes, best used for eye makeup. My favourite has to be the fluffy blending brush – brilliant for laying down your shadow over the eye primer.
My mum also picked me up a Revolution Pro highlighter palette, containing three shades – an icy shade, a gold and a champagne. This is just £6 and looks gorgeous under the lights. I used this to highlight my inner corners, across the bridge of my nose and cupids bow. It's a great every day highlighter if you don't fancy using you're high-end makeup.
Finally, we come onto lip products – and there are tonnes. 27 to be exact. I received 24 of these in my advent calendar (which I ripped open on day one because I have no self-control), and three from the beauty box Jenni bought me.
These include lip liners, liquid lip colours, glosses, glitter glosses as well as matte and cream lipsticks. I swatch them all in the video below – and there are only the odd two I wouldn't wear. I wore the matte lipstick 'Passion' in this video, and continued to wear it throughout the day and it felt great and wasn't dry at all.
You can watch me do my makeup, give me brief opinion and swatch allllll the shades in my YouTube video below (and don't forget to subscribe hunsss).