AD – this blog post features press samples – all views are my own
Typology is a Parisian-based brand launching in the UK very soon. I was lucky to get my hands on some of their products ahead of the launch, and I've been genuinely thrilled with the results.
I've suffered with problematic, oily, blemish prone skin since I was about 10 years old. I was under a dermatologist in my teenage years for my under-the-skin bumps and acne scarring. Because of this, I had been used to taking a quite a medical approach to skincare.
After speaking with Typology about my skin concerns, they kindly sent me a range of suitable products alongside a 'prescription' for my skincare.
The prescription outlines a morning and evening routine, with how to use each product. It makes so much sense to think critically about skincare and not just use products that are convenient – like wipes. You have to nurture your skin to get the results you want.
Before I get into my latest skincare routine, let me tell you a little bit about the brand and their incredible ethos and dedication to sustainability.
Typology are dedicated to creating natural and concentrated products, using a high concentration of active ingredients for the best results. They even have a specific range of products that all have less than 10 ingredients.
Typology favours recyclable materials, with packaging consisting of recycled plastic, glass and aluminium. Aluminium is used for tubes as it can be re-recycled over and over.
The branding is absolutely gorgeous – and compliments what Typology stand for. Simple and effective skincare with no confusing ingredients and easy instructions – no nonsense skin routines.
Typology AM Routine
Solid purifying cleansing bar – nettle
This soap bar smells of eucalyptus and spearmint, which is super refreshing in the morning. This helps to cleanse the skin and regulate sebum secretion, which causes my oily skin. It creates a nice lather and my skin instantly feels less oily after using it.
Peppermint hydrolate
This acts as a toner to balance the skins pH level and purify the skin. I apply all over my face with a cotton pad, which also helps lift any residue dirt from my skin.
Peppermint is great for combination, oily or acne prone skin, as well as sensitive skin. Like the cleansing bar, it helps regulate sebum production as well as tightens pores.
This has a minty fragrance, slightly different to the soap bar, but still invigorating for a morning cleanse.
Woman serum
I found this bundle super intriguing. The collection features four specifically created serums to help our skin during each week of our menstrual cycle. You pick the serum correlating to the relevant week and apply one pipet onto the skin and massage in. Week one is hydrating and soothing, with week two being for suppleness and radiance. Week three is the hydrating and astringent serum and finally, week four is the mattifying and anti-imperfection serum.
It makes complete sense to have to switch up care each week, since often skincare concerns are a result of hormonal changes.
I think we can be guilty of overcomplicating skincare regimes, with lotions and potions for everything. This three-step routine in the morning is achievable and effective, as well as super affordable! For example the Peppermint Hydrolate is just 5.40 euro, so less than £5!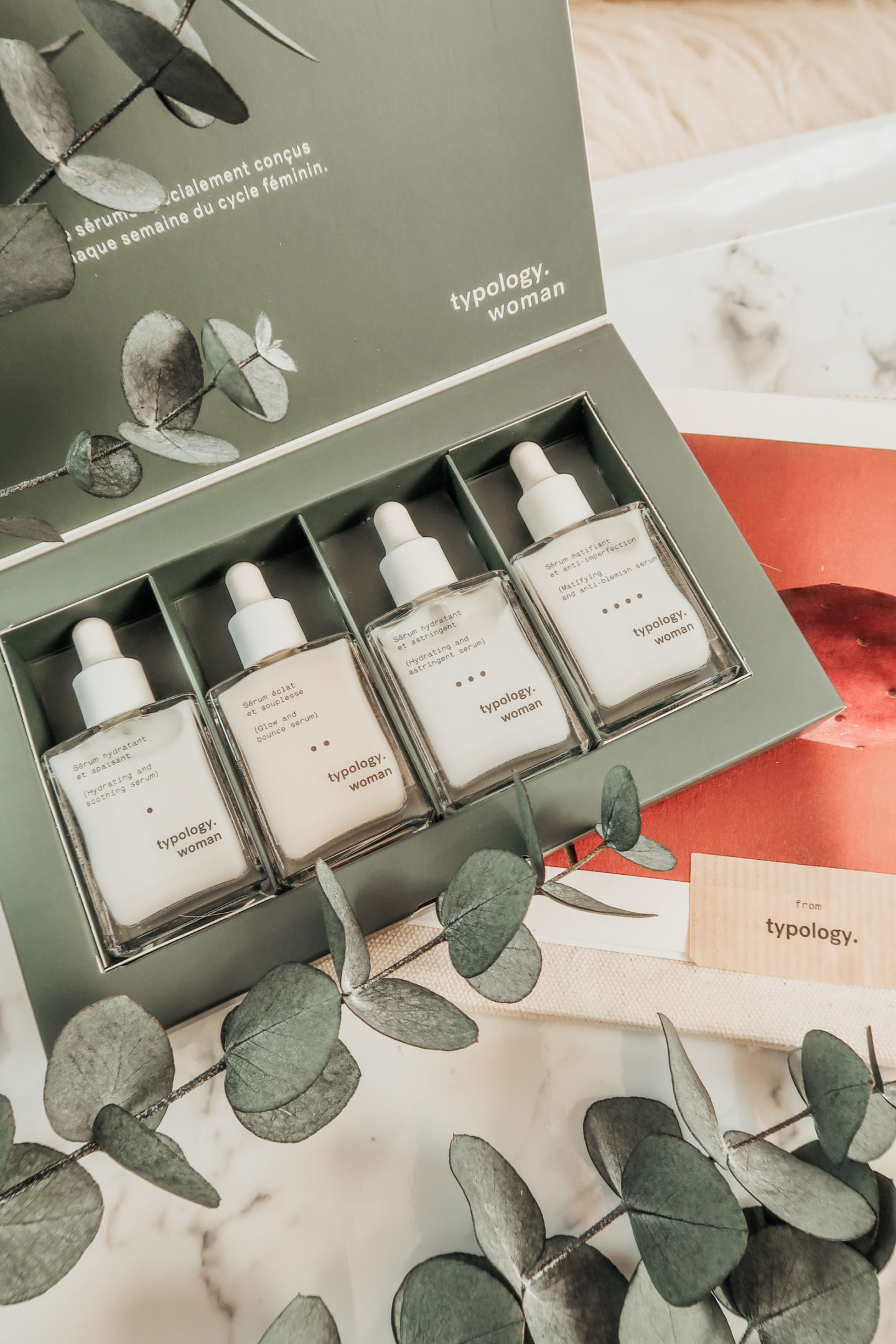 Typology PM Routine
Micellar Water
Whilst this can be used as a makeup remover, I do like to use a pre-cleanse first. I essentially use this micellar water as my 'double cleanse' to remove any residue and clean my skin. It has just seven ingredients, aimed at removing impurities that clog pores.
Serums
Typology gifted me four different serums to use in the evenings, each with their own purpose.
Hyaluronic Acid + B5 creates a barrier over the skin to help it retain water. Skin can often become oily because it's dehydrated, so produces extra oil to compensate. The second serum, Bakuchiol, has antioxidant, anti-inflammatory and anti-bacterial properties which are ideal for spot-prone skin. With both of these products I use 3 to 4 drops and apply all over my face.
The third serum is Salicylic acid + Zinc, which should be used sparingly. This successfully reduces the appearance of spots overnight – no, really – I know that sounds too good to be true. I had a forehead pimple on Friday night, applied one drop and boom, next morning, gone. Just apply one drop to each spot.
Lastly is the Caffeine eye serum, which wakes up eyes and reduces puffiness. This can be applied morning and night, but I just use it in the evenings. It appears to work its magic overnight so I wake up with reduced dark circles and puffiness. I can fake the eight hours sleep look with this little babe in a bottle.
As well as my AM and PM skincare routine and their corresponding products, I was also gifted their perfume discovery boxes, which are wonderfully natural citrus, woody and floral fragrances.
Then there's the nine ingredient lip balm. This includes Shea butter, lemon extract, sunflower seed oil and vitamin E. The product is quite greasy – but in a good way – it's not sticky and is absorbed quickly, leaving your lips looking and feeling healthy. I've really enjoyed using this throughout the day to keep my lips hydrated.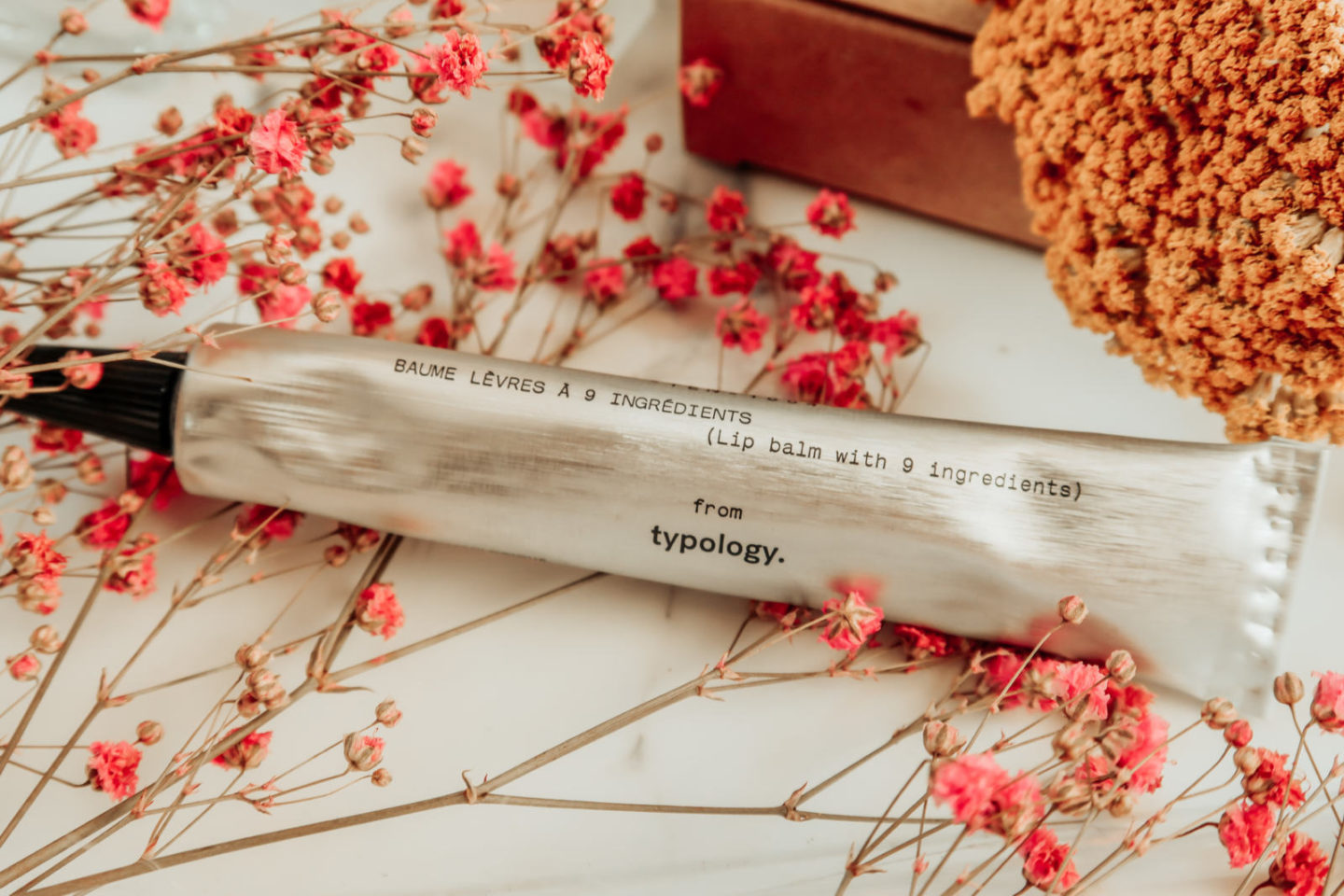 I've thoroughly enjoyed using Typology products in my skincare routine. I love what they stand for and their ethics. They're affordable and effective, and I would absolutely repurchase them with my own money.
My favourites from my selection are the Peppermint hydrolate, Salicylic acid + Zinc and Caffeine eye serum. They seem to be the dream team of products for my skin concerns.
Next on my list of products to try are the teeth whitening and freshness gel and exfoliating tonic glycolic! I can't wait for Typology to hit the UK.