AD – This post contains affiliate links marked *
Look at all this time! So much time for activities! Activities you've been putting off for six months because you 'had no time'. Now we've got bags of the stuff. So much time we don't know what to do with it. As much time as we have half empty makeup products and dirty makeup brushes!
Well, why not use this time to get your beauty bits in order? I've had so much fun organising all of the things that desperately needed doing. Here are some super easy things you can do to get started:
Organise your lipsticks
I genuinely had more lipsticks than I've had hot dinners in my entire school life. I had nearly 50 liquid lipsticks (probably 50 if I count the ones in my car's glovebox and random handbags). That's just liquid lipsticks. Likely had a similar amount of actual lipsticks.
I spent around an hour separating my collection into liquids, glosses, sticks and balms before trying on each and every one. Okay, not the ones that were definitely more than five years old and separated.
I then made three piles – keep, bin and donate to mum (after being sterilised, of course). With the lippies I've kept, I've put them into an acrylic organiser so that it's easy to see each shade!
Throw out old makeup
Much like the above, I got out all of my makeup and binned everything I no longer use or that I couldn't remember when I bought it. I could lie and tell you I wrote the date I opened each product on a sticky label so that I knew when it throw it away, but I didn't.
I did however, order this acrylic storage for my makeup. Previously, I had one of those huge black four layer trolley makeup boxes, but didn't ever reach in it and it took up far too much space. I've gone for something smaller, easy to move and easy to access so that I will actually use all of my products, rather than just the ones in arms reach.
Clean your makeup brushes
I used to be the absolute worst for not cleaning my brushes (then complaining that my skin has broken out). But since getting the StylPro makeup brush cleaner and dryer I've been able to keep on top of it.
This product has made cleaning my brushes so easy and quick, and there's no drying time as it does the leg work for you. My brushes always come up sparkly with a little bit of baby shampoo in the bowl!
Clear out your skincare cupboard and create a routine
My skincare cupboard was an absolute tip from me hunting for products and throwing them back in carelessly. But I ordered a pretty pink resin tray for my Dermalogica products and put my other staples in a copper basket.
You can see how I organised my skincare here.
Try to keep the products you use the most at the front. I really recommend keeping things in baskets as you can lift the entire thing to get to the back of the cupboard instead of trying to manoeuvre around 10 bottles of cleanser.
They see me rollin' they hatin'
No really. I used my quartz roller to roll half of my face and asked my mum if there was a difference and she nearly snapped my arm off for it.
Using a roller to massage your skin and help with lymph drainage can make a huge difference and lift your entire face. It's a fab habit to pick up as you can just sit on the sofa binge watching Netflix whilst you roll – one episode of Tiger King later and you'll look far less like Carole Baskin.
Stop washing your hair
I tweeted this at the start of lockdown, but there is no better time to let your hair get past that greasy stage before it starts needing washing less! The longer you can leave between washes, the better.
I've been getting creative with hairstyles before reaching for the dry shampoo – I can go around five days without caving.
Some hairstyles to opt for:
Plaits
The 'hun' (half up, half down bun)
The Bella Hadid pony tail
Space buns
Pull the plug on the heat
I've been avoiding the straightener, curler and hairdryer for around a month now. Okay, I've used the hairdryer a handful of times – far fewer than usual though, since I'm washing my hair less.
Instead, I've been opting for heatless curls I learned from a TikTok video. I've been using the 'dressing gown' hack where you wrap your hair around the rope and sleep in it overnight, only I've been using a spa headband instead. This creates such a gorgeous wave and so many of you messaged me on IG for my secret – so now you know!
Shop this post*
Butter me up babe
Body butter, obvs. I've been using The Body Shop Shea body lotion to moisturise my skin, particularly my knees and elbows where I suffer with a little bit of eczema. Keep your skin soft, sweetie!
Do a facemask
Self-care Sunday's still apply, even if every day does feel like a Sunday. I've been using a combination of clay masks and hydrating sheet masks depending on what me skin feels like it needs. I love a good bubble sheet mask to add moisture to my skin, and have been using the Palmer's Enzyme mask or Alya Skin pink clay mask to draw out toxins when my skin feels oily.
Do your own nails
I tried painting my own nails, but it's just not the same as a mani from you fabulous nail tech, is it? Well, now you don't need to visit the salon to get pretty paws. Nails at Bear have launched custom press ons, so you know I had to get my hands on a pair.
I'm currently sporting a neutrals leopard print, terrazzo and abstract set and I love them! And if this lockdown goes on longer, I'll be ordering some more (truth be told, I got my sizing wrong and these are a bit big!). But if you remove them carefully, you can wear them again in the future, too!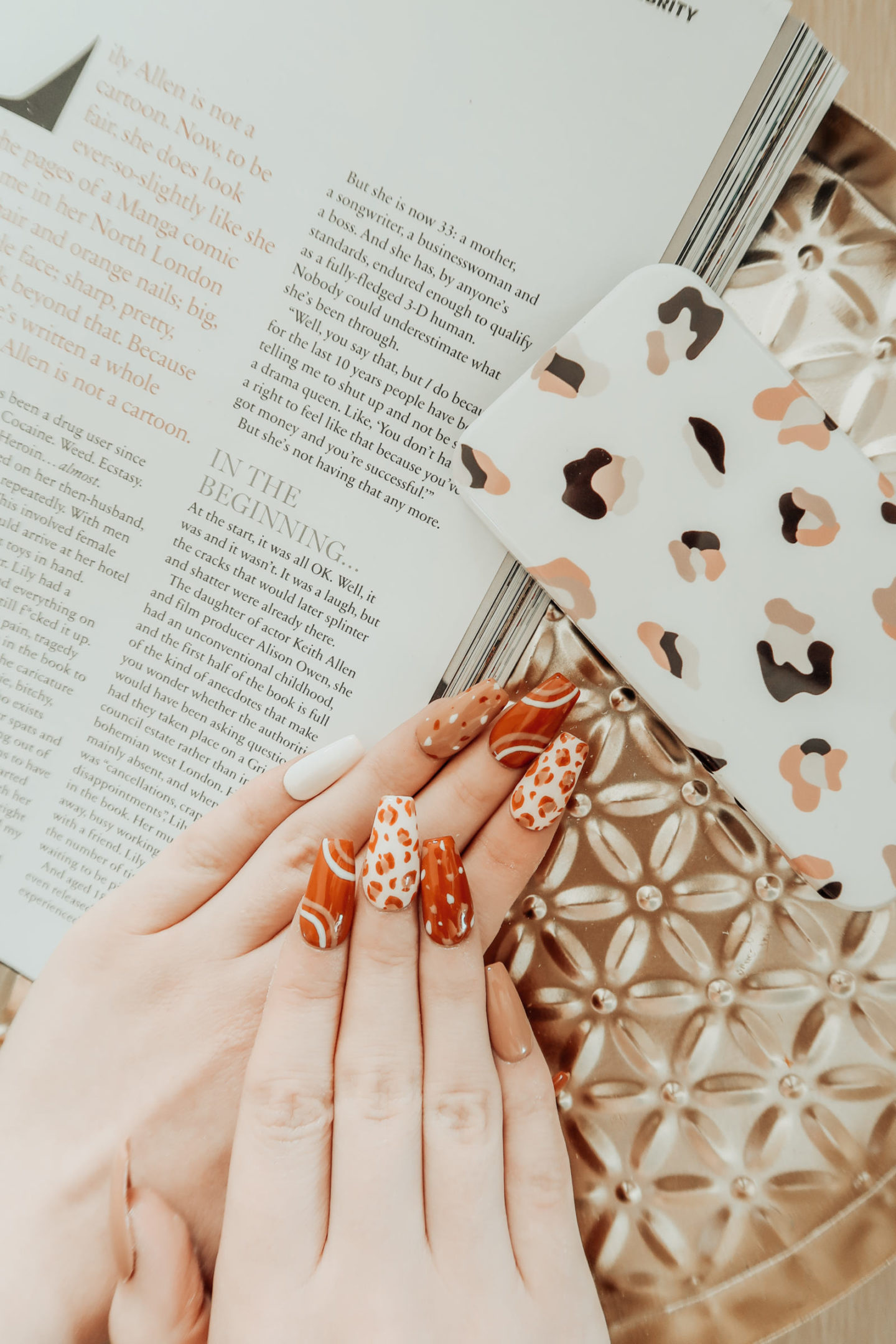 Tint your brows
You babes know I love my brows. I've been getting them laminated since before Christmas as I adore the look. When I get them laminated, they get tinted and waxed at the same time. I ordered an Eylure brow tint kit from Amazon and tinted them myself (it went quite well actually).
To create the laminated look, I've been using Nuddy soap and a spoolie for soap brows on a natural day. For a more full-face, I use Natural Collection brow gel and Anastasia Beverley Hills Dipbrow Pomade.
DIY lash extensions
Lash extensions aren't a regular treatment of mine. I sometimes get them done for my summer holiday, or just before Christmas, but truth be told I just can't get on with them. I pull them out three days later.
That said, I don't mind applying the odd cluster of individuals now and then to add a little volume, and try to keep a pack of Eylure individuals in a drawer. Luckily, I had some in from before lockdown, and have added a couple to the outer edges of my lashes for a natural look. They make my sleepy eyes look a little brighter!