In nearly two years, I've only had one set of green-themed nails, and that was for Christmas – but those shades of juniper, pine and fern shouldn't just be reserved for the festive season! Green is such an underrated and often overlooked manicure colour, so why not give those leafy hues a chance at your next appointment?
I was super sad to see my 70's pink and mustard swirl nails go, but excited for a new design by the talented Leanne Haycock, based inside Altar, Hanley. If you need any inspiration for your next set, then you need to check out her Instagram.
Usually, I opt for a medium almond nail shape, but this time I decided to go shorter and rounder. This was for two reasons: firstly because I work on a laptop all day, so it was much more practical to have a shorter nail length. Secondly, I have hyponychium on both my thumbs, which means the skin on the underside of my thumb nail attaches to the nail and grows up with it. The skin is thicker than regular skin, and can be tender, and is more common when you have longer nails. Because of this, I'm going to keep them shorter for a little while in the hopes I can reduce it.
For my design, I took in an inspiration picture from @nailsbyharriet_, which featured two shades of green, a white, and what looks like gold tape, which was used in this manicure I had in August.
After an e-file prep and builder gel, Leanne used Glossify's Sage as a base for the design. I love this stunning muted shade, and would definitely have it as a plain colour sometime – there's something so minimalistically gorgeous about it.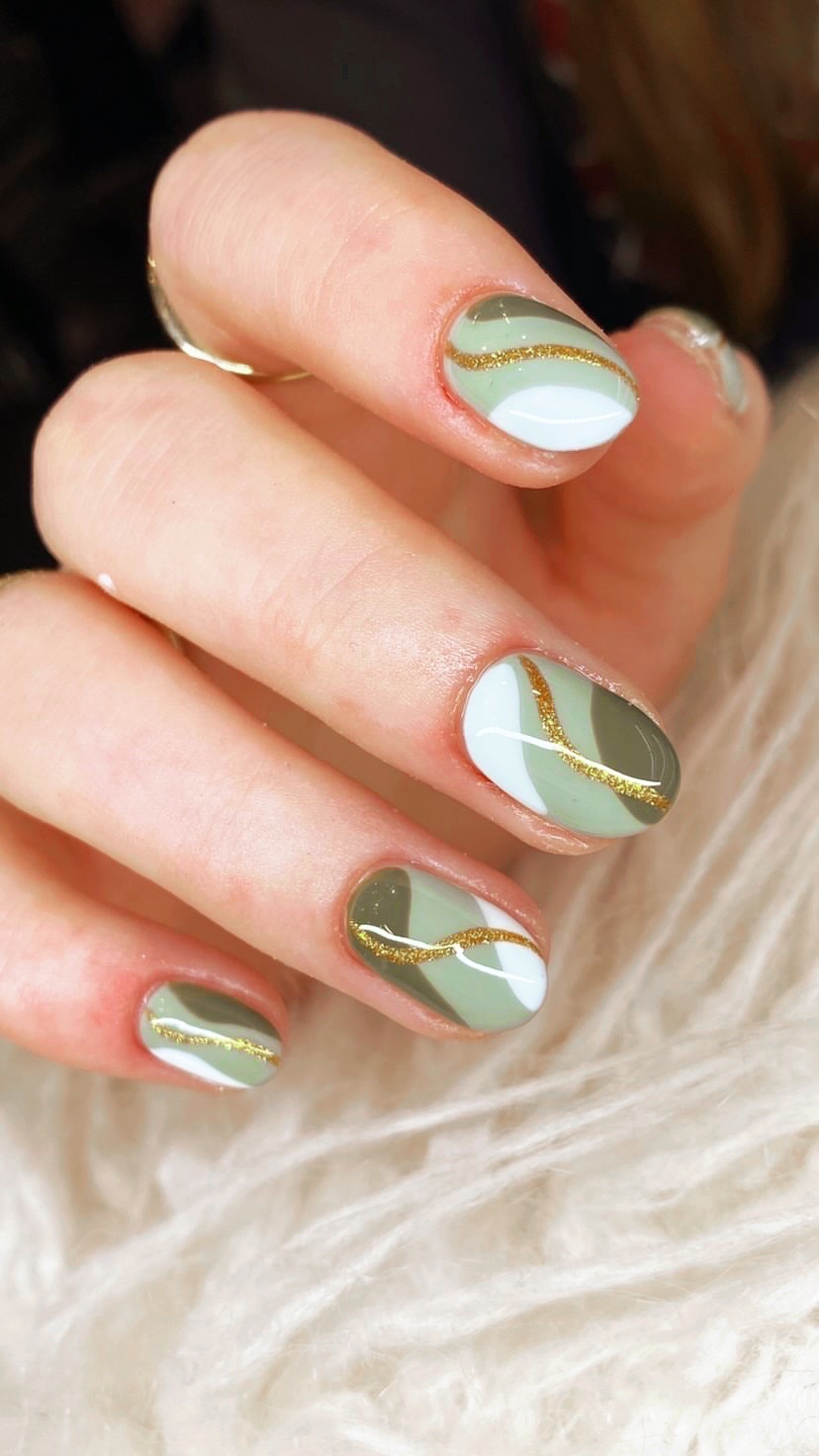 On top of Sage, Leanne layered the Glossify shade Olive, which was a deeper muted green. Whilst this shade would typically be reserved for autumn, it compliments Sage so beautifully for the spring/summer season, too. The white and gold accents were created using a brand new unreleased product that Leanne was testing out – so I got to be the first client she used it on! the coverage is amazing, and the glitter pigment in the gold is gorgeous.
I feel like this short sage set is so on trend, with the hue popping up on the runway and on Instagram interior accounts – I mean, have you seen Kate Spiers' (La Vie's) bookshelf? But naturally, I'm already planning a festival inspired set for Tramlines 2021, which gives me a good few weeks to admire these babes first!
View this post on Instagram