Did you know that Emma Stone reportedly had 47 costume changes in Cruella? One of her scene-stealing gowns comprised of 5,060 hand sewn flowers! There's simply no denying she's the best-dressed baddie in Disney.
But if there's one character-defining fashion statement Cruella is known for, it's dalmatian spots.
When I went to watch Cruella at the cinema last week, I Disney Bounded as the villainess, channelling Disney's most fashionable delinquent.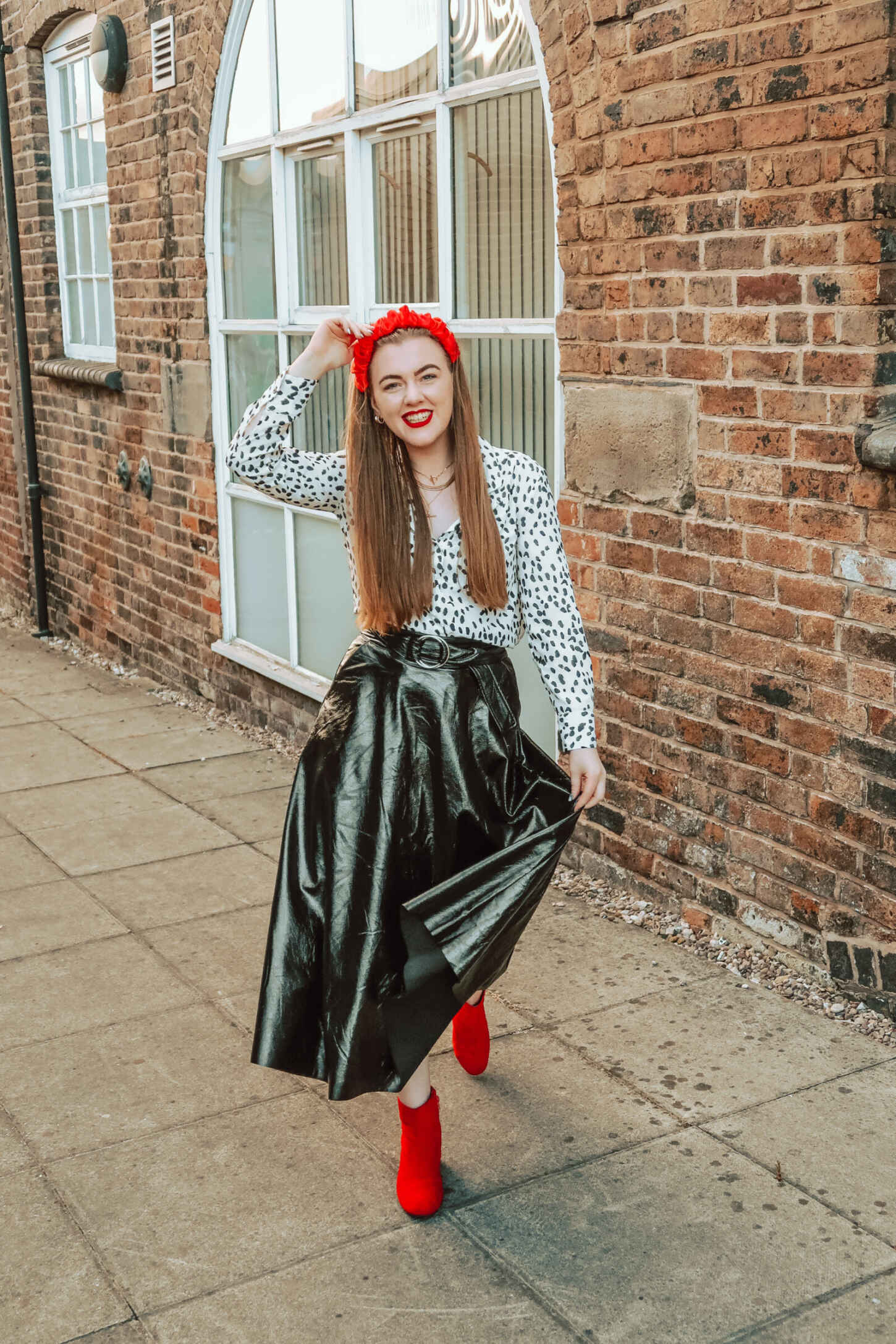 I started off with Dalmatian print as a foundation to build around, and had the option of a Missguided bodysuit, or this Topshop blouse. I had always regretted not buying the pyjama-style shirt when it was in store, and I managed to find it on Depop for a tenner last year. As our showing was late and the weather was cool, I opted for long sleeves with the blouse.
Now, Cruella isn't well-known for a colourful wardrobe, and is often seen wearing a mostly monochrome palette. But black and white doesn't have to be boring – especially when she creatively curates outfits with impeccable tailoring, stunning silhouettes and varying textures for maximum impact.
The leather-clad antagonist gave me the perfect excuse to dust off this vinyl maxi-skirt (also from Topshop) which I bagged for a tenner in the sale. The circle cut maxi is belted, offering the opportunity to cinch in the waist with the silver buckle. The glossy leather mimics some of Cruella's iconic movie looks – including what she wears the day she goes to meet Artie in the shop after she decided to embrace her rebellious alter-ego.
Her raunchy red lipstick has been part of her signature makeup look since her cartoon incarnation, and I found the XX Revolution XXude Satin Liquid Lipstick in the shade Laid.
To complete the look, I effeminised Cruella's classic punk aesthetic with a red ruffle satin headband from
Rommy
. The Manchester-based indie brand handmake each order from only remnant, deadstock and vintage fabrics. And last but not least, some red heeled boots from Primark.
And there we have it, a super wearable, fashionable high street outfit inspired by the Disney Villain Cruella De Vil.