The quaint market town of Nantwich makes for a beautiful day trip, from brunching and cocktails, to sightseeing and soaking up culture. The town has one of the highest concentrations of listed buildings in England, so you won't have to look far to find stunning architecture steeped in history.
Located on the banks of the River Weaver, the medieval town has been considerately modernised, maintaining timbered buildings and vintage features, housing boujee boutiques, antique dealers, contemporary craft stores and traditional traders along the atmospheric streets.
It would be easy to believe you were somewhere on the South West Coast, like St Ives or Padstow, or more locally, somewhere like lovely little
Leek
, on a bigger scale.
Mum and I parked around 10 minutes out of the town centre and walked into town, as parking can be challenging in the town centre, but it didn't take us long to find ourselves in the heart of Nantwich, with the hustle and bustle of the market, the ringing of St Mary's church bells sounding 11am, and buskers singing in the street. It was a really positive, upbeat vibe, with friendly faces and welcoming businesses.
We headed right into the Nantwich Indoor Market to browse the stalls, from Cheshire Pies to fabric stalls and faux flowers – one was even a Hincher's dream, full of Fabulosa products! The sweetest stall had to be a selection of handcrafted homeware for baby nurseries, though! Mum picked up some faux eucalyptus and oasis to fill a pot she'd picked up in a charity shop, to DIY her own decor.
There has been a market in Nantwich since 1500, but the current building, at the junction of Market Street and Churchyardside, dates from 1867. There are 20 units inside, and more stalls outside overlooking the church selling needle felted characters and antiques.
From here, we headed to the far side of the town centre to Cafe de Paris, on Chapel Court. We ducked through the brick archway into the lavender filled courtyard, where customers were drinking coffee with a book, and one fox red lab sat lapping up attention from passers by. It was like stepping into a little corner of Paris.
Many tables were reserved, but we were seated by a window inside, beside a huge wall art of the Eiffel Tower. The Parisian inspired menu features homemade quiches and soups, as well as fresh pastries and French toast. Mum and I both ordered the fruity French toast for £5.50 – I asked for no banana, and as a result, got extra blueberries. The white bread is egg washed before being fried in butter, before being topped with fruit and maple syrup, making it the perfect naughty but still pretty healthy brunch. We also ordered a fresh croissant, as well as a cup of tea for mum, and a sparkling orange for me. Our bill came to £17.50, which was really reasonable – and would have been less than £15 had I not ordered the extra pastry.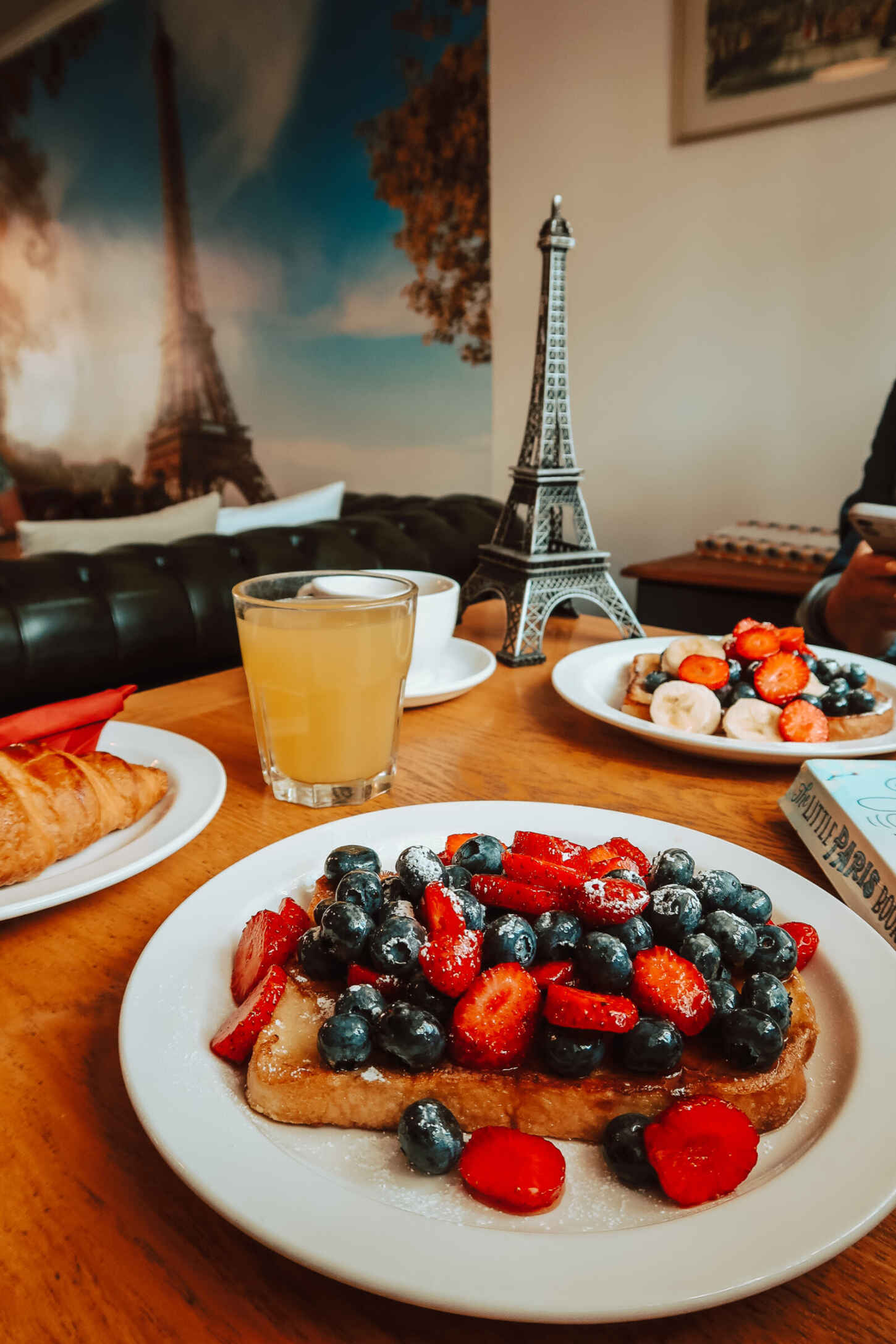 From here we headed towards the Cocoa Yard, stopping first at The Little Paper Shop, one thing about Nantwich is that every storefront looks so inviting, it's impossible not to check it out. The Little Paper Shop is a stationary lover's heaven selling list pads, diaries, planners and prints, as well as a selection of carefully selected gifts and jewellery – and a funky F.R.I.E.N.D.S. jigsaw I totally adored. They also sell online, so one worth baring in mind for birthdays and Christmas.
In the Cocoa Yard, I brought my brother a hilarious birthday card from Magpie Cards, who have cards for any occasion, event and sense of humour. They sell an adorable collection of Jellycat teddies I'd definitely have begged my mum for 18 years ago.
My main reason for visiting the Cocoa Yard, though, was Walk The Line Vintage. Launched in 2020 by Lea Burgess, the store stocks a range of carefully picked and sourced vintage and pre-loved items, and you can find some real gems, from Adidas track jackets and Dr Martens, to some of the most coveted vintage labels. Lea has been a personal stylist for over 10 years, and has a great eye for knowing what will suit her customers as soon as they walk through the door.
She said: " I worked as a professional stylist at big companies for years but have always worn, reworked and loved Vintage. I had a good eye for it, people began to ask me if I would sell the clothes off my back, and eventually I did! I've been selling vintage clothes ever since. Now instead of from my back, its from my shop in Nantwich!"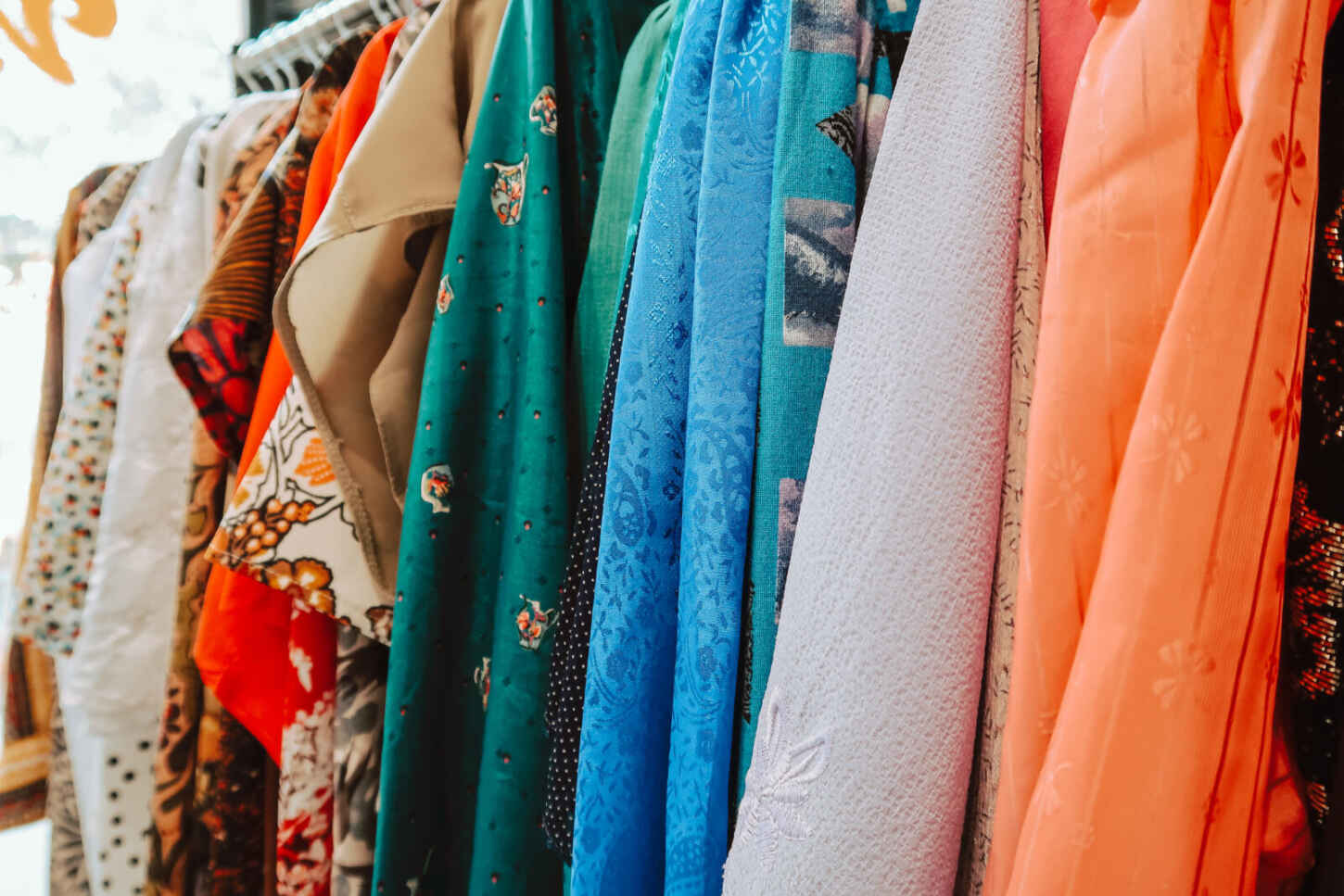 Turn left out of Walk the Line (not before checking out their CD stash), and you'll find Nantwich Museum. The small museum is free to enter, but relies on donations from visitors to maintain their facility. The building was once the town's Victorian library and stands on the site of the town's former jail. The museum tells the story of Nantwich's fascinating history, including the Great Fire, the development of the town into the 20th century and the Battle of Nantwich. You can also find a whole room dedicated to education visitors on how Cheshire Cheese is made!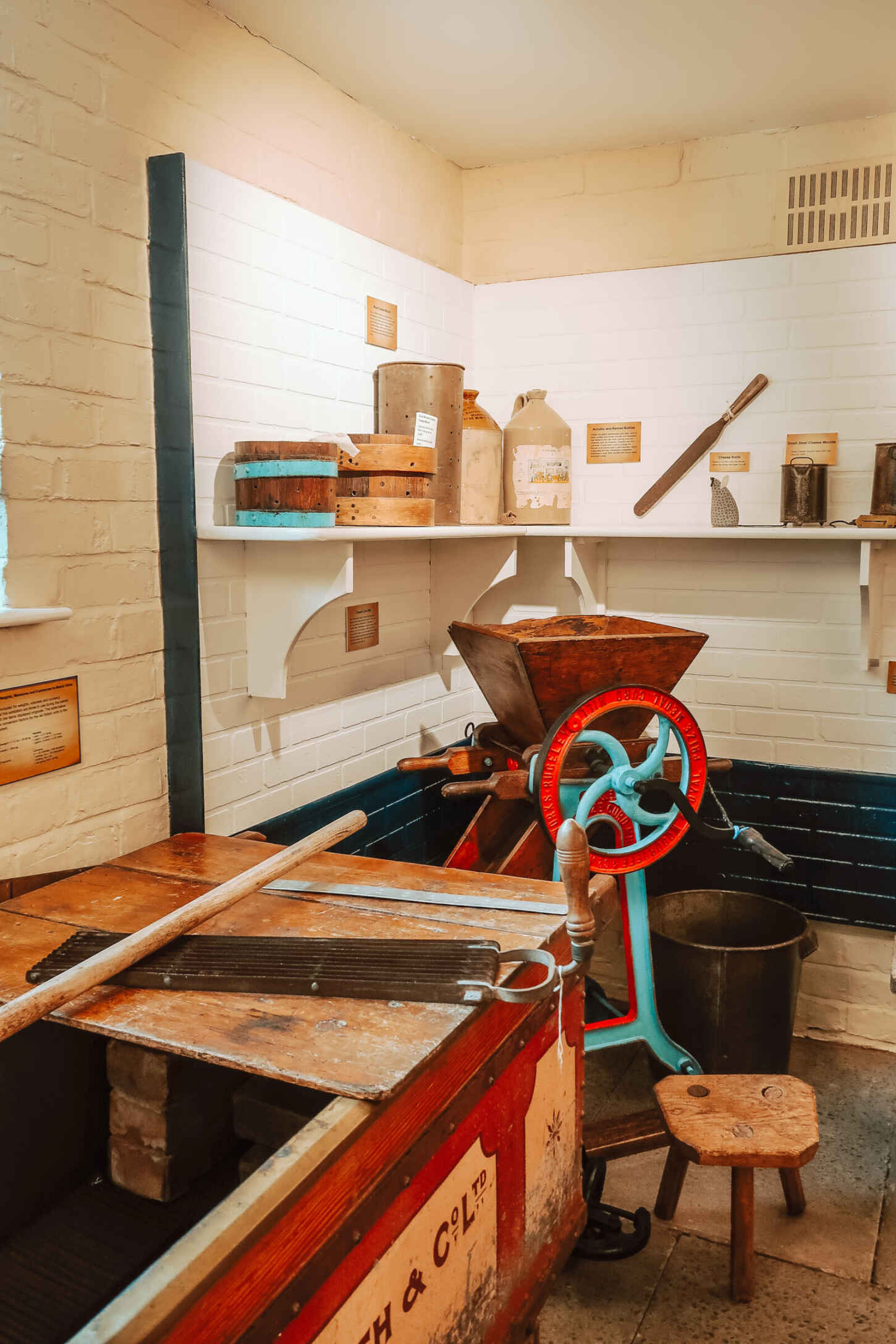 Speaking of cheese, The Cheese Shop is well worth a visit if you're looking for something special, including a fabulous heart shaped cheese. They're also one of a number of shops in Nantwich that sell local honey. Nantwich also hosts the International Cheese Awards, a prestigious event that celebrates the finest cheeses known to man! And with cheese, goes wine – and gin, or whiskey, so pop into Edencroft down the road and treat yourself to a bottle.
All of this shopping was pretty hungry work, so we headed over to Ginger and Pickles tea room, on Mill Street, to fuel up on a hot drink and slice of cake. We sat upstairs on their rooftop terrace, and for a Cheshire venue, it has a strong sense of home, from Minton tiles on the floor, to tea served on Staffordshire pottery. In fact, all of the oatcakes on the menu are named after Robbie Williams songs. Mum ordered a cup of tea, and I opted for a London Fog and slice of their homemade Victoria sponge cake. I'd visited here with my friend Becky a few weeks earlier, and it's such a fab little sun trap if you're looking for somewhere to relax for a while.
We pottered around a few of the towns charity shops – there's about ten or eleven, but the town doesn't at all feel 'full of them'. Plus, they're a real treasure trove – I bagged a vintage Lipsy blouse for £4, and mum got herself a fabulous dalmatian spot dress for summer.
Other stores to pop into include Sleek Boutique and White Ribbon for clothes – I bought a beautiful denim jumpsuit from WR for just £22, which I can't wait to wear on holiday in a few weeks! I also thought that Stitch, next door to Ginger and Pickles is super cute for budding and seasoned crafters alike, with super friendly and helpful staff ready to offer help and advice. They have a great selection of fabric, yarn and making kits for needle felting and crocheting, with a studio where they hold regular workshops if you're looking to pick up or refine a skill.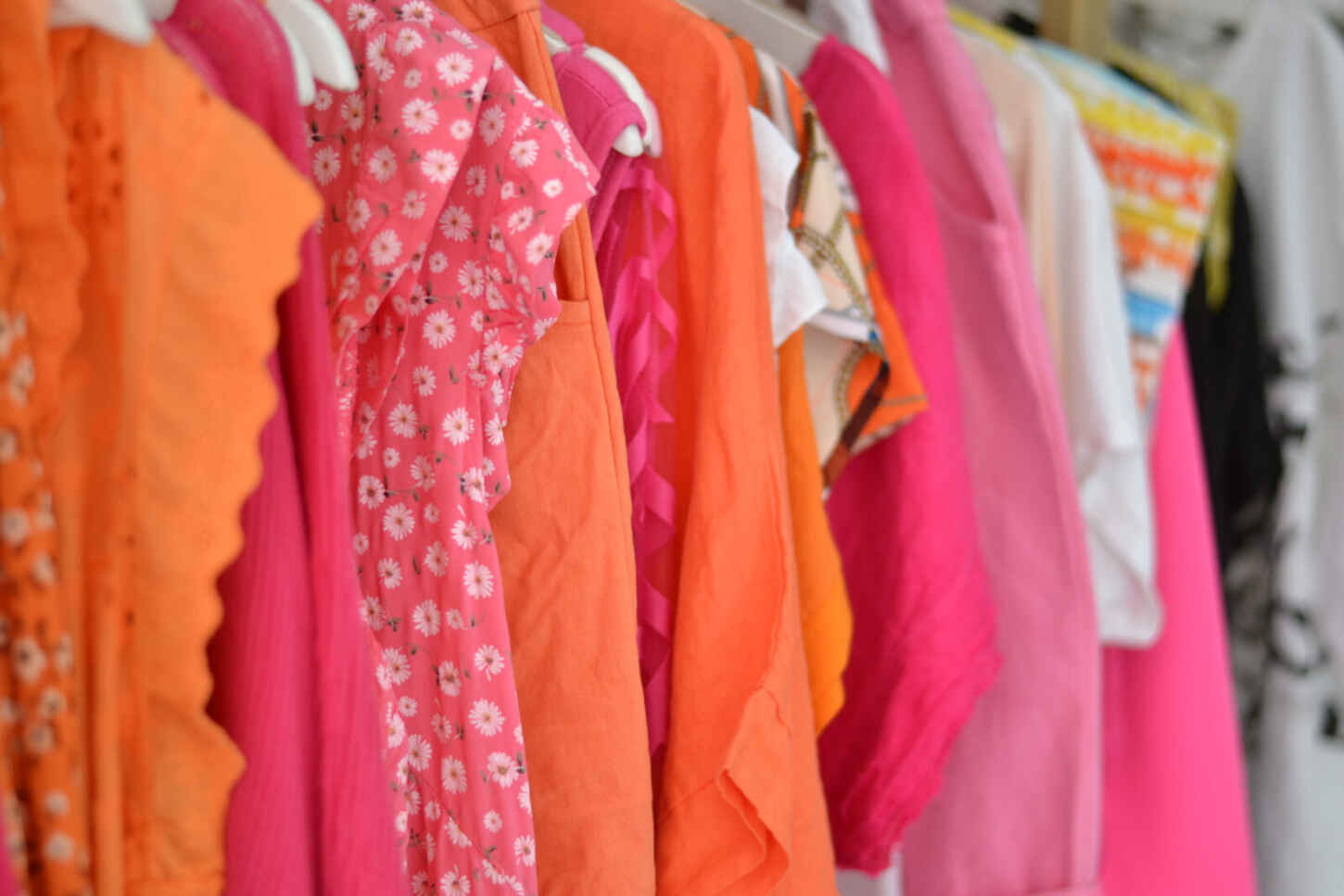 The Nantwich Book Shop and Coffee Lounge was one of my favourite places to visit. It's can get super busy, so be prepared to wait for a table if you're stopping for a drink, but there are plenty of tables and chairs inside and outside, so the wait is minimal. Inside, the walls are lined with rows and rows of books, from local history to locomotives, to self-help and cook books. Naturally, I gravitated towards the back of the room to the fiction novels, a number which I'd already read and loved – the sign of a brilliant stockist. The Book Shop was established in 2003, and has become a well-known, family run independent business where you can enjoy a slice of cake with a cup of coffee and your brand new book. I bought myself Dog Days, by Ericka Walker – said to be about 'love, loss and what it is to be human'.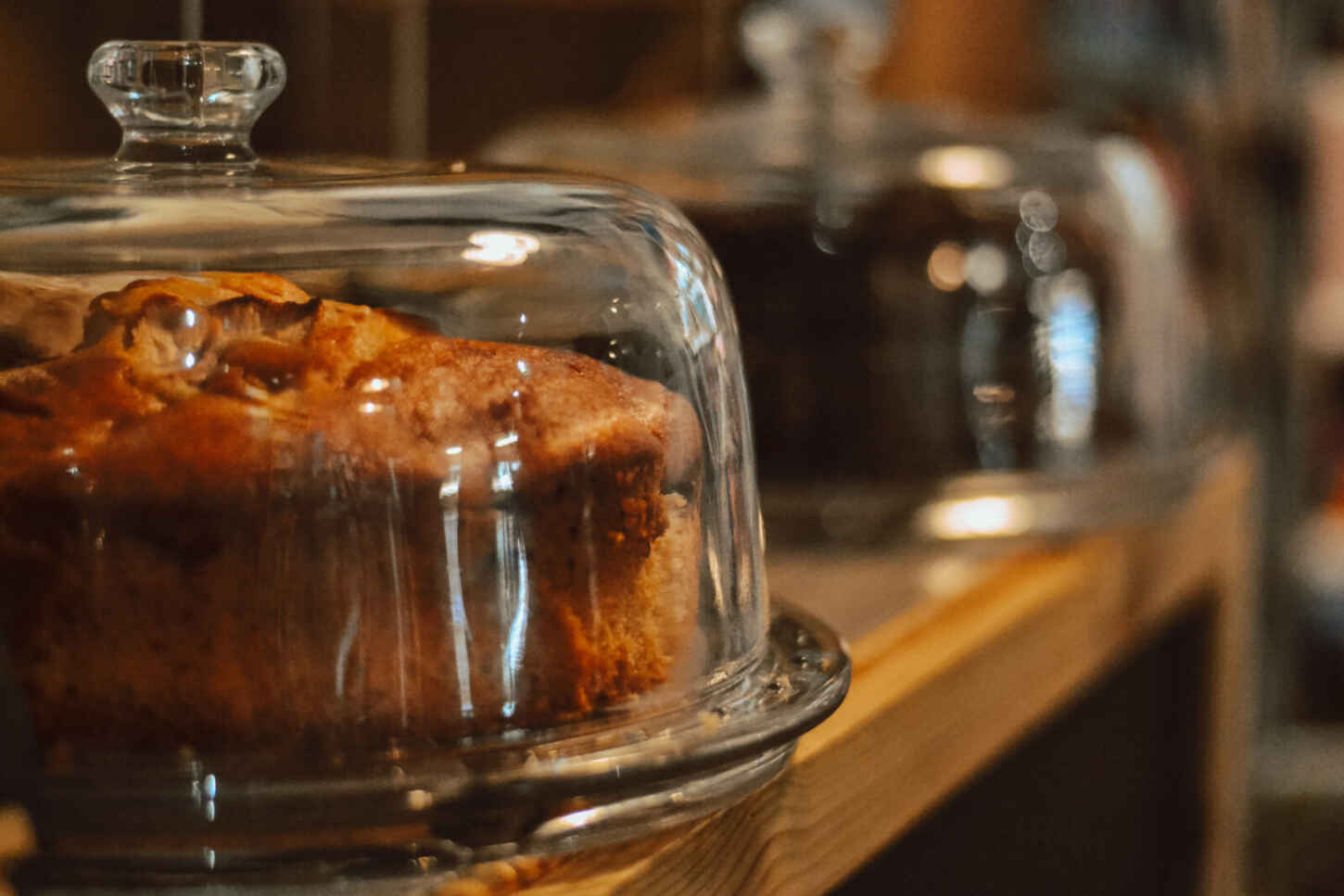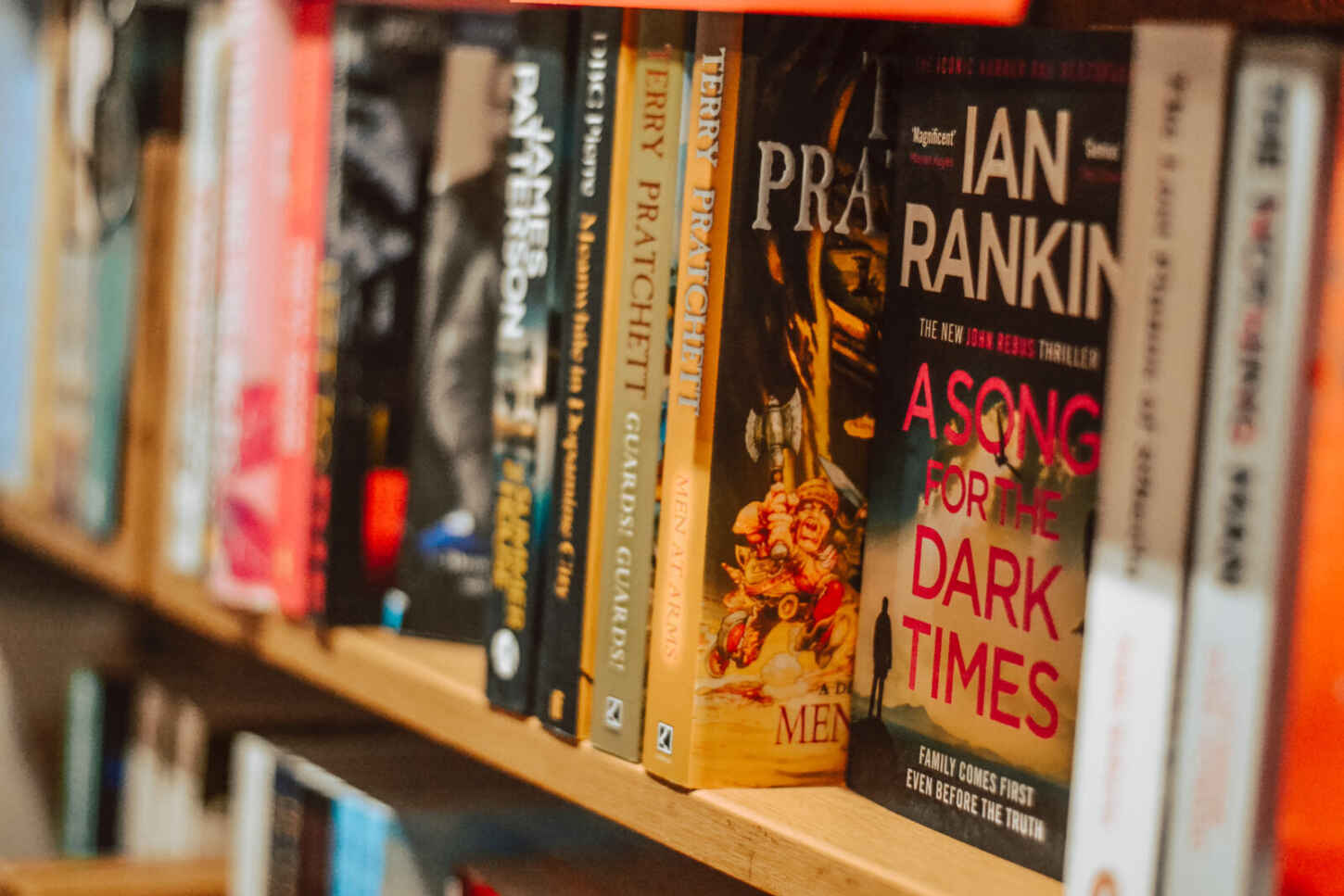 Head slightly out of the centre of the town's buzz towards the River Weaver to enjoy the peaceful water and stunning blooms potted by the town council every ten paces. If you head left along the path, you'll eventually come to a small sandy area nicknamed the beach, which any dog owners will love!
St Mary's Church is truly breath-taking, with incredible stained glass windows and beautiful historic features. Dubbed the Cathedral of South Cheshire, the building is open to visitors from 10am to 3pm, with staff on hand for you to ask questions about the building. The church is the oldest building in the market town, completed in 1390, and is now registered with Historic England as Grade I listed.
Having marvelled it from the inside, grab an ice cream from Vitaliano's stall outside, and perch on the wall, or one of the benches and sit beneath the towering building. Whilst we were there, we spotted a French Bulldog with his own ice cream cone! My tub of salted caramel and vanilla ice cream was just £3, and best enjoyed on a sunny afternoon in the pretty cobbled town.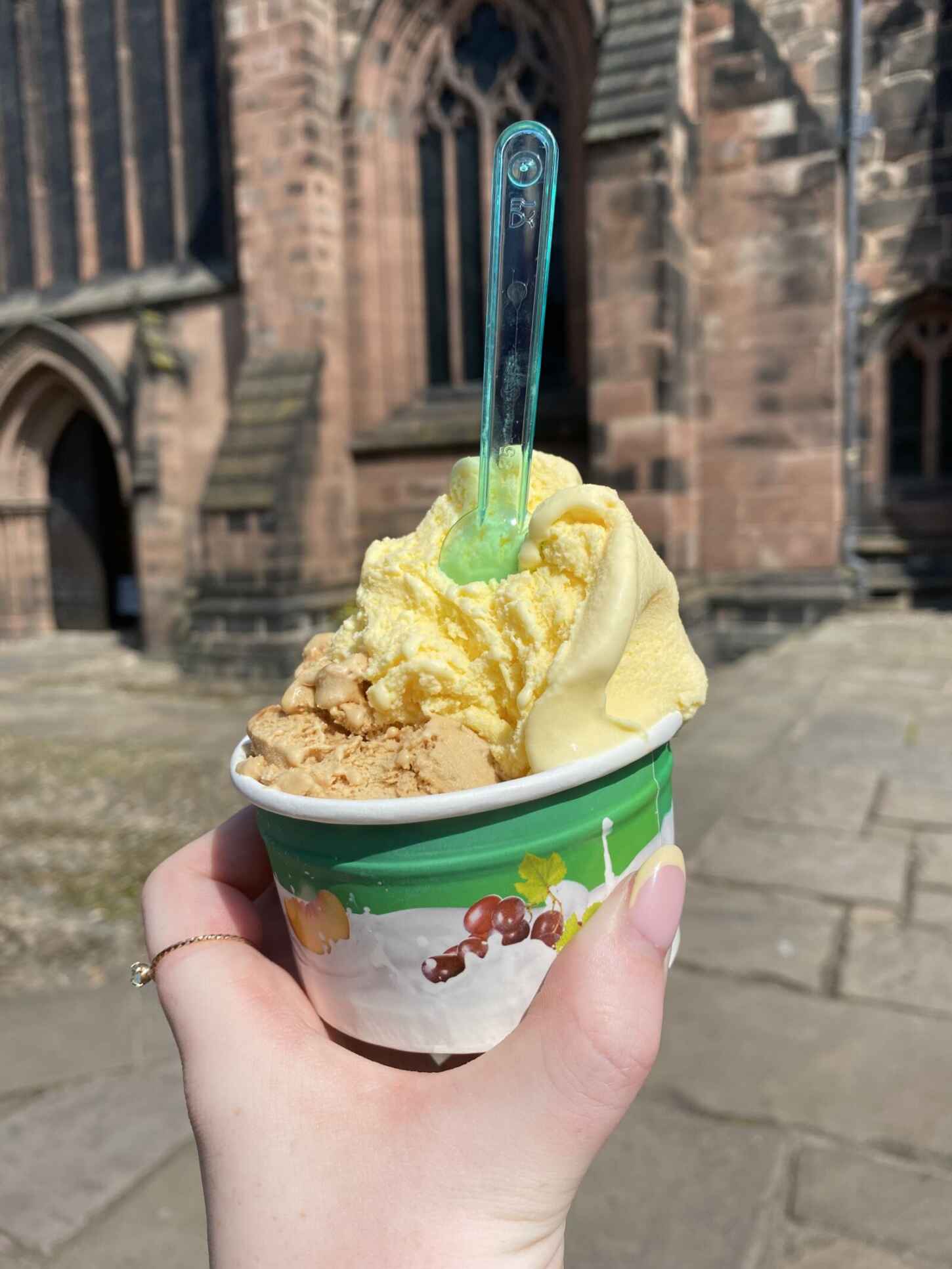 If you're sticking around for the evening, I highly recommend visiting Bench. The Instagrammable cocktail bar and bistro serves up a selection of small plates priced between £2-£6, with Bench recommending each diner order three to four plates. You can order a bench of daiquiris for £70, which come in a choice of four flavours, complete with a pick 'n' mix! Their dirty mac n cheese is to die for.
Nantwich's pretty and picturesque market town is a fabulous choice for a day trip, or even a weekend away. It's a really vibrant town centre, with lots to do nearby too, such as a trip to Bridgemere Garden World, Hack Green secret bunker, and Dagfields Craft & Antiques if you're happy to do a little bit of driving!