The market town of Staffordshire's Newcastle-under-Lyme is full of hidden gems, and whiling away the hours from Ironmarket to Lymelight Boulevard is easily done on a sunny Saturday afternoon.
The birth place of the founder of the modern circus, Philip Astley, home to Europe's first purpose-build theatre-in-the-round and one of the best places to grab an oatcake – here's how I would spend a day in Newcastle town centre.
First things first, you're going to want to grab a bite to eat to fuel the rest of your day, and the only culinary goods to be consumed should, of course, be the mighty Staffordshire oatcake. Having parked on Ryecroft, I usually go to Oscar's on Fogg Street for a friendly service and the perfect amount of red sauce.
Across the way, pick up some treats for your dog, or even a new toy from Hounds. The independent dog shop stocks a whole range of amazing small, sustainable brands, from biodegradable poo bags to vegan pawfumes. Newcastle is a really dog friendly town, and there are few places you won't be able to take your pooch in, but if you haven't taken your four-legged friend with you, you can treat them to a pig snout or a chicken foot from the well-stocked pick 'n' mix table. Naturally, Phoebe and Frank love it here, especially their monthly chew boxes.
Hounds
is
The Cakehouse
, and you'll have to get their early if you want to try one of their highly acclaimed cupcakes – they're usually gone by lunch time! Sit in with a cup of coffee or one of their luxury hot chocolates, and sit underneath the floral mural whilst you enjoy a sweet treat. I can vouch for their jammy dodger cookie pie slices, which you can also have boxed up to go, if you fancy one at home!
From here, head over to Ironmarket where you can scout out the charity shops, including Oxfam, PDSA and Cancer Research UK. There are a few more in town also worth visiting, like Animal Lifeline, Dougie Mac and Bernardos, but these three are all across or next to each other.
Head down Ironmarket to High Street, where you'll likely find some of the local buskers serenading shoppers, and take a left towards Lymelight Boulevard. There's a market of some sort or another on most days in the town, but on a Monday, Wednesday, Friday and Saturday, you'll find the General Market, with the likes of Punx Puds selling delicious bakes, fresh fruit and veg at Tinsley's Greengrocers, and beautiful garden blooms from Taylor's Flowers. There is also a monthly Castle Artisan Market and Farmer's Market, as well as a twice weekly antique market well worth scouting out.
If you're looking for something fun to do, there's plenty of activities to get involved in, from visiting Vue cinema for a movie, or hitting up the new Clip 'n' Climb. Also in the boulevard is Laser Quest, which I find is best played in a group, but you could go as a couple and play on a team with other people too. Next door, Clubhouse Stoke offers a great game of crazy golf with a Staffordshire twist, as well as retro arcade games, beer pong and video games rooms. It's also got a fully licenced bar so you can sip whilst you putt! It's always a great laugh and I particularly love the UV room – get practicing your trick shots!
Go right as you come out of Clubhouse Stoke and take a right down Hick Street to find one of the town's best kept secrets: Castletown Distillery. This tap room and distillery is a real hidden gem, and recently celebrated one year of business by giving away 200 50ml bottles of gin over the weekend! Enjoy a Staffordshire Gin (I love the raspberry one) in their beer garden, or shelter from the sun inside the beautiful fairy-lit bar. They do a great cheese grazing board for less than a tenner, so if you're peckish, it's a great sharer.
For £150, you can even do a distillery workshop for two, to make your own gin, vodka or rum from scratch, which I would love to do one day! Here, they also have a selection of their gins, rums and vodka bottles for sale, and a fridge full of craft beer to take away – I picked up mum a raspberry gin, and dad a Beartown Brewery Imperial Creme Bearlee, brewed right behind where he works.
Sando
is a great place to pitch up for a spot of lunch, where there's a selection of interesting artisanal sandwiches, from Po Boi Buffalo Shrimp to Chicken Katsu. They also do a couple of burgers and all-day brunch plates – I've previously had their
pancakes and eggs on focaccia
, as well as their properly seasoned fries. It's pretty affordable for the portion sizes, and they've got a great cocktail menu, too.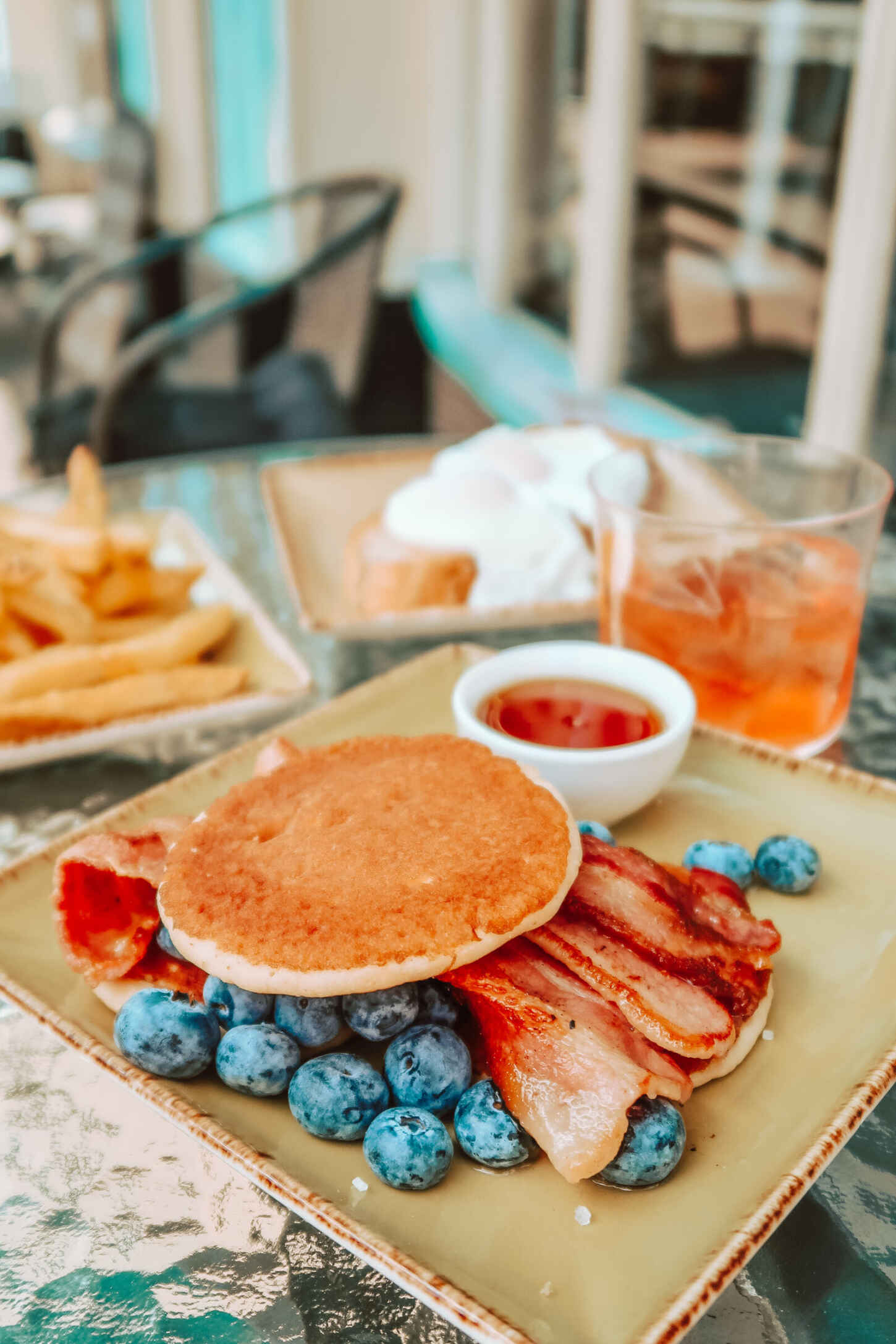 I'd take a left out of Sando and head up Market Lane to Mellards bar for a beer in their outdoor patio. Their outdoor courtyard is very Instagrammable, with Muck Rock artwork adorning the walls. You can find their beer list on their Facebook page, which is regularly updated with what's on tap, and they're a really dog-friendly venue, so well worth taking your doggo here too.
It's definitely time for a spot of shopping, right? Walk back down Ironmarket and through Astley Walk to Preen on Merrial Street. This beauty salon opened a clothing boutique during the pandemic, stocking the hottest styles of the season at a fab price. You will find your new favourite statement piece in here, with dresses, jumpsuits and blouses you simply won't find in high street stores. Don't forget to book your next beauty treatment in on the way out!
Around the corner on Liverpool Street is the treasure trove that is Sparrowhawk Vintage stocking handpicked pre-loved and vintage clothing and unusual gifts. I've discovered many a St Michael's blouse or Lindy Bop dress in here, but some of my favourite pieces are my leather bakerboy hat, and vintage Wrangler leather boots – oh, and my Levi's jacket, of course. You'll always find a piece you fall in love with, whether its a kitsch knit or a band tee, or a quirky greetings card hand drawn by owner Rhi!
If you need a little sit down, take a stroll to Queen's Gardens to soak up the sun surrounded by blooms. I love to sit here with a good book and a brew when the weather is nice. There's a few benches dotted about under the trees which will give you the opportunity to rest your legs whilst you work out where to head next.
If all that shopping has made you hungry, the newly opened Bloom offers a picture-perfect floral wall backdrop of cocktails and an evening meal. On the main menu, choose from a selection of small plates, burgers, and mains like steak and hanging kebabs. They do some amazing cocktail trees and sharers, including a giant pornstar martini, 'big booty' and a gin tree filled with 12 gin and mixers. The gin tree is £50 and works out around £4.10 a drink!
Of course, you'll need to have booked tickets, but don't forget to visit The New Vic theatre to see their latest show. I saw their first show back post-lockdown, Coppelia, and the in-house team of creatives put on a truly magical, immersive show you won't forget. They have some brilliant shows planned for later this year, including Marvelous, about the former Stoke City kit boy and clown Neil 'Nello' Baldwin.
So, how would you spend a day in Newcastle?