Remember as a kid, whenever you painted your nails you had to get every single colour out, and create a rainbow on your fingers? What if I told you that's still a trend, and it looks incredible?
And whilst having five different colours might sound a bit much – then would you believe that it's actually the plainest set of nails I've had in over two years?
There are so many ways to hop on this multicoloured manicure trend, from using different shades of the same colour, to a bold and bright rainbow of hues.
This month, my manicure by the ultra-talented Leanne Haycock was inspired by a dress I'm planning on wearing for an occasion this month. The floral number you've all seen on my blog in recent months was from Lula, in Leek, and the colours are beautiful for year-round wear.
Instead of doing my usual 'is there some way to use all the colours in this, replicate the pattern, add some glitter and have them all matte, gloss and gold', I think Leanne nearly had a heart attack when I said I'd like a plain set for a change.
Following a thorough prep with Navy tools to remove my previous mani, we picked out a selection of Glossify and The Gel Bottle colours to use, switching out different shades to get the right palette. The trick, I find, to multicoloured nails, is to pick a theme – whether that's pinks, brights, or in my case, muted tones.
We studied the dress together whilst browsing Leanne's samples before selecting Glossify's Sage, Sand, Darling and Spice, as well as The Gel Bottle's Queen Bee. Leanne then placed them into an order for my right hand: Sage green on the thumb, pink Darling index finger, followed by yellow Queen Bee, muted orange Spice and Sand on the pinky – a creamy nude.
She switched up the colour order on my left hand to make it even more interesting and the results are so effective. I adore how the colours all tie in together, with a really earthy, almost autumnal feel – but this look would equally work in spring too. Other ways to wear this look in a more mature way than your old Barry M collection would be opting for a rainbow of French tips, of full colour matte with gloss tips in an array of shades.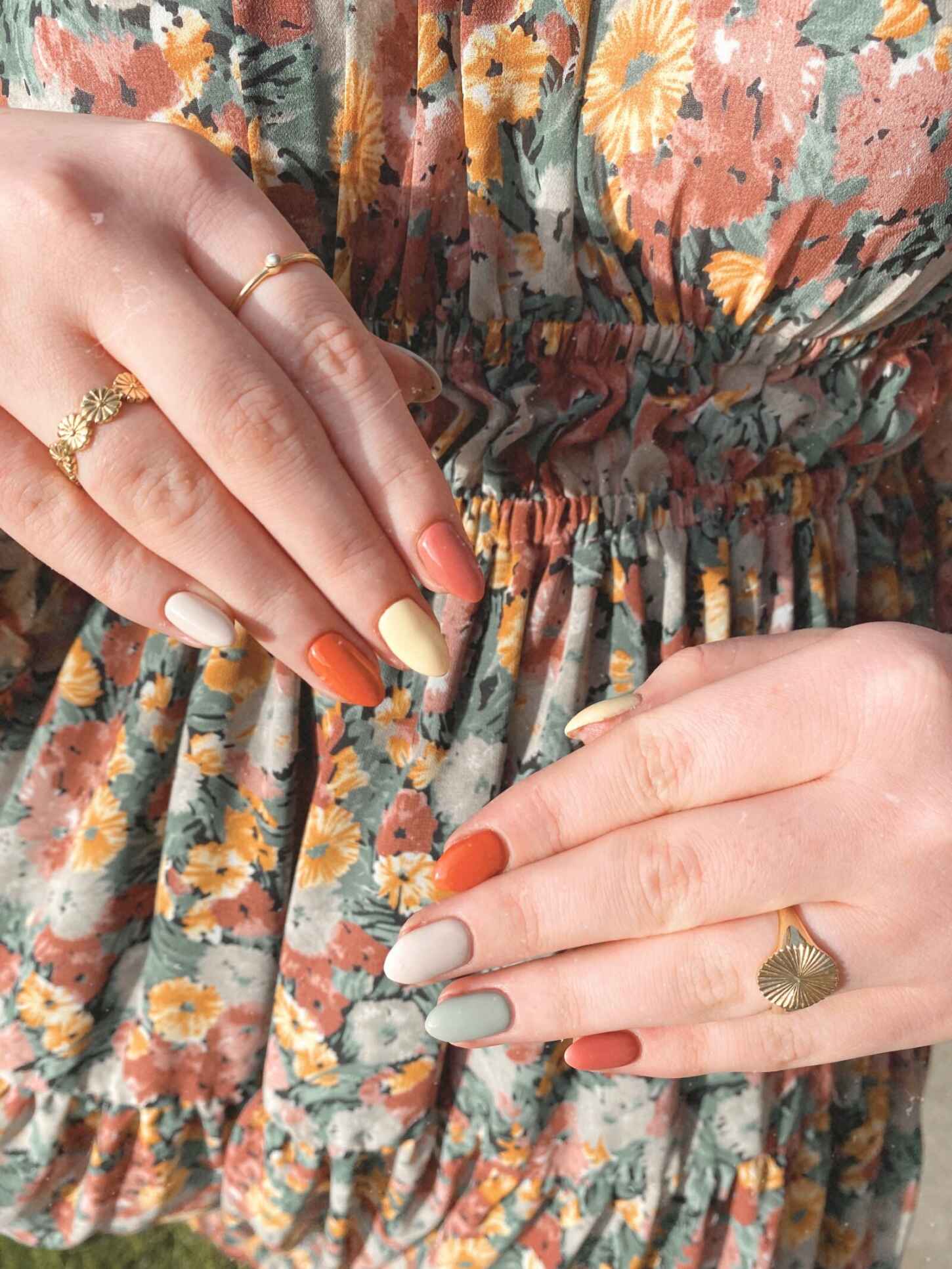 And if you're looking for some inspiration for your next nail appointment, here are some of my previous sets, too!