When you have approximately 48 hours in one of the most beautiful cities in the UK, how best do you spend it?
Previously, I'd only ever taken day trips to York, spending the majority of the time in a queue for The Shop that Must Not Be Named, or sheltering from the rain in a pub. So when Jake and I visited for our six year anniversary, in February, I devised a pretty structured itinerary for the weekend so that we could fit in everything we wanted to do.
Absolute musts, for me, were a ghost tour, a glimpse at York Minster, a cruise on the River Ouse, and a visit to the York Ghost Merchant. Jake, on the other hand, was mostly concerned with where to eat and a generally slow paced trip. After much research, reservation booking and ticket buying, I worked out a smooth schedule to fit in as much as we could, without feeling as though we were rushing around, either.
Friday
After setting off from Staffordshire around 11am, we made it to Hedley House Hotel at around 1.30pm, and we were ready for some lunch. After checking in we made our way into the city centre via the beautiful Museum Gardens. Established in the 1830s by the Yorkshire Philosophical Society, the gardens are famed for their fantastic collection of trees, shrubs, perennials and bulbs set against the stunning backdrop of the medieval ruins of St. Mary's Abbey. As the walk is no quicker, or slower than taking the main road, we made this our main route to and from the hotel to the city most journeys.
Just opposite the gardens we stopped at the Brew and Brownie Bakeshop for some food. We ended up here as big sister business Brew and Brownie, just two doors up, was extremely busy, but the bakeshop was pretty quiet when we arrived, so we pulled up a pew and enjoyed people watching as passersby pointed to cakes in the window – including a rhubarb and elderflower loaf that looked divine. Jake ordered a bacon and cheese sourdough toasty and a cappuccino, while I warmed my hands on a chai latte and enjoyed a ham and cheese croissant, both of which were toasted to perfection and tasted amazing. The venue is light, airy and popular with students and tourists alike, with decorative house plants, good coffee and beautiful bakes, open Monday to Sunday 9am to 4.30pm.
At 3.10pm, Jake and I had booked for the City Cruise on the River Ouse, boarding at Lendal Bridge Landing, just down the road from Brew and Brownie Bakeshop. It was rather cold, but nowhere near as windy as the Saturday and Sunday, so really, we booked the right day for our trip down the river. Though it's still recommended to wrap up warm, as it can get pretty chilly on the top deck.
The sightseeing tour offered amazing views of the ancient city, uncovering Roman and Viking history along the river, and the Ouse's impact on the city of York. There was a comical live commentary from our captain, who shared local knowledge and advice for the rest of our trip, pointing out landmarks like York Minster, Clifford's Tower – one of the only fortifications left of the castle that oversaw York after 1066 – the many Bridges that cross the Ouse, and the medieval Guildhall.
Our tickets for the 45 minute cruise were £12.50 each, and on the return to the landing, we headed downstairs under cover for a warm drink from the bar. Not only did we learn a lot about York during the cruise, it also helped us gain our bearings for the rest of the weekend, too.
After our River Ouse ride, we headed back to the hotel to warm up, get changed and enjoy an evening meal at Hedley House Hotel, which you can read about here.
Fuelled with Yorkshire puddings, we walked back into the city to Grape Lane to meet Dorian Deathly, our ghost tour guide. Meeting at 8pm, Dorian set the spooky tone for an evening of ghost stories, hauntings and the solemn spirits that call York home. The actor and tour guide launched his Deathly Dark Ghost Tour in February 2019, which was swiftly canned by the pandemic, so it felt really nice to be supporting the independent business as tourism begins to resume as usual.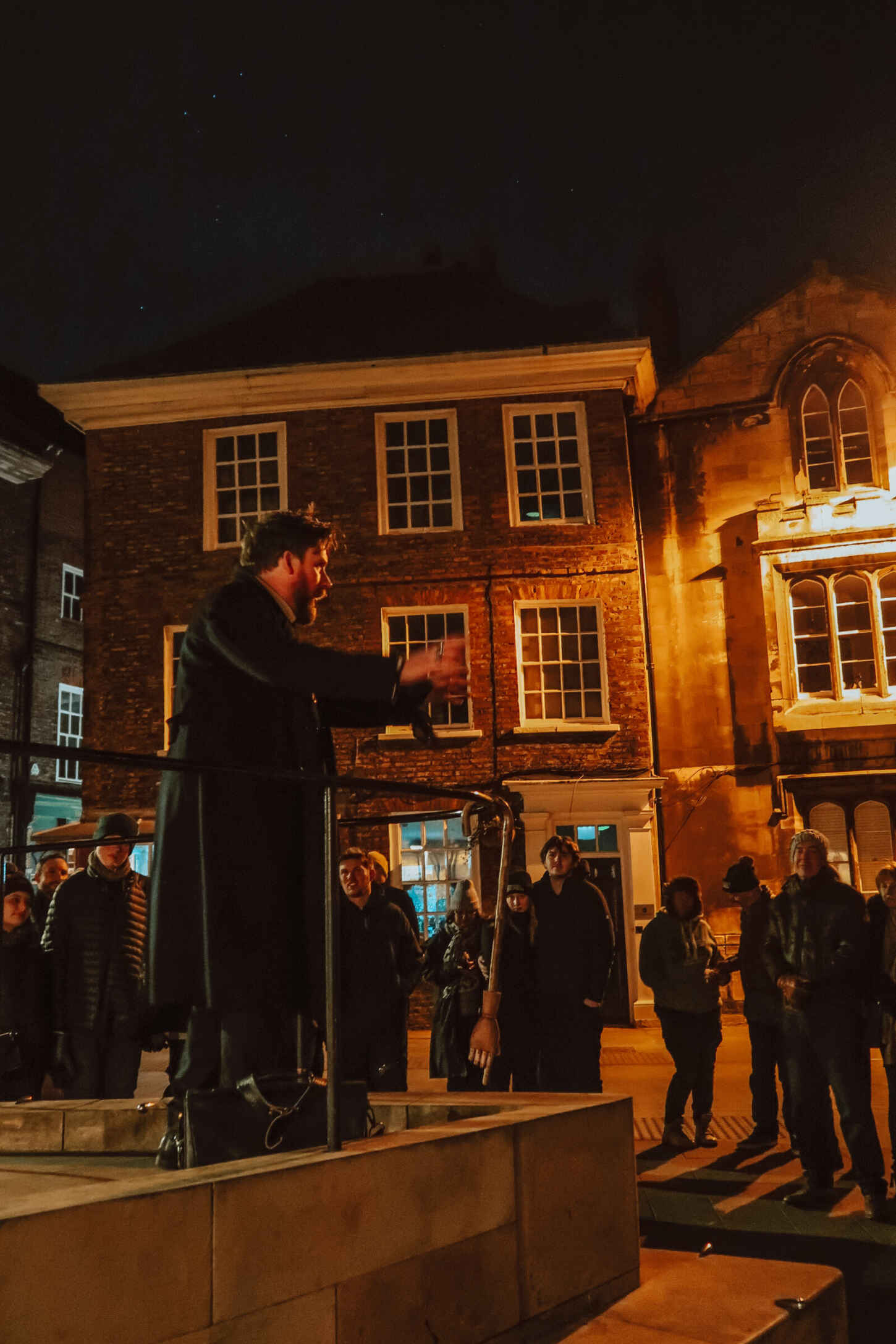 As a group, we walked the Snickleways, Shambles and historically bloodstained streets while the avid storyteller shared tales of murders, executions, the plagues and pestilence, and other things that go bump in the night. Tickets for the tour were £8 each, and while we didn't see any ghosts – as Dorian says, they're not paid performers – it was really exciting to learn of the grim and gristly history of this macabre city by torchlight.
The hour and a half tour ended at St Mary's Church, where we then crossed over the river to visit the Sora Sky Bar, based on the seventh floor of the Malmaison hotel. The high-brow venue was completely full, so I was glad I'd reserved us a table for 9.45pm.
Serving up mix and match small plates of sushi, Robatayaki and pan-Asian style tapas dishes, as well as a selection of signature cocktails, Sora is a pretty boujee affair. While the cocktail menu is expensive, it's worth it purely for the incredible views of York's night lights from the outdoor terrace. I'd book a table and buy a drink for this experience alone.
Saturday
I had warned Jake that Valentine's weekend in York would require an element of queuing for some of the things we wanted to do. But to my surprise, the queue for Bettys Tea Room wasn't as long as I thought it would be when we arrived shortly after 9.30am. Founded in 1919, Bettys' fat rascals and mouth-watering cakes are world-famous, and their legendary afternoon tea is one of Visit England's '101 things to do before you go abroad'. We queued for around 15 minutes before a table for two became available in the Queen Mary ocean liner-inspired cafe.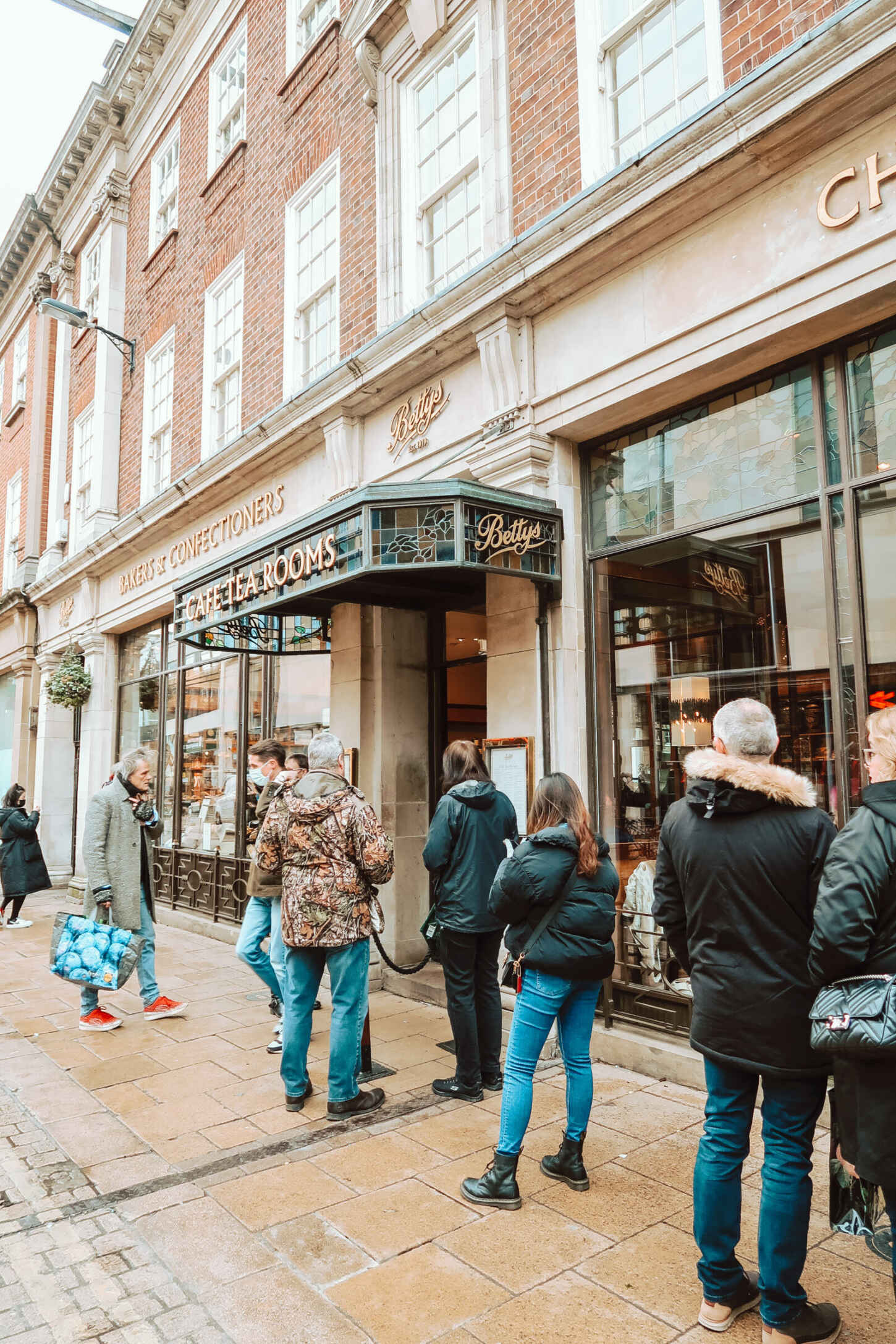 The service was amazing, and the staff were incredibly friendly, and even gave Jake and I some heart shaped chocolates to wish us a happy anniversary. Jake ordered an English Breakfast for £13.25, served with Dry-cured bacon, Bettys Yorkshire sausage, poached eggs, tomato and mushrooms, while I opted for the Swiss Breakfast Rösti – A classic pan-fried Swiss rösti made with grated potato, gruyère cheese and cream, and served with dry-cured bacon, tomato, mushrooms and poached egg, which was £13.50.
With drinks – including a bellini – our bill came to just under £50, and while it was expensive, it was a really lovely, luxurious experience, perfect for celebrating the occasion. I'd absolutely go back and book in for their iconic afternoon tea, too.
From here we headed to The Shambles with its overhanging timber-framed buildings – some of which date back as far as the fourteenth century. One of the most popular shops – made famous by TikTok – is The York Ghost Merchants. Located in a 1780s building in the city of a thousand ghosts, is a shop that sells them – each with its own design and 'spirit'. The queue snaked up The Shambles and around the corner, and took around an hour from joining the queue to entering the shop.
The quirky souvenirs are all marked with the Sorrowful Guild of Master Ghostmakers mark, and are the only place licenced to sell the original York Ghosts. Inside the Victorian shop, there are rows and rows of colourful and decorated ghosts, who are rather sweet and more 'bedsheet with two holes' than headless horseman. You're invited to find a ghost that 'feels' like yours, exploring hidden features behind peepholes and paintings, too.
I bought two Little Ghosts for £9 each – but The Original Ghosts are £17. They had their photo taken on The Shambles before being packaged in a little "Boo" box with oval gilt edged viewing aperture so they can see where they're going when they leave the shop!
In a shopping mood, we browsed The Shambles and picked up an amazing New York style Lotus Biscoff cheesecake from The Cheesecake Guy, and scouted around the market behind the famed Harry Potter shop. I also picked up some delicious jelly beans from The Potions Cauldron (another Potter-themed store), alongside some gifts for family, like Butterbeer and Wizards Magic chocolate, made by the actors who play Fred and George Weasley.
We made our way over to the city walls, while also popping in Flying Tiger, where it's far too easy to spend money, as well as vintage store Bowler and Betty, and plant shop Botanic, which is well worth a trip if, like me, you love houseplants.
Before walking part of the City Walls, we stopped off at Gatehouse Coffee for a cuppa. The church-run cafe is located in the walls of the city and opened in 2007, and their rooftop terrace offers wonderful views of York. As well as coffee, London Fogs and chai lattes, they also sold a range brownies and bakes that looked incredible. If you didn't want to sit in, you could grab a takeaway cup and use it to warm your hands as you walk the walls.
Jake and I walked clockwise along the City Walls, with York having more intact walls than any other city. There are just over two miles of walls and take around two hours if you wanted to do the full loop – but there are regular pitstops where you can get off. Along the walls, there are four 'bars', or gateways' as well as two smaller ones and more than 40 towers. More than 1 million people walk York's City Walls each year, with groups working tirelessly to preserve them. Built in Roman times, they've been added to and rebuilt over time and now have parts from across the centuries.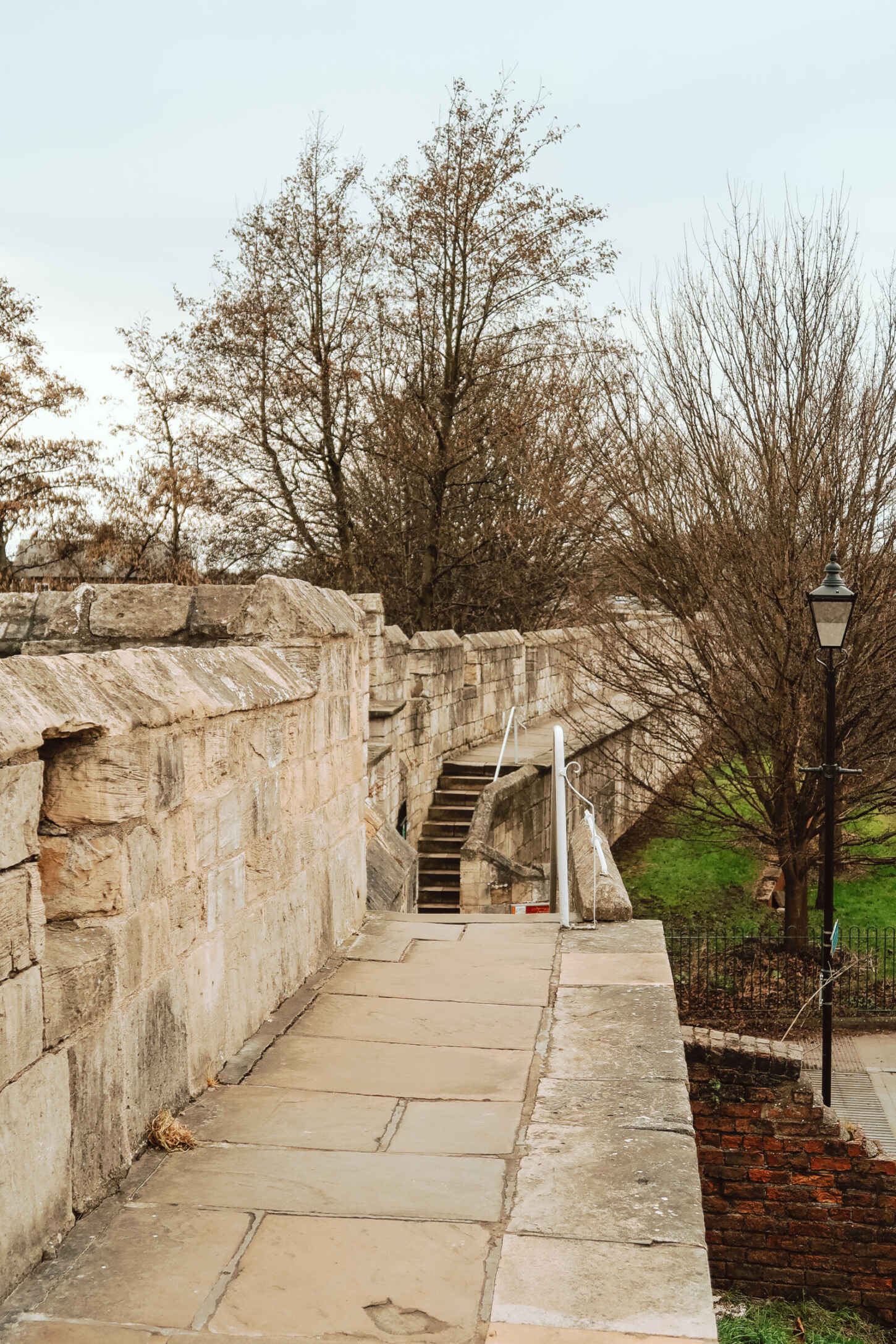 We walked the walls until we reached Clifford's Tower, which unfortunately was fenced off and covered in scaffolding during our trip, as it's undergoing a conservation project. It was originally built by William the Conqueror to subdue the rebels of the north before being burned down not once, but twice. Henry III rebuilt it in the 13th century, where it stands proud on a tall hill offering panoramic views of the stunning city. The tower got it's name from an incident where Roger de Clifford was executed for treason against Edward II and hanged in chains from the tower walls. This is one of the stories that was told to us on the City Cruises the previous afternoon.
Having worked up a hunger, we stopped off at FortyFive Cafe – a musician-run cafe and bar on Micklegate. The venue was established in August 2017 by co-owners Dom White and Dan Kentley, and serves up coffee, cocktails and a selection of grilled cheeses. It was one of those meals that was just what the tourist ordered, and filled a gap. Inside the dog-friendly venue, music plays on a record player behind the bar, and there is also a rack full of vinyl that is available to buy. I picked up a copy of Rumours by Fleetwood Mac, smiling to myself having also dug out an LP from Staffordshire-based Don't Call Me Ishmael. You can take the girl out of Stoke, but she'll always find a way to feel at home.
FortyFive offered a really relaxed atmosphere and much needed shelter from the February drizzle, and their unusual house cocktails are a must-try – I recommend the Poptart paired with a cheese and pastrami toastie.
In the evening, we had a table booked at Cosy Club for our evening meal, with plans to go out for a few drinks after. The Fossgate venue has inhabited York's first purpose built cinema – The Electric Theatre – since 2017. Part of the Loungers group, Cosy Club is a more upmarket version of their lounges, such as Cappello Lounge in Staffordshire, or Cornwall's Concho Lounge. There's a generous bar area to cater for every thirst, with a grand ground floor restaurant and a bit of a Great Gatsby feel.
Having had steak the previous night, Jake decided on the house beef burger with fries, slaw and pickle – adding cheese and bacon for just under £15. Having had steak envy the previous night, I ordered the 28 day aged 10oz ribeye steak with fries for £20.95. Served with garlic & parmesan butter and bearnaise sauce, the steak was served medium-rare and was cooked perfectly. Staff were extremely attentive without being over the top, and nothing was too much trouble. Despite being a busy restaurant, the experience felt personal and semi-private due to the cosy booth-like seating, too.
After leaving the Cosy Club we headed to The Botanist, which is a go-to for cocktails in any city – we always make a stop whenever we go to Manchester, too. We got a small table in the bar area and I enjoyed a couple of Proseccos to toast mine and Jake's anniversary. While sitting in the secret garden-style bar, we were serenaded with some live music, which is on every night, with monthly events such as Botanist musical bingo, too.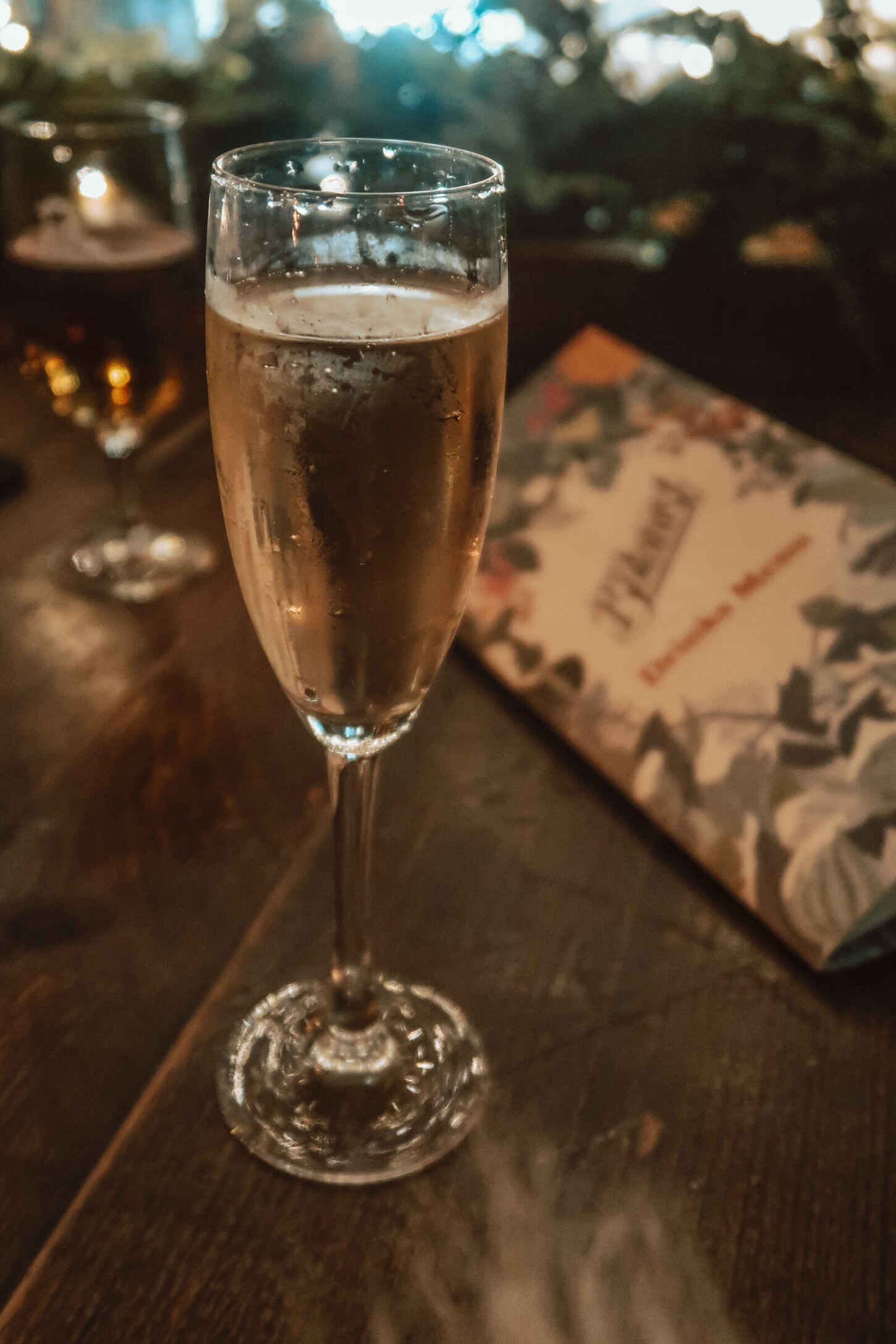 I absolutely recommend booking in at The Botanist for food, too – and if we were staying an extra night, we definitely would have. My order is always the chicken and chorizo hanging kebab and a side of their insane pork crackling. It's *chef's kiss*. Their cocktail menu isn't huge, but is carefully crafted, some of my favourites including a Lily Pad Sour (which tastes like fizzy watermelons) and the Botanist Pornstar.
We ended the night at Jimmy's (that's a lie, we ended the night quite drunk and across the road in Five Guys getting emergency fries), which is one of my favourite bars, having frequented their Manchester venue a lot. In the shadow of the world-famous Minster, Jimmy's has a home in one of the most striking listed buildings in York, situated in Low Petergate. It opened just last April by brother's George and Jimmy Craig, of the band One Night Only – remember them, from the noughties?
The rock 'n' roll bar is in the old Café Rouge building and is spread over two floors with two bars and dining rooms. Again, this would have been another place I'd have sampled the food menu at if we hadn't already eaten, or had longer to spend in the city. Here, I ordered a margarita and Jake had an Amaretto Sour, thanks to my recommendation, as he doesn't typically drink cocktails – but at £8 a pop it would be rude not to. Before leaving for late-night carbs and an Uber back to the hotel, we snapped a photo in their booth, which accepts card and makes a really cute keepsake from your trip.
Sunday
On Sunday morning our table was booked at The Ivy, next door to Bettys at 10.30am. Entering the doors, there was an immediate sense of occasion as we were whisked to our seats on a comfortable corner bench. The venue was so picturesque with locally inspired artwork, various seating arrangements, burnt orange leather banquettes, and plush decor. There was a great selection of choice on the brunch menu, but of course, Jake went for the full English, served with Smoked streaky bacon, Cumberland herbed sausages, fried hen's eggs, black pudding, roast plum tomato, grilled flat mushroom and baked beans, as well as toast for £13.95.
Meanwhile I went for the hot buttermilk pancakes with strawberries, raspberries and blackberries with Greek yoghurt, lemon balm and warm strawberry sauce for £8.95. The St Helen's Square Brasserie venue offers friendly, sophisticated all-day dining to York, and it was such a special way to start our actual anniversary. Service was swift and the food was lovely, Jake even mentioning he preferred The Ivy over Bettys (but both are definitely worth a trip).
We'd decided to book The Van Gogh Experience at St Mary's Church having seen so many gorgeous videos of the exhibition on TikTok. Tickets were £13 each, and the expo truly felt like stepping into one of the Dutch artists' works. The 360 degree immersive experience saw a 35 minute sound and light projection of his most famous works and is extremely relaxing. There's also the opportunity to create your own masterpiece and read about the artist, and pay an additional £3 for a virtual reality experience. Personally, I thought the exhibit to be expensive for what it was and the amount of time spent there, but it was nice to visit all the same.
Last, but definitely not least, we stumbled upon The Stone Roses Bar, on King Street – a Britpop-themed pub with an indie playlist, music memorabilia and posters plastered all over the wall. The dive bar didn't have a drinks menu for browsing, but as we were driving home fairly soon, we got a couple of fizzy Vimto's in for a game of pool. It was very quite on Sunday morning, but a few tables were occupied by other couples and the odd family, too. I imagine on a Friday or Saturday night, this would be a great place for a drink and a dance.
And that's a wrap on our whirlwind weekend, which was almost 48 hours exactly. If you're planning your own romantic getaway to York and take inspiration from this post – then please let me know in the comments!