When it comes to getting inspiration for my nail art designs, I often turn to fashion to spark some ideas. And after so many of you loved this lime green and hot pink outfit, I decided it would be the muse for my next manicure.
Ahead of my appointment, I sent my nail technician, Chloe Birks, eight photos from Instagram featuring a similar colour palette with mix and match designs with snake print, flames, and spots.
When I arrived to my appointment, Chlo had picked out a selection of vibrant greens and pinks from The Gel Bottle, and we said goodbye to my gorgeous Valentine's set from last month.
Chloe launched her studio during the pandemic in August 2020 after quitting her job as a visual merchandiser for Primark. Now, she's one of the most in-demand beauticians in Staffordshire, with her appointments booking out minutes after midnight each day for brow lamination, lash extensions and nail services.
Located in Longton, her jungle-themed studio is one of 23 office spaces rented out to local entrepreneurs, with free parking and toilet facilities.
I booked in for builder gel with complex nail art for £40 which takes around two hours and 15 minutes. It consists of designs that are hand painted, like French tips, flowers, flames, stars and smileys.
The longest part of a manicure is always the removal and prep to make sure there's a flawless base for the next set to be painted on to. Chloe uses Navy Pro tools and an e-file to do this, removing my cuticles and smoothing my nail beds, trimming the length to be more manageable. I've discovered I prefer my nails to be on the short to medium length over long, as they're more practical and are much stronger. That said, my nail strength has increased significantly since having regular manis.
Chloe had drawn out a design idea based on the images I sent her which was both inspired by the vibe, but also completely original, which is something I love. She's always able to put her own spin on and idea and make it her own.
This manicure is a mix and match design with a pink flame on each hand, with green, glittery accents. Each hand also sees a wavey black and white pattern with negative space, breaking up the bold colours with contrasting stripes, with a block green, and block pink occupying a nail each, too.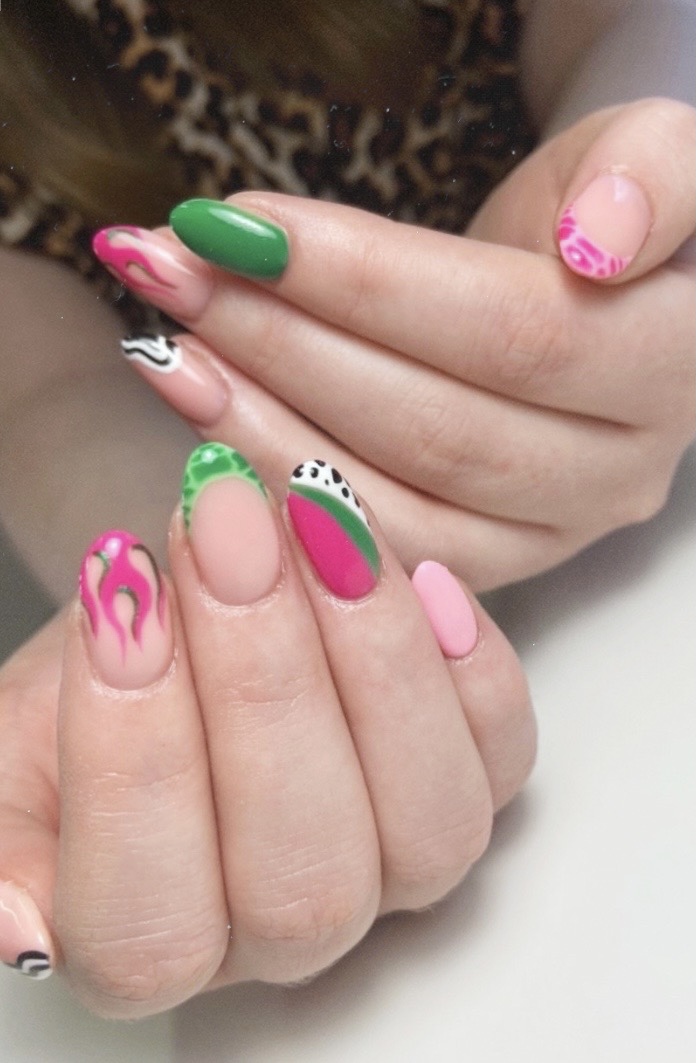 Two of the nails see a slither of white dalmatian print with a strip of green or pink, with the rest of the nail blocked out with the opposite colour, which is serving up some serious watermelon vibes, while green and pink snake print French tips bring sass and an edginess to the overall manicure.
I absolutely love the finished design and it goes so well with my green corduroy Urban Outfitters coat that's barely been off my back since Christmas. Chloe always finishes my manicure with the Navy cuticle oil, but next time I book in, I'm tempted to pay the extra £5 for the Navy Signature Manicure. The treatment includes a soak with the Navy cleanse before a massage with the Navy tea scrub to exfoliate the skin. Then there's the Navy clay mask that sits for around 10 minutes before tha the famous Navy balm rehydrates and protects the skin.
Now go tell your nail tech you want green and pink nails for April.