Ad – this meal was gifted as part of a campaign with Newcastle-under-Lyme BID – all views are my own
Foliage walls, neon lights, pretty cocktails and pansy-topped starters – after opening their second Staffordshire venue last year, I finally got around to taking my first ever visit to Bloom.
Bloom opened their flagship Hanley restaurant in the city centre's Cultural Quarter back in 2019, and after a tough pandemic, announced the opening of their second site in May 2021. Co-owners Ian Orton and Jack Hardy have done an amazing job at branding the venues, which are now very well known for their Instagrammable decor, bottomless brunch and pornstar martini trees.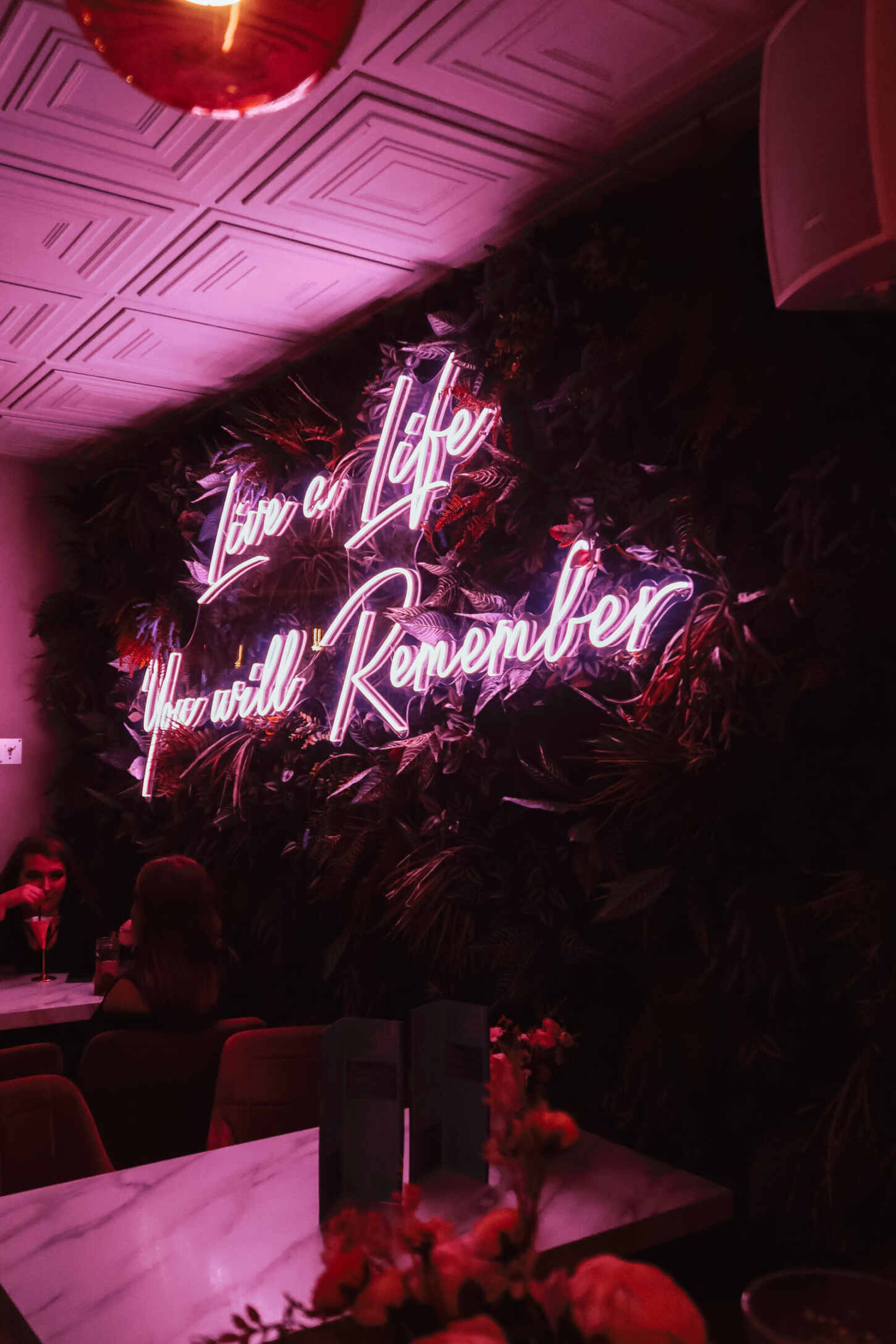 The Ironmarket venue underwent a £100,000 transformation and features subtle differences from it's big sister bar in Hanley, with a different vibe and tweaks to the menu – but still the same spot on service and delicious drinks.
When we arrived slightly earlier than our booking time our table was already waiting and our server sat us straight away. The extensive drinks menu features more than 40 cocktails, as well as showstoppers like the giant pornstar martini, but I eventually settled on a Stacy's Mom. The £7.95 tipple consisted of tart rhubarb puree with orange juice and sweet honey syrup topped with prosecco and garnished with an orange slice. There's also a pretty wide choice of beers too, with Jake picking his usual Peroni, which cost £4.30 a bottle.
Bloom's main evening menu has a strong focus on their small plates, priced from £4.95 to £6.45, or three for £14.95. As well as a bunch of meaty options, there are also gluten free, vegetarian and vegan choices, too, as well as adaptations of dishes to cater to different dietary requirements. Jake and I ordered four of the 14 small plates to share between us, mostly because we couldn't settle on just three. When I order food I love having lots of different flavours and textures to explore, so this pick 'n' mix approach really suits me. Not only was it ideal for mine and Jake's date night, but it would also work extremely well for a girl's night out, too.
Read more: Trentham Bakehouse pastries and bakes that are worth queuing for
We ordered the loaded nachos with guacamole, salsa, soured cream and jalapenos, as well as the spiced halloumi fries which came with a side of the most delicious chilli jam. The buttermilk fried chicken strips and waffle were less chicken strips and more like a chicken fillet sliced in half, but was just as mouthwatering with sweet, sticky maple syrup.
For me the gyozas were the highlight, having first tried the Japanese dish at Slug and Lettuce, in Newquay. The pork dumplings were beautifully presented with salad, pansies and a drizzle of soy sauce. The dumpling itself was crispy as it should be, and the flavours really worked well together. What I love is there the menu feels like there's something for everyone, with a range of different cousines from American style chicken wings to Korean sweet and sour chicken. It brings some really exciting flavour profiles to the menu, with extra sides like olives and salt and pepper chips to compliment.
The mains menu is equally as diverse, with a selection of burgers and hanging kebabs amongst steaks, Thai green vegetable curry, Greek gyros, honey and soy marinated salmon and Peri Peri chicken breast. Everything sounded really inviting, and I could have ordered any of them confident I'd have cleared my plate – but I opted for the hanging kebab skewer with chicken and chorizo for £14.95. The kebab comes served with skin on fries, a side salad and pitta breads, as well as a mint yoghurt. I feel like you get a lot for your money with this one, and it looks fantastic when it's brought to the table.
Jake ordered the Showstopper burger for £14.95, which was one of the biggest burgers I've ever seen. The double burger was made up of a beef patty, chicken breast, streaky bacon, melted cheese and Jack Daniels BBQ sauce. Jake struggled to bite into the burger as it was so tall, and had to resort to deconstructing it to eat it. The sticky JD BBQ sauce was the star of the showstopper, making it super tasty and finger licking.
After our mains we ordered another drink to end the night, Jake another Peroni and a margarita for me. Served in a coupe glass, the cocktail came with a salt rim and a wheel of lime, and found its way onto my list of top margaritas across the UK.
Jake and I visited Bloom as part of the Get Home Safe NUL campaign, which saw a women's safe space pop up in the town centre on weekends throughout March and April. The space is designed for women to be able to drop in if they're on a night out and are feeling unsafe, have lost their mates, need to charge their phone, or want somewhere safe to wait for a taxi. You can find out more about the campaign on this Instagram post.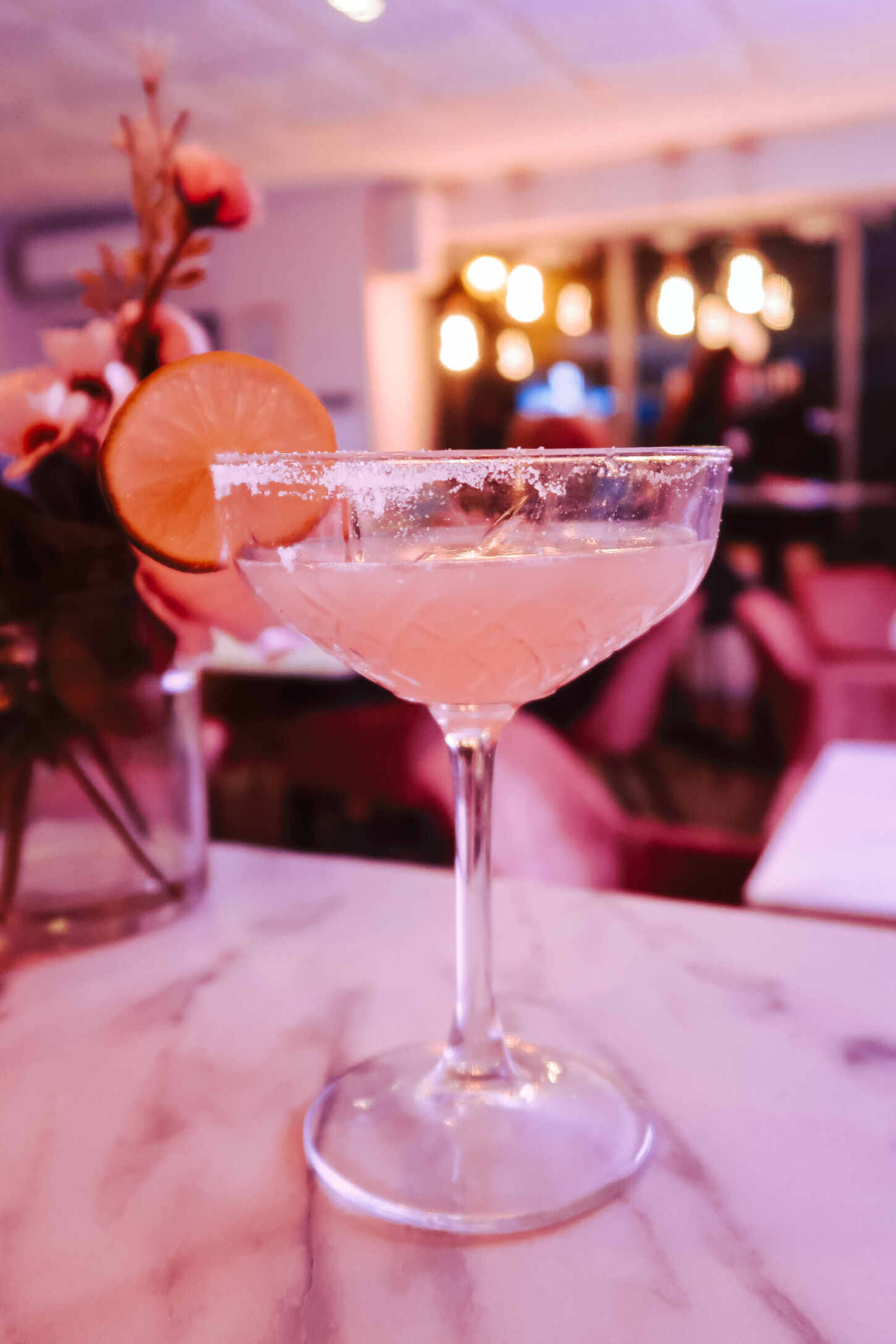 We had a lovely evening where the staff were friendly, service was fast and the choice and delivery of food was brilliant. Portion sizes were great for the price, the cocktails were gorgeous and the setting is perfect for getting that snap for Insta. It's easy to see why Bloom are always booked up! I'm 100% planning on returning for Bottomless Brunch so I can tick another item off my 25 before 25 bucketlist before the end of the year.