Happy Jack is the first play that John Godber wrote, back when he was just 25 years old – a year older than myself, now. And 40 years on, he's revived the roles of Jack and his wife, Liz, to bring the heartwarming performance to The New Vic as it celebrates 60 years of theatre making.
The original cast of Godber himself, and his real-life wife, Jane Thornton, have returned to the roles that brought them together back in the 80s.
John said: "Happy Jack obviously means so much to Jane and I because it was the play that brought us together.
"Emerging from the pandemic we started to look back at the catalogue of work I had created over the past forty years. Our affection for the play is clear, though we had not anticipated quite how emotional this relationship would be."
Read more: Sunny Side Up by John Godber at New Vic Theatre
Written two years before the 1984 miners strike, this poignant piece of playwriting lands particularly well here in Stoke-on-Trent, which shares similar industrious roots to Yorkshire, where Happy Jack is set.
The backwards-told love story chronicles Godber's family history in the mining industry, based on his own Grandparents.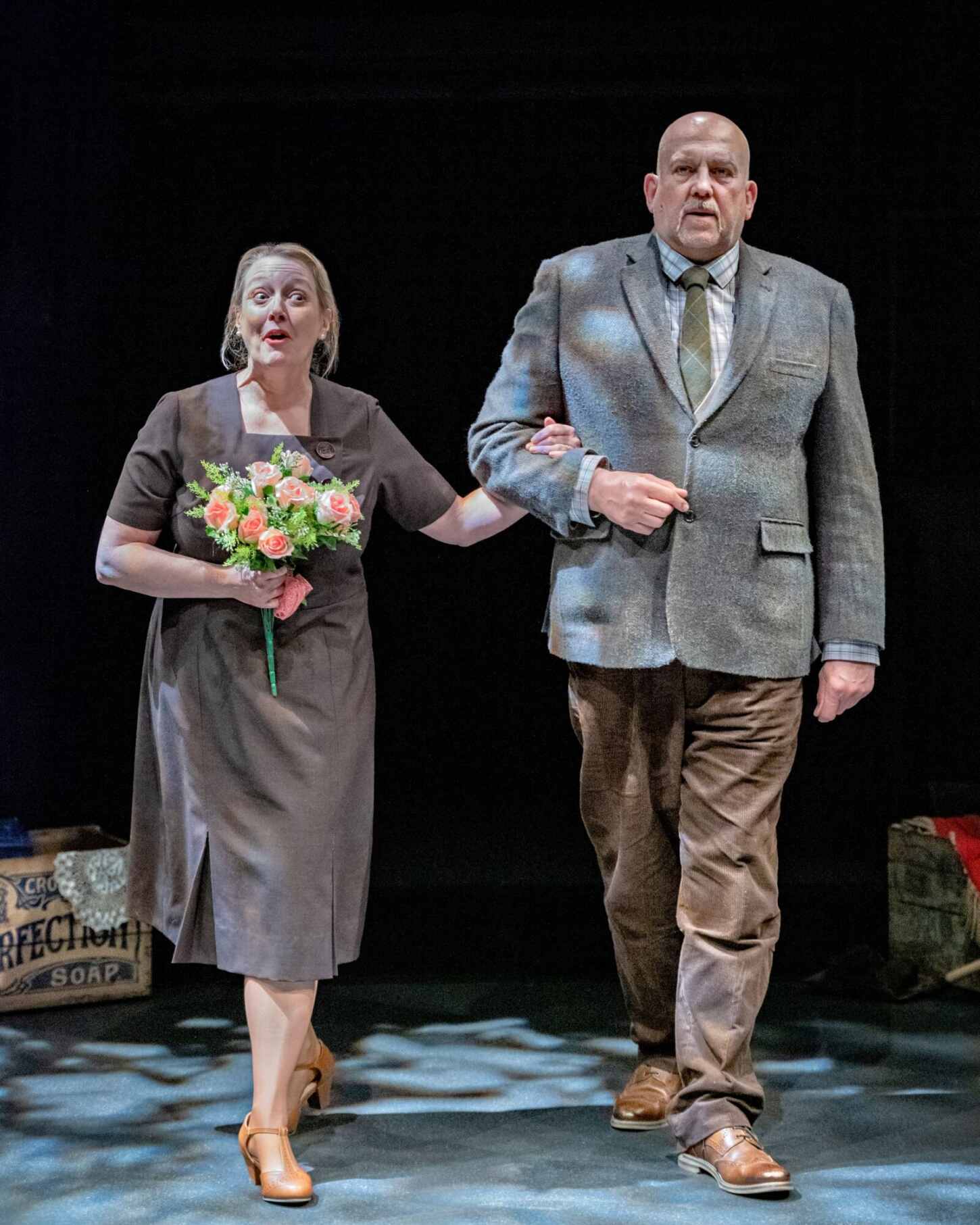 The play opens with Jack and Liz narrating the stage directions – something which keeps the audience quite literally on the same page. They're comical in their approach, bringing a lightheartedness to an otherwise quite emotional story.
The double BAFTA and multi award-winning couple, play lifelong lovers Jack – a stoical, stubborn and truculent miner – and Liz, his effusive optimistic long-suffering wife. Between them, they rub along in an old-fashioned marriage, creating lasting memories with an affection for each other that is as deep as the pit Jack works in.
They are a working class couple who don't ask for much, and who are learning to live with what little they have, something that many of us can relate to – if not our grandparents certainly can.
Behind his harsh exterior, Jack is soft at heart, and a poet behind the scenes, writing and reading aloud his tales of the pit to Liz. Meanwhile, the cleaning seemingly never stops for Liz, who works like clockwork washing clothes, sweeping ashes and cleaning paths of coal dust. Between them, they find it difficult to say 'I love you', but their bond – no matter how much bickering – is undeniable, strengthened only by their chemistry.
The performance intelligently documents the trials and tribulations of some 50 years of marriage before Liz died of cancer and Jack of a stroke three years later. It highlights the monotony of pit workers, going on holiday to Blackpool, having children, grandchildren and marriage. It captures the halcyon years before the Miners' Strike – making for a political, but also hilarious and touching performance. It's particularly striking now, with climate change at the forefront of people's minds, which in John's words, quite literally 'makes coal a dirty word'.
Honest, raw and relatable, Happy Jack is at the New Vic until Saturday, April 30. To book, call the Box Office on 01782 717 962 or visit newvictheatre.org.uk.