This article contains affiliate links. I may receive commisions from any sales generated by it.
Festival season is one of my favourite times of the year because I get to dress as outrageous and glitzy as I want and no-one bats an eye. I always use Tramlines Festival as an excuse to go all out, because if you can't wear a rainbow unitard to a park in Sheffield, where can you?
This year, in a bid to be a little more sustainable, I wore clothes I already had in my wardrobe – save for one dress I'll more than get my wear out of – reusing accessories from previous festivals and making my own headdress I'll keep for years to come.
I have a bit of a festival fashion check list that I've developed over the years that helps me pick my outfits, which mostly comprises two main elements: is it comfortable? And how easy will it be to navigate a portable loo in it?
I received a lot of compliments for my festival looks this year, with Jake counting upwards of 20 people asking where I got my glitterball headwear. So, if you'd like to recreate my Tramlines looks, here's what I wore to Hillsborough Park this year.
Friday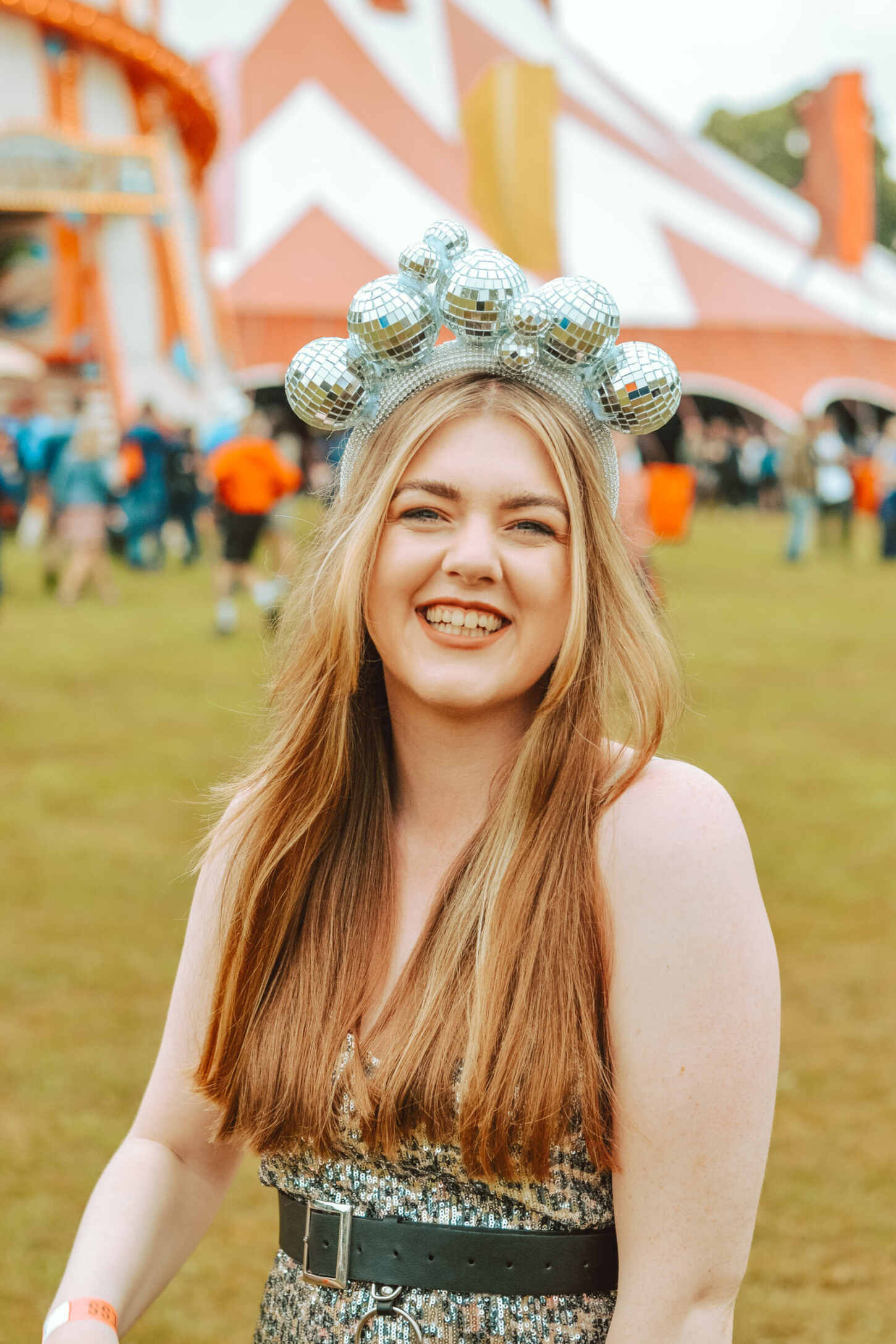 I think Friday's look was my favourite of the whole weekend because I love anything with a bit of sparkle. The main focus was the glitterball headdress, which I'd made with supplies from Amazon and a hot glue gun. In total it cost me around £40 to make, but I also had to invest in a new glue gun – that said, I probably could have made it slightly cheaper.
My dress was the Stradivarious hero animal sequin slip dress from ASOS, which cost £29.99. I hadn't intended to purchase any new festival clothes this year, but you all know how I can't resist leopard print.
While I typically wear a size 10, I was able to size down with the 8 and loosen the cami straps to avoid rubbing. The flattering slip dress has an almost hidden animal print beneath the sequins, and a split hem for the ultimate festival glam look.
I paired the dress with my Dr Marten boots and chunky socks to stop them rubbing, as well as a black belt with a chain feature which is currently down from £18 to £6 on Nasty Gal.
So many people asked about my headdress and were a disappointed they weren't able to buy one, but equally impressed at my (and mum's) handiwork, and I'd be lying if I wasn't feeling a little bit smug about it.
Saturday
Saturday was the best day for the festival weather wise, so I wore my Waiste Vintage leopard print lace up dress, which I bagged for around £60 last month. The cotton dress is really comfortable and cool to wear, and is nipped in at all the right places making it a great statement piece that does all the talking.
The mini shift dress has a shaped back, v-cut neckline and the most incredible red lace up detail to the front. I had planned to wear this with some big 70s sunglasses from Sparrowhawk Vintage but I accidentally left them in the hotel room, however I did wear a black fedora from Missguided that I bagged in a 70 per cent off sale for £3.60.
Again, I opted for my Dr Marten boots, this time wearing them with some gel toe covers to stop my feet from hurting so much.
Luckily the rain held off for the best part of the day and no poncho was needed, but someone please remind me to get a funky waterproof jacket ready for next year.
Sunday
It was a bit drizzler on Sunday, but I had my outfit meticulously planned especially for Madness, who were headlining the festival. I had bought this monochrome shirt dress from Everything5Pounds thinking it looked of-so Mod and 60s, which I loved, and figured it would be perfect for the 2-tone ska set. The dress was £5.75 and made with 100 per cent cotton so it was really comfortable and breathable to wear. It's pretty versatile and can be worn as a dress, belted, or thrown over as a shirt for a different vibe, too.
More than 30,000 steps had began to take their toll on my feet so I switched my Docs for Adidas Gazelles, though I'm not convinced that it made much of a difference. Top tip though, you can get your Gazelle's cheaper – providing you're a size 5.5 or less – by shopping the junior section, as they're £45 instead of £75.
To give the look a more festival feel, I reused my floral headdress that I made with Pretty Pricks in 2019, reglued some of the loose pieces, and titivated it as it had sat on top of the wardrobe for three years. It was really nice to be able to dust it back off – and I'll probably do the same again for next summer, too, as I've already got my tickets for Tramlines 2023.
Which of these festival looks was your favourite? And if you're planning on going to a festival this year – tell me what you plan on wearing in the comments below!