Shortly after Nails at Bear opened inside Altar, I bagged myself an appointment for some sassy holiday nails.
The salon is around the corner from my office, which meant I could book a 5pm appointment and zoom out of work to get beautified.
Leanne at Nails at Bear has totally transformed how I see a nail treatment. Before, I would get acrylic nails once or twice a year for special occasions – usually my birthday and at some point in summer.
The thing is – I would pay £35 for a set of clunky, plastic nails that never looked how I had imagined them and completely debilitate me and prevent me from doing the most basic things – like flushing a toilet.
Now, thanks to social media and more and more nail techs heading to more and more courses, there are so many more options out there. And you don't have to have extensions to have pretty nails either.
I thought it would be cute to put together a little nail diary of each set Leanne, from Nails at Bear creates for me. I've been going each month since August now, and so have had three gorgeous sets painted on my claws.
In this post you'll find the inspiration for the set, the products and colours used, prices and of course – the finished set. So let's get to it!
Nails at Bear set one
In August I had my very first appointment with Leanne for some holiday nails. I had started following numerous nail techs on Instagram and would save the designs I liked to a board.
I found a set by @beautyworksbyamy in mustards and navys that I adored, and asked Leanne to recreate it in a pink/red colour palette.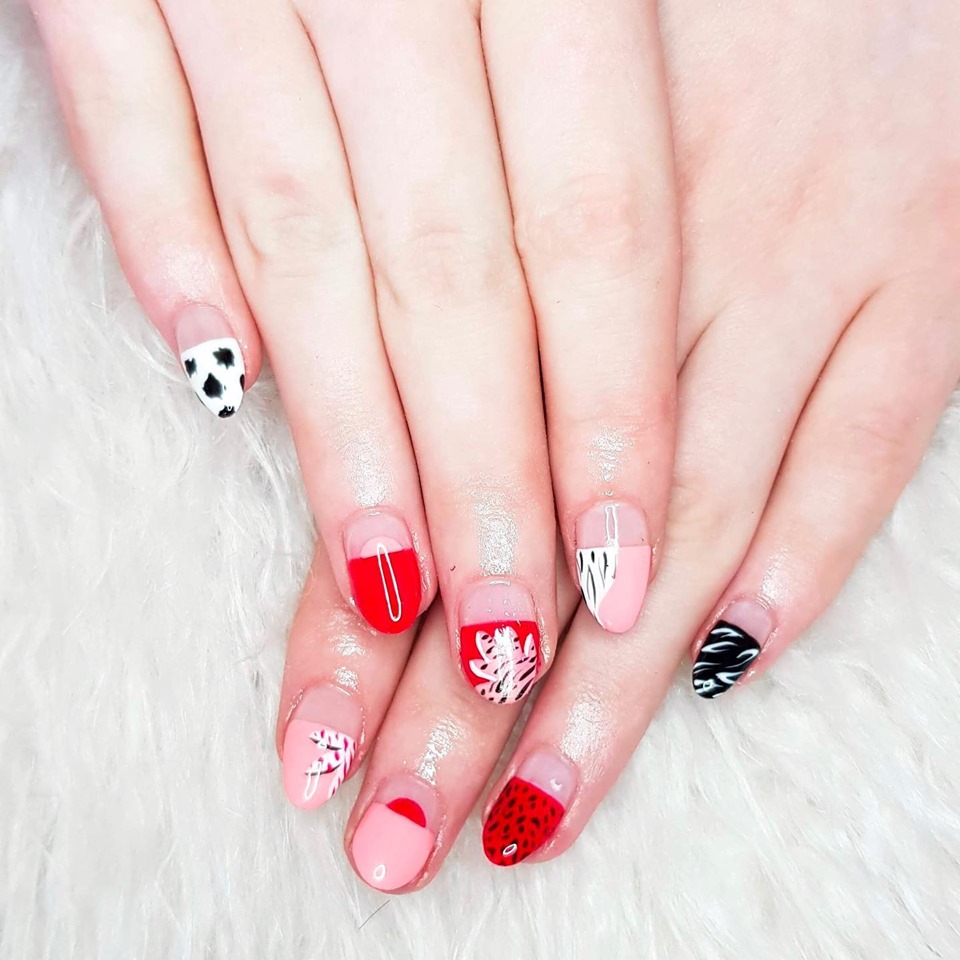 Unfortunately I had a few broken nails from wearing acrylics the previous month, so Leanne added gel-x extensions to these nails. These are nowhere near as clunky as acrylic and you couldn't tell them apart from my real nails. The three extensions were on both thumbs and my right pinky.
The abstract design was painted using Peony and Candy from The Gel Bottle, as well as white and black to add to the designs. The negative space was something I'd never played around with before, but I loved it as it not only looked gorge, but you couldn't tell when they were growing out.
The patterns featured leopard, zebra and cow print, as well as half moons and leaves.
Price breakdown:
Gel – £20
Art – £10
Gel-x extensions – £9 (£3 each)
10% off for entering a giveaway – paid: £35.10
Nails at Bear – September
At my previous appointment, I asked Leanne if anyone had asked for the mural painted on the salon wall on their nails. To my surprise, they hadn't, and I vowed to get it done.
The artwork was painted by Chloe Breeze and Katrina Wilde when Altar opened, and is an abstract jungle vibe that I have been obsessed with since I saw it on Instagram. I've always been a big fan of Katrina's work, and have attended her life drawing classes and exhibitions in the past.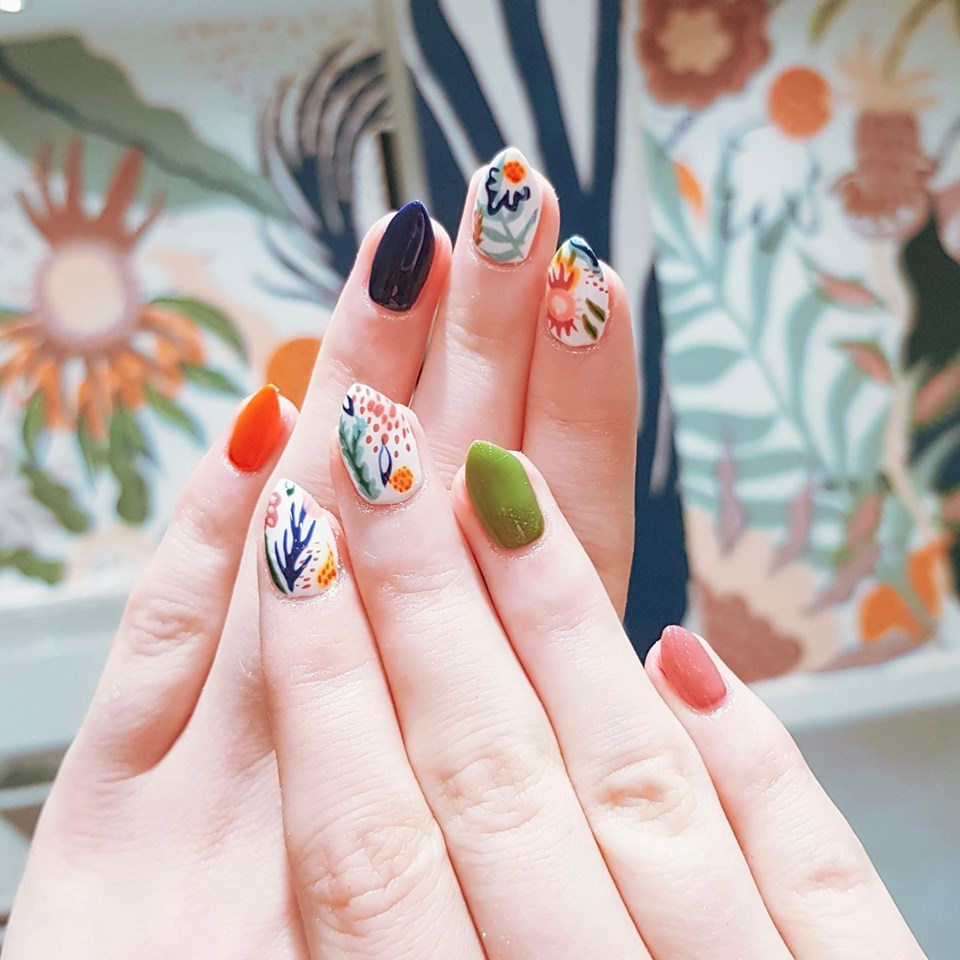 Leanne is amazing at detail, since she is also a graphic designer. I've been to nail techs in the past that try to deliver what you ask for, but you always end up disappointed by the job. That's not the case at Bear – Leanne serves hun.
I went for four nails of art, inspired by chunks of the mural, and the rest different solid colours from the palette.
We used 10 shades in total, including:
Pumpkin
Jungle
Khaki
Blue Spruce
Peony
Royal Navy
Sahara
Daisy
Bellini
French Bloom
I went for an almond shape to save one of my nails that had snagged at the edge. This meant that I only had to have one gel-x nail this time (index finger, right hand). This set gave me alllll the autumnal vibes and I was obsessed.
Price breakdown:
Soak off – £5
Gel – £20
Art – £4
Gel-x extensions – £3
10% off for recommending a friend – paid: £28.80
Nails at Bear – October
I had my appointment booked for October 31, ready for some events I had lined up in November. I like to try and get the most out of my mani (and my money!) and try to stretch as long as I can bare (BEAR, haha) between appointments. Usually, that's four to five weeks for me. This appointment was five weeks after my previous, and my next isn't until December 19… so that's like seven weeks. EEK.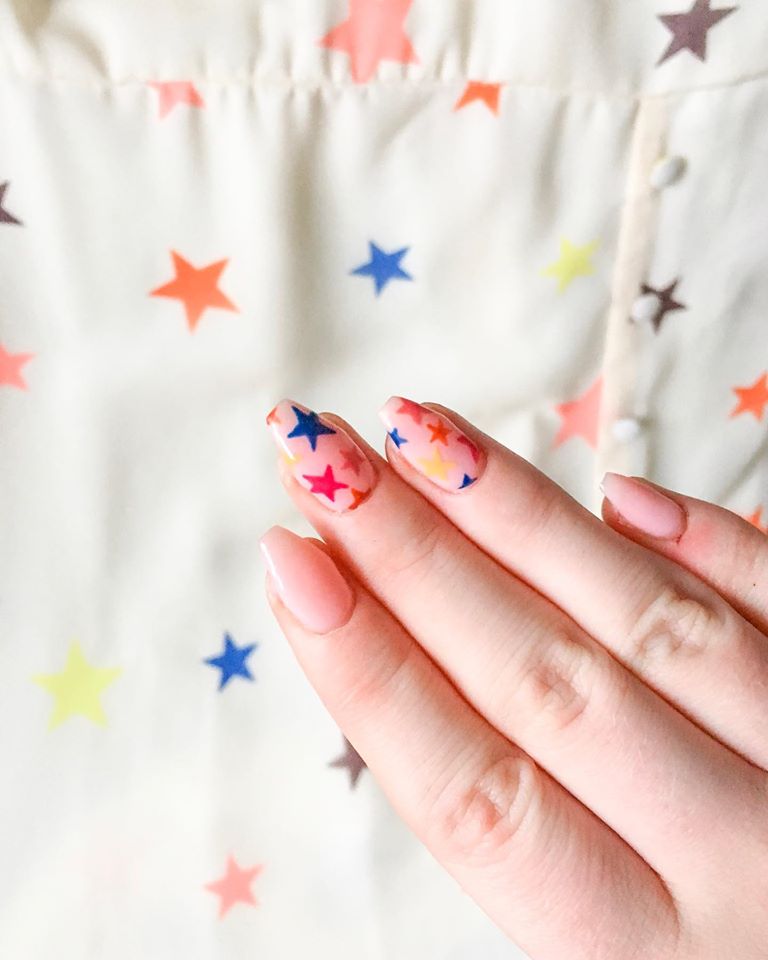 I like to book my mani around any plans or events I have so that they look their best when I have them. This set I got done one week before the O2 Media Awards North West. As such, my December nails are getting made pretty just four days before my birthday.
This month my nails were inspired by the Nobody's Child dress the brand gifted to me to wear to the O2 Media Awards North West, where I was shortlisted for Blogger of the Year. I asked Leanne to create something matching the dress – and she did just that!
Using one of her new The Gel Bottle shades, she coated all of my coffin shaped nails in Marshmallow – a neutral pink shade. The only nail still not totally my own is the index finger on my right hand. It has about 2mm of Gel-X attached from the last appointment to keep it looking the same length as my other nails.
You would never be able to tell which was fake, and I take great pleasure in turning it into a game and making people guess.
Leanne used the shades:
Mustard
African Sunset
Bloodgood
Royal Navy
Sahara
These were colour matched to a photograph of the dress! Then she handpainted tiny, sharp stars onto my ring and middle fingers in varying sizes to go with my outfit.
To keep my nails strong I also use NAF cuticle oil and The Body Shop's Pumpkin Vanilla hand cream.
Price breakdown:
Soak off – £5
Gel – £20
Art – £4
Watch Leanne work her magic on my star nails in my weekly vlog from 14.30!