If your New Years' resolution is to find ways to be more sustainable – then taking a look at your skincare routine might be a good place to start making swaps.
And Planet Revolution – Revolution Beauty's latest sub-brand – is offering beauty buffs simple, sustainable solutions with clean skincare and makeup, without the heavy price tag that often comes with these kind of consciously created and packaged products.
But what Planet Revolution also know is that it's a marathon and not a sprint, so champion the tagline #progressionnotperfection, which makes taking these small swaps on board feel so much more attainable and accessible.
The brand said: "With Planet Revolution we are offering an affordable choice to our customers who want clean formulas and conscious packaging."As a result, the positive changes implemented at Planet Revolution act as a testbed for Revolution's other brands, with significant sustainability swaps being made across the board. Including reducing plastic consumption by over 50 tonnes in the 2020 Gift collection (the equivalent of 3 million plastic water bottles), and switching all their fixing spray bottles to 100% recycled plastic.
While still technically a fast beauty brand, bringing products to the market first, fast and affordably, Planet Revolution have reviewed their buying strategy to control purchasing quantities to meet demand with as little waste as possible.Planet Revolution offers consumers a 'clean promise', assuring all the products from their considered edit are vegan, with simplified formulas, free from unnecessary ingredients, using sustainable and upcycled ingredients wherever possible, packaged in responsible, recyclable packaging.
I've recently been trying out a few of the Planet Revolution skincare products, and have been really impressed by the brand's transparency on their products and policies, from inclusivity and diversity, to their zero retouch policy.
Freshwater Brightening Cleansing Water and Wash Away Makeup Remover Pads
This lightweight cleanser is fragrance free and is made using leftover upcycled grapefruit pieces from fruit juice production in Corsica. Coming in at £8, the product uses hydrating vegan glycerin for simple and effective makeup and pollution removal.
I added a few drops to one of the Planet Revolution Wash Away makeup remover pads (also £8) and swept it across my already make-up free face, and was so shocked at how much dirt and pollution it still drew out of my skin.
There are seven pads in one pack, giving a weeks worth of removers, which can be placed in the washable bag and added to any cool washing cycle. They are made out of natural bamboo, cotton and polyester for the perfect soft-to-the-touch feel that's ultra gentle on skin. It's well worth having two or three sets of these so that you can use them on rotation, too.
The cleansers' bottle is made from 100% recycled materials – that's why it looks a bit grey and every single one will look slightly different. The cap is also made from 50% recycled materials. The product label uses a glue that won't contaminate the recycling process, meaning you can simply rinse and recycle the whole thing once you're finished.
The brightening cleansing water is a micellar water consistency, but when applied to the face, there is a very light and gently soapiness to it, which feels really deep-cleansing, and the results speak for themselves on the pad.
Planet Revolution Re-useable Beauty Buds
Much like cotton pads, cotton buds were something I would get through a lot of, but these re-usable ones are an amazing alternative and will save so much money in the long run.
Costing £5 for two, these come in a stylish 100% PCR container which can be used as needed and washed after use with the freshwater brightening cleanser.
Just leave them to air dry in a glass and store them back in their container once dry, and they can be re-used over and over again.
Planet Revolution Reusable Facial Sheet Masks and Sheet Mask Waters
Sheet masks are a trend that have really boomed in the last six years in the UK beauty industry, after K-beauty broke into the American market in the 2010s. But they're incredibly unsustainable, being used once before being thrown away.
But Planet Revolution have come up with a brilliant solution – Reusable Facial Sheet Masks. This is the first time I've seen a product like this so accessibly on the market and they're a real game changer. Made with organic cotton, they're super soft on the skin and really comfortable to wear – more so than regular facemasks, I'd say.
You get two in a pack for £4, then can buy the sheet mask waters separately for £8 each, soaking or spraying the masks and applying to the face to help revive tired and dehydrated skin types.
I've tried the skin soothing bergamot water, and the balancing sweet orange, which come in 300ml bottles that are made from biosource recycled, recyclable materials. They also use 'upcycled' active ingredients with vegan glycerin to create the product, which can also be used directly on the skin as an essence spray. The facemasks are recommended to be used for 10-15 minutes, and it's a quarter hour of pure bliss and relaxation – and when you work from home, it's a great way to take a quick screen break.
Planet Revolution Rose Kiss Lip Care Set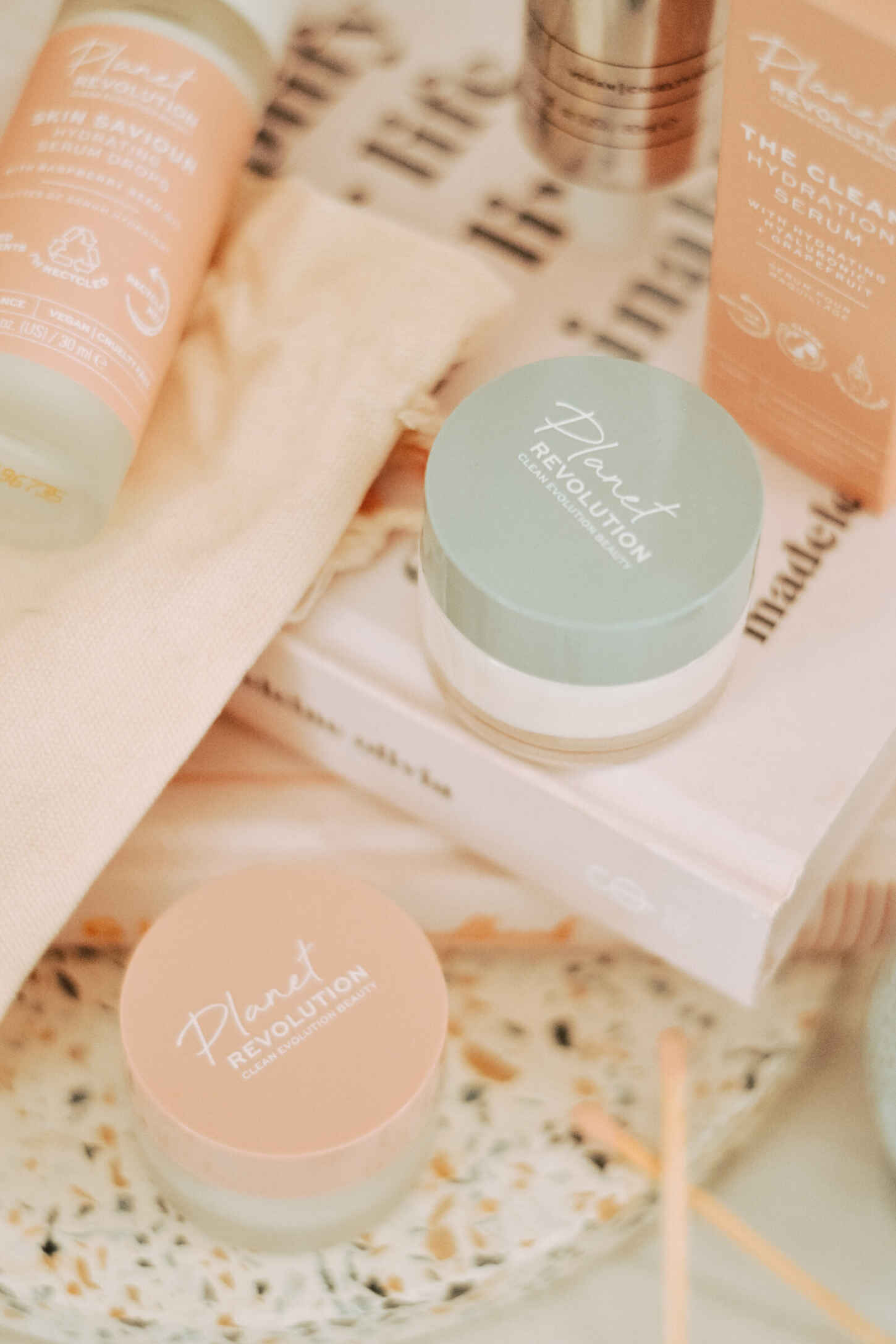 With winter comes dry chapped lips, but this rose lip care set is the perfect antidote with a two-step routine for banishing dry skin and hydrating better than any lip balm I've used.
The set costs £10 and offers your pout some serious TLC with nourishing rosehip oil and hydrating hyaluronic acid to help restore and plump dry lips.
Start with the scrub to gently exfoliate dry lips and remove any dead skin, followed by the sweet rose lip mask to add moisture. I love that the little jars come in a reusable drawstring 100% cotton bag that you can carry everywhere with you without losing them.