I wanted to read a book each month of 2021, and started off the year really strong, whizzing through novels in a matter of days at the start of the year. But as the year has worn on, my TBR pile has been added to faster than I could whittle it down – yet I still managed to get through 15 books in the last 12 months.
From rom coms to ghost stories – there's a real mix of genres here, each offering escapism from reality, which is something we've all needed in one way or another of late.
So, I wanted to share the 15 books I read and loved in 2021, which you should definitely add to your 2022 read list. I've tried to keep it short and sweet with a blurb description, but have linked the full reviews for each book should you find yourself intrigued.
Conversations with Friends – Sally Rooney
Conversations with Friends is an intimate debut novel by young author Sally Rooney which explores identity, relationships and the perils of stumbling through your 20s.
The blurb reads: Frances is twenty-one years old, cool-headed and observant. A student in Dublin and an aspiring writer, at night she performs spoken word with her best friend Bobbi, who used to be her girlfriend. When they are interviewed and then befriended by Melissa, a well-known journalist who is married to Nick, an actor, they enter a world of beautiful houses, raucous dinner parties and holidays in Provence, beginning a complex ménage-à-quatre. But when Frances and Nick get unexpectedly closer, the sharply witty and emotion-averse Frances is forced to honestly confront her own vulnerabilities for the first time."
Conversations with Friends is messy, exploring the politics of love and friendship in a chaotic and honest way. Sally writes openly about difficult themes, including identity, sex, self harm and detachment. Frances is on a road to self destruction which can make for gut-wrenching reading – but there's something so powerful about the raw realness of it.
Read more: Conversations with Friends – Sally Rooney review
Normal People – Sally Rooney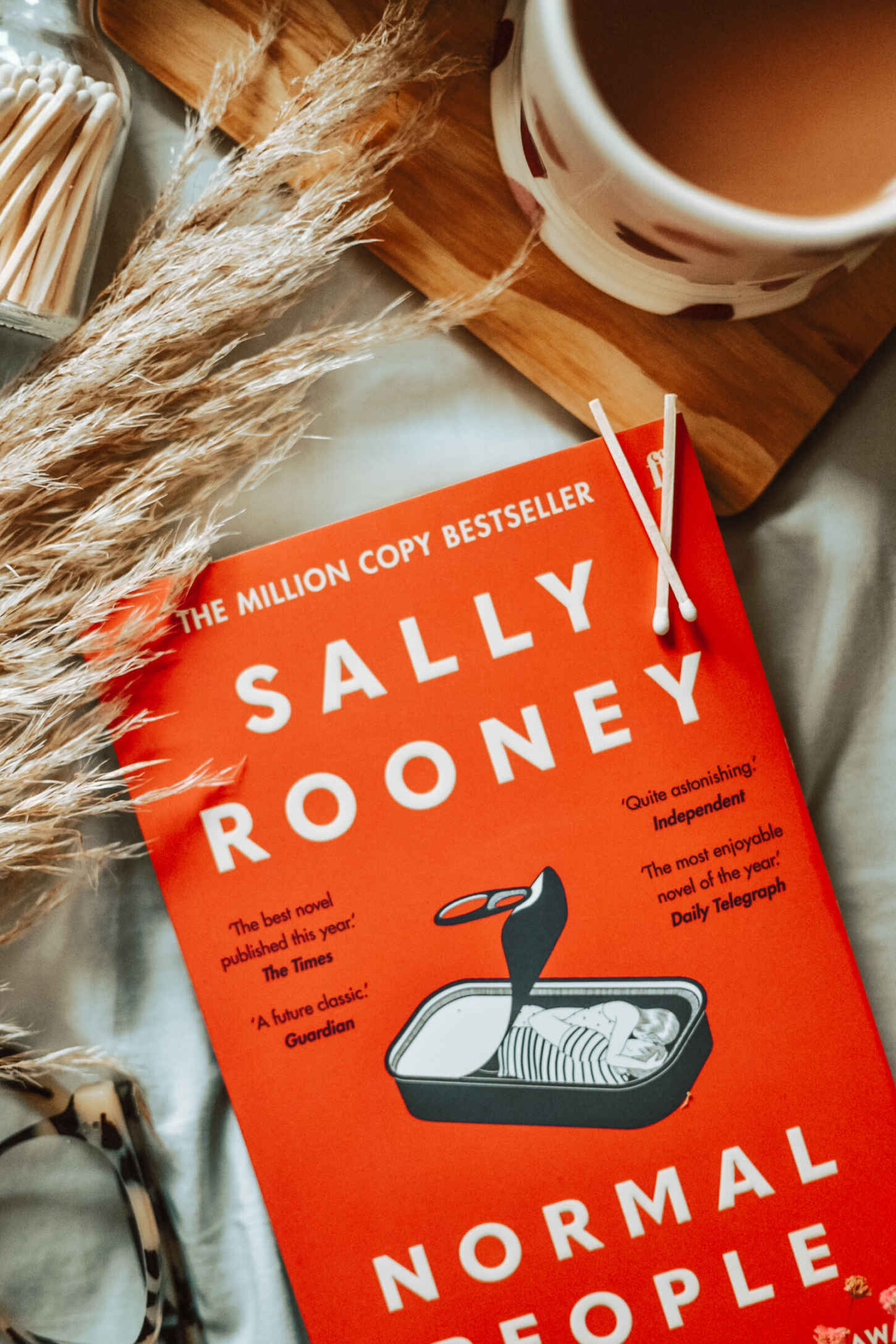 Normal People is a multi award-winning book by Irish author Sally Rooney, which has sold over one million copies since its release.
It was published in 2018, but became even more popular in 2020's first lockdown when the BBC released an on-screen adaptation of the novel.
The blurb reads: "Connell and Marianne grow up in the same small town in the west of Ireland, but the similarities end there. In school, Connell is popular and well-liked, while Marianne is a loner. But when the two strike up a conversation – awkward but electrifying – something life-changing begins.
"Normal People is a story of mutual fascination, friendship and love. It takes us from that first conversation to the years beyond, in the company of two people who try to stay apart but find they can't."
Marianne and Connell's secret relationship exists in the four walls of Connell and Marianne's homes, too afraid to let word slip out for fear of a tarnished reputation. That is, until they leave Sligo for Dublin to attend college.
Their mismatched love explores a struggle between power, class, social status and identity. Highly addictive, honest and relatable, it pulled at emotions I didn't know existed.
Read more: The only way you should read Normal People by Sally Rooney
Echoes of Home – Matt Rayner
Echoes of Home quickly made it to the top 50 best selling horror novels after its release on New Years' Day 2021. It will have you flinching at the creaks of your own home, waiting for bloody, blistered hands to appear at your windows.
The ghost story was based on the true historical event The Great Famine of Ireland, from 1845 to 1849, and The Highland Famine that followed, in Scotland, from 1846 to 1856. Matt's ancestors hailed from Ireland at the time of the food shortage, and characters in the book were even named after his own family members.
The blurb reads: "After accepting a generous opportunity to start afresh, Leslie Wills, a young man from Stoke-on-Trent, eagerly begins his long-distance journey to the Scottish Highlands of Elphin, a settled village that sits huddled amongst the dominating mountains.
"Its people are welcoming, and the beauty of the land is great. But deep within its Highland paths, a location rests hidden from the public's eye. A location which entices you to learn the truth of its troubled past. But once you bear witness to its sights and sounds, its presences will never allow you to forget.
"Uncover the truth, Journeying back to a forgotten time. With a plot full of secrets and suspicion that will leave you longing for answers."
Echoes of Home is a ghost story full of history and suspense, and an absolutely gripping debut. You'll be scrambling up your stairs when the lights are off in an attempt to escape what's hiding in the dark. It's emotive, and constantly has your brain ticking over with questions and theories – but all will be revealed as your turn the final pages.
Read more: Echoes of Home – a ghost story by Stoke-on-Trent author M. L. Rayner
The French Girl – Lexie Elliott
The French Girl, by Lexie Elliott, is a British crime thriller which will have you pointing fingers and guessing 'whodunit', right up until the final couple of chapters.
If you've read and loved The Heatwave, by Kate Riordan, then you'll adore this novel packed with twists, lies, betrayals and secrets.
The blurb reads: "They were six university students from Oxford–friends and sometimes more than friends–spending an idyllic week together in a French farmhouse. It was supposed to be the perfect summer getaway–until they met Severine, the girl next door.
"For Kate Channing, Severine was an unwelcome presence, her inscrutable beauty undermining the close-knit group's loyalties amid the already simmering tensions. And after a huge altercation on the last night of the holiday, Kate knew nothing would ever be the same. There are some things you can't forgive, and there are some people you can't forget, like Severine, who was never seen again.
"Now, a decade later, the case is reopened when Severine's body is found in the well behind the farmhouse. Questioned along with her friends, Kate stands to lose everything she's worked so hard to achieve as suspicion mounts around her. Desperate to resolve her own shifting memories and fearful she will be forever bound to the woman whose presence still haunts her, Kate finds herself buried under layers of deception with no one to set her free."
No matter how many times you guess the ending, you'll never hit the nail on the head.
Read more: The French Girl by Lexie Elliott – book review
The Hellion – Harriet Young
The Hellion is a fictionalised but well-researched adaptation of the Pendle Witch Trials on 1612, brought to life by Cheshire author Harriet Young.
The Hellion is packed with emotion, betrayal and drama – particularly for young Alizon Device, who feels conflicted about witchcraft, and finds her family life difficult. Following a heated run in with a pedlar, she finds herself and her family implicated in a web of witchcraft accusations – her nine-year-old sister the key witness to the trial.
The blurb reads: "Whalley, 1537: On a day like any other, a devastating fire changes the lives of two young girls. What happens next triggers a series of events leading inexplicably to the cells of Lancaster Gaol.
"Lancashire, 1612: The most notorious witchcraft trials in England are taking place. Among the accused, three generations of the same family. A family rooted in Pendle, tied to the infamous Malkin Towers and always followed by a whisper of evil. A family destroyed by the evidence given by a nine year old girl."
The eerie novel beautifully brings identity and voices to the accused, and raises awareness of the horrific event which saw 10 of the 12 accused hung.
Read more: The Hellion – Harriet Young book review
The Thursday Murder Club – Richard Osman
The only way I can describe The Thursday Murder Club is Ricky Gervais' Derek meets How To Get Away With Murder.
In the debut novel by TV presenter Richard Osman, four pensioners in a peaceful retirement village remind us all that the elderly have been around a lot longer than us – they're intelligent, crafty, and not afraid to get a job done.
The blurb reads: "In a peaceful retirement village, four unlikely friends meet up once a week to investigate unsolved murders. But when a brutal killing takes place on their very doorstep, the Thursday Murder Club find themselves in the middle of their first live case.
"Elizabeth, Joyce, Ibrahim and Ron might be pushing eighty but they still have a few tricks up their sleeves. Can our unorthodox but brilliant gang catch the killer before it's too late?"
Comedic, full of excitement and adventure – despite being a very English murder mystery, it's incredibly heartfelt as you grow attached to the characters as if they were your own mischievous grandparents.
Read more: The Thursday Murder Club by Richard Osman – book review
The Switch – Beth O'Leary
As you can see, I'd found myself reading quite a lot of crime thriller and horror books, and sometimes, you just need something a little bit lighthearted and witty to act as a palette cleaner – and The Switch is the perfect book to do that.
I loved The Flat Share – which sold over half a million copies – so had been really excited to check out Beth O'Leary's second novel.
The blurb reads: "Ordered to take a two-month sabbatical after blowing a big presentation at work, Leena escapes to her grandmother Eileen's house for some overdue rest. Newly single and about to turn eighty, Eileen would like a second chance at love. But her tiny Yorkshire village doesn't offer many eligible gentlemen… So Leena proposes a solution: a two-month swap. Eileen can live in London and look for love, and Leena will look after everything in rural Yorkshire.
"But with a rabble of unruly OAPs to contend with, as well as the annoyingly perfect – and distractingly handsome – local schoolteacher, Leena learns that switching lives isn't straightforward. Back in London, Eileen is a huge hit with her new neighbours, and with the online dating scene. But is her perfect match nearer to home than she first thought?"
The Switch is a book that does what it says on the tin – there's no plot twist, no big surprises and not too many secrets. But, it's a book that can hit pretty close to home. If you're looking for something to cheer you up and remind you of the good in life, then The Switch is the book for you.
Read more: The Switch – Beth O'Leary book review
The Midnight Library – Matt Haig
If you could live every version of your life, would you? Would you strive to find your happiest, most successful or most exciting life?
The Midnight Library, by mental health champion Matt Haig, is truly one of my favourite books having devoured it in a day in around four hours. There are few books that stick with me and that I think about frequently: My Sister's Keeper was the first book to make me cry, Blood Orange was the biggest plot twist I'd ever read, and Daisy Jones and The Six for blurring the line between reality and fiction. The Midnight Library just made it onto the list of books I'll never forget.
The blurb reads: "Nora's life has been going from bad to worse. Then at the stroke of midnight on her last day on earth she finds herself transported to a library. There she is given the chance to undo her regrets and try out each of the other lives she might have lived. Which raises the ultimate question: with infinite choices, what is the best way to live?"
This reassuring and comforting book is such a life-affirming read, and beautifully explores the topic of depression in a way I've never seen tackled before.
Read more: The Midnight Library by Matt Haig – book review
Small Pleasures – Clare Chambers
The notion of someone calling the office and claiming a virgin birth really isn't that far fetched when you work in local news, and so, I was excited to see how this novel panned out.
The blurb reads: "1957, the suburbs of South East London. Jean Swinney is a journalist on a local paper, trapped in a life of duty and disappointment from which there is no likelihood of escape.
"When a young woman, Gretchen Tilbury, contacts the paper to claim that her daughter is the result of a virgin birth, it is down to Jean to discover whether she is a miracle or a fraud.
"As the investigation turns her quiet life inside out, Jean is suddenly given an unexpected chance at friendship, love and – possibly – happiness. But there will, inevitably, be a price to pay."
Small Pleasures sees intricate character studies with the slightest of words or actions hinting at the inevitable affairs that ensue as the novel wears on. Whilst each chapter begs the question 'was it a miracle or not?', you find yourself far more invested in the characters rather than the article.
Small Pleasures is a maturely written, heartbreaking story of love, loneliness, betrayal and loss. It's very different to books I'd typically pick, but I'm certainly glad the cover caught my eye.
Read more: Small Pleasures by Clare Chambers – book review
The Glass House – Eve Chase
Eve understands the secrets lurking in the walls of domestic worlds, and leaks them into the pages of her novels, in an 'if these walls could talk kind of way'.
The Glass House flits between past and present as Sylvie works to reveal the truth of what happened in the woods years earlier.
The blurb reads: "The truth can shatter everything . . . When the Harrington family discovers an abandoned baby deep in the woods, they decide to keep her a secret and raise her as their own.
"But within days a body is found in the grounds of their house and their perfect new family implodes.
"Years later, Sylvie, seeking answers to nagging questions about her life, is drawn into the wild beautiful woods where nothing is quite what it seems.
"Will she unearth the truth? And dare she reveal it?"
A murder, an abandoned baby, child loss, affairs, teen pregnancies and a whole forest of family trees – The Glass House is dark and twisting, exploring grief, the lengths people will go to for the ones they love, and the importance of self-identity and heritage, whilst reminding us just how small the world can be.
Read more: The Glass House – Eve Chase – book review
Such A Fun Age by Kiley Reid
Such a Fun Age tackles the emotive topics of race, privilege, and class – and its easy to see why it's been so highly acclaimed.
The book, written by Kiley Reid, was the fiction book of the month for Waterstones in 2021, was longlisted for the Booker Prize 2020, and shortlisted for the British Book Awards debut book of the year 2021.
The blurb reads: "When Emira is apprehended at a supermarket for 'kidnapping' the white child she's actually babysitting, it sets off an explosive chain of events. Her employer Alix, a feminist blogger with the best of intentions, resolves to make things right.
"But Emira herself is aimless, broke and wary of Alix's desire to help. When a surprising connection emerges between the two women, it sends them on a crash course that will upend everything they think they know – about themselves, each other, and the messy dynamics of privilege."
This is such a big-hearted and informative story, exploring the fetishisation of black women and culture, virtue signalling and microaggressions, spotlighting class division. It tackles tropes of the 'white saviour', as well as looking at anxiety and emotional labour. Equally, it explores the tribulations of a woman in her 20s just trying to navigate life and earn a living wage – or risk losing her health insurance.
Read more: Such A Fun Age by Kiley Reid -; book review
Ghosts – Dolly Alderton
Dolly Alderton's Ghosts is a relatable read about romance and dating in a digital era whilst navigating your 30s. As the title suggests, its centered around dating apps and the cruel notion of 'ghosting'.
The blurb reads: "Nina Dean has arrived at her early thirties as a successful food writer with loving friends and family, plus a new home and neighbourhood. When she meets Max, a beguiling romantic hero who tells her on date one that he's going to marry her, it feels like all is going to plan.
"A new relationship couldn't have come at a better time – her thirties have not been the liberating, uncomplicated experience she was sold. Everywhere she turns, she is reminded of time passing and opportunities dwindling. Friendships are fading, ex-boyfriends are moving on and, worse, everyone's moving to the suburbs. There's no solace to be found in her family, with a mum who's caught in a baffling mid-life makeover and a beloved dad who is vanishing in slow-motion into dementia.
"Dolly Alderton's debut novel is funny and tender, filled with whip-smart observations about relationships, family, memory, and how we live now."
Ghosts is a modern and relatable rom-com with addictive prose and mature wit. It found itself as a light and easy rom-com read that explored the trials and tribulations of navigating your 30s in the modern world of dating apps and the internet. It felt relatable and honest, was well written and a thoroughly enjoyable reminder to curate your own happiness.
Read more: Ghosts by Dolly Alderton – book review
The Love Square – Laura Jane Williams
Having read her debut novel Our Stop, and her non-fiction Ice Cream for Breakfast, I was pretty excited to get my hands on The Love Square as Laura continues to solidify her place on my list of favourite writers.
The Love Square was the epitome of a comfort read, much like Our Stop, which explores a modern love story with a number of obstacles*.
*Read: Boys.
The blurb reads: "Penny Bridge has always been unlucky in love. But a change in circumstances sees her stepping into a new life in a new town, where the last thing she expects is to meet a remarkable man. Followed by another. And then another… And all of them want to date her.
"Penny has to choose between three. But will any of them be The One?"
Within the complicated rom-com, which is more emotional than it is funny, Laura Jane Williams has seamlessly incorporated diverse and inclusive characters, in terms of race, sexuality and identity. The story is packed with drama, the odd giggle and passion, but also explores deeper social messages, such as the after-effects of cancer, including infertility and fatigue, and went on to handle the subject of IVF and surrogacy with delicacy and honesty.
Read more: The Love Square – Laura Jane Williams book review
The Authenticity Project – Clare Pooley
The Authenticity project centres around six strangers who become connected by this green exercise book into which each of them have stumbled upon and poured their life story into.
The blurb reads: "Julian Jessop is tired of hiding the deep loneliness he feels. So he begins The Authenticity Project – a small green notebook containing the truth about his life.
"Leaving the notebook on a table in his friendly neighbourhood café, Julian never expects Monica, the owner, to track him down after finding it. Or that she'll be inspired to write down her own story.
"Little do they realize that such small acts of honesty hold the power to impact all those who discover the notebook and change their lives completely."
The book intelligently interlinks these stranger's stories, and it's truly wonderful to watch their relationships blossom. The story also challenges the reader to look inward at your own authenticity, and reminds us that not everything is as it seems both in life and online, in turn, reminding us to be kind and non-judgemental.
You simply don't know what someone else is going through, or what their experience has been – only what they tell us – and our impact on others can be far greater than we imagine.
Read more: The Authenticity Project by Clare Pooley – book review
Tales from the Cafe: Before the Coffee Gets Cold – Toshikazu Kawaguchi
If you could go back, who would you want to meet?
This is the question asked on the very first page of Tales from the Cafe: Before the Coffee Gets Cold by Toshikazu Kawaguchi.
Originally written in Japanese as a play, and translated by Geoffrey Trousselot into English, Before The Coffee Gets Cold is about Cafe Funiculi Funicula and the legend that customers can travel back in time. In the clockless, windowless cafe where time appears to stand still, those seeking to return to the past must follow several rules that cannot be broken – including returning from the past before the coffee gets cold.
Life-affirming, compelling and comforting, Tales From The Cafe offers closure on all the questions you asked about Before The Coffee Gets Cold, and invites the reader to ponder what they might have done differently if offered the opportunity to go back and change something.
Read more: Tales from the Cafe: Before the Coffee Gets Cold by Toshikazu Kawaguchi