It's been six whole months since Jake and I jetted off on a city break to New York.
When this beautifully designed Papergang subscription box came through my door, the memories came flooding back.
I bagged this box with a little discount, as the first box was on offer for £5 with free delivery. How could I say no to great quality stationery at a bargain price. You can sign up with my referral code here.
Papergang is the subscription box ran by Ohh Deer, and cares about sustainability and quality. Their ethos is as awesome as their creations.
This month's box was designed by Jacqueline Colley, who takes inspiration from her trips abroad. As I mentioned previously, the August box was New York themed, with popular culture references like Godzilla and King Kong.
For every four subscription boxes Ohh Deer sell, they plant a tree to give back to the community, but also try to do other things sustainably too.
For example, this A4ish desk pad has been printed with new generation eco toners or vegetable oil based inks. It features space for to do lists, weekend plans, notes and doodles. It's not quite A4, so big enough to write everything down on, but doesn't take up too much space on the desk.
The A5 fine art print was my favourite item in the subscription box, as I am currently building a pink-themed poster wall, which it will fit nicely in with. It will also serve as a reminder of my time in New York, which makes me smile every time I look at it!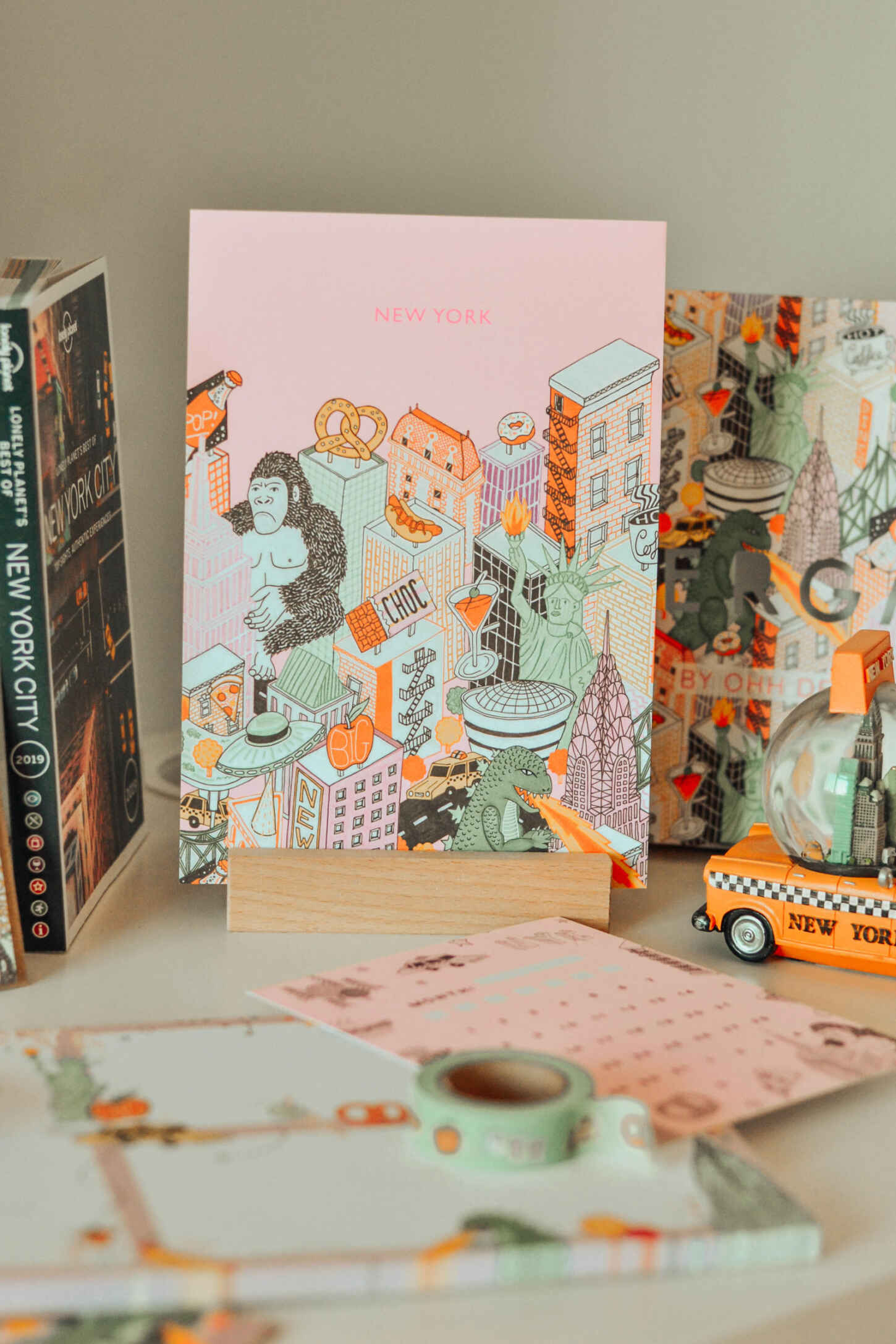 In the same quirky illustration, Jacqueline has designed some gift wrap, made in a factory where 95% of waste is recycled. This could be used as a blog backdrop, flatlay accessory, or be framed to create a matching print. Or you know, you could use it as gift wrap…
To match the gift wrap, there is a little greetings card with big pink writing saying Hit The Town. Again, this could be placed in an A6 frame to hand with the rest of the prints. It's too pretty to let go of! It's printed on FSC (Forest Stewardship Council) certified paper, which means it has been harvested responsibly.
Ever since I have been back from New York, I have raved about one delicious street corner treat. The iconic pretzel. The chewy, salty dough is unlike no other and I am yet to find one in the UK that satisfies my New York craving. I laughed a little when I saw this pin, because I really do bang on about these pretzels a lot.
On a pretty pink card I also received a month calendar. This was left blank for me to fill in the months and days but is a super cute way to keep track of the month – hasn't August flown by?
I love to use washi tape in my diary, and this New York washi is adorable. Pretzels, pizzas, hot dogs and yellow cabs are the visual embodiment of The Big Apple, and I am going to use it every time I have a food themed date in the diary!
Fancy having a Papergang subscription in your life? Sign up here.