We are just DAYS away from opening the first doors of our beauty advent calendars, marking the start of the Christmas countdown with some stunning beauty, skin and bodycare products.
Recent years has seen many shoppers ditching traditional chocolate advent calendars in favour of something a little more exciting. Promising hundreds of pounds worth of products, typically for a fraction of the price, they're an indulgent addition to your morning routine throughout December.
And while they're very much a luxury item, they offer the perfect opportunity to discover high-end beauty brands at a more affordable price point, saving money on stocking up your cosmetics bag or spreading the cost of Christmas by gifting products to friends and family.
I definitely recommend that when choosing your beauty advent calendar, to take a good look at the product list and see which ones you'll use the most of. There's no point spending £40 on an advent calendar you'll only like five products in, when you could spend £55 and use every single one. Work out which one is best for you, as well as the value for money in terms of cost vs contents value. One calendar in this list sees a whopping £290 worth of products priced at just £35, which is an unbeatable beauty offer, really.
So, here are my top beauty advent calendars for 2022 that are the perfect way to discover new products, enjoy old favourites, and count down to Christmas with a little indulgence.
M&S
The M&S calendar offers a carefully curated edit of 25 products, including everything you need to look and feel your best this Christmas. The estimated value of the contents is around £300, meaning shoppers can save roughly £260 on the beauty haul, which includes brands like Clinique, REN, L'Occitane and Shay & Blue. There is a slight catch though. In order to get the M&S beauty advent calendar for the discounted price of £40, shoppers will need to spend more than £30 on clothing, home or beauty.
It's a total investment of £70 – but £30 worth of that could make a dent in your Christmas shopping, stock up on winter warmers, or use it as another excuse to treat yourself to those chunky boots or on-trend knit. Personally, I did some Christmas shopping and ticked some essential gifts off my to-buy list.
Designed with reusability and affordability at the heart, this year's Beauty Advent Calendar features a pink and gold chest design, ideal for storing all your favourite beauty products well after December. The lid lifts to reveal half of the boxes disguising luxury beauty products and a full-size mirror, while the other half are concealed in a pull-out drawer.
The M&S beauty advent calendar contains a great variety of products this year, comprising nine skincare products, three bath and body, three makeup, two nail, two fragrance and six haircare products. Personal highlights for me include the Discover Warm Neroli Eau De Toilette 30ml, Clinique High Impact Mascara, L'Occitane Dry Skin Hand Cream and REN Radiance Brightening Dark Circle Eye Cream.
The M&S Beauty Advent Calendar has sold out online, but is available in-store now, but snap one up soon, because it's certain to be a sell-out. Check out my full review here.
River Island
The River Island beauty advent calendar 2022 provides nearly £300 worth of makeup and skincare products for around a tenth of the price after being reduced by more than 50 per cent ahead of December. Worth £290, the calendar was initially priced at £79, but has been reduced to £35 – which is a total steal considering some of the brands inside.
The beauty advent calendar comes in a beautiful pink and green box, which has been designed to be kept, reused or even filled back up with treats to be regifted. Inside, you'll find 24 boxes packed with cosmetics, skin and hair care products, including 18 full sized products, four travel sized products and two sample sized products to ensure you have the most pampered Christmas countdown.
The set includes some extremely popular names and viral products such as Spectrum, Eyeko and Revolution, with mascaras for flutter-worthy lashes and lipsticks for that perfect pout. The Shay and Blue Blood Orange 10ml perfume included is worth £25 alone, while the River Island Amber and Vanilla perfume is worth £16, which exceeds my investment in just two boxes, making everything else essentially free. With 22 more days left to uncover, so you can already see what great value for money it is at the newly reduced price.
Other products I'm really excited to try include the Bellapierre Cosmetics Pro Blush Quad Palette, IN YOUR DREAMS Cephus Stayr Face, Body and Hair Jewels and the MUDMASKY Vitamin-A Blue Clay Mask, as well as Cetaphil's much loved viral cleanser, and Revolution lip products.
The River Island calendar is now sold out – as expected – but take a look at the full list review and sneak peek at the products inside here.
Lush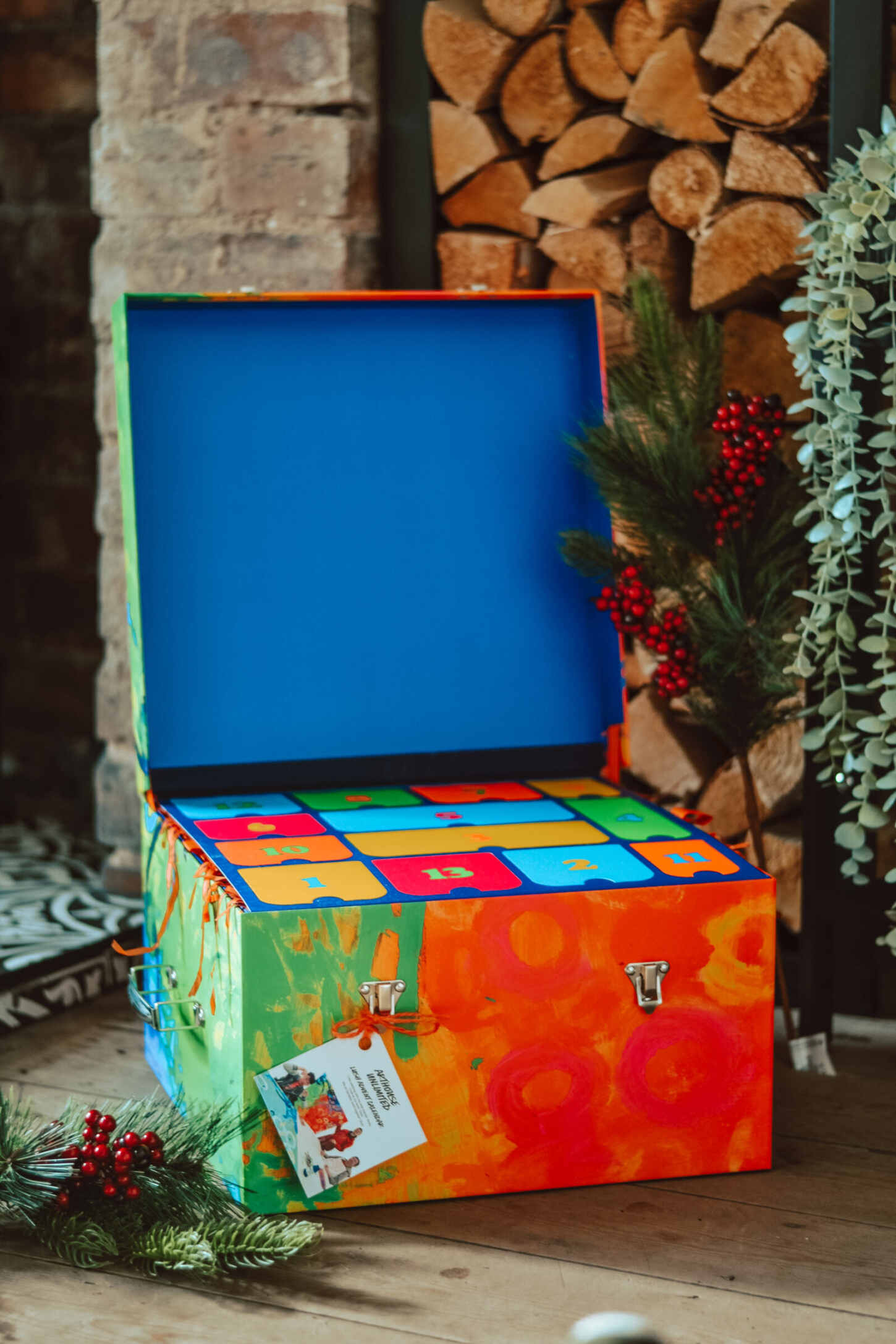 Lush's first 24-day calendar launched in 2019, and has proven popular both in store and online in the run up to December, but at £185 a pop, it's not exactly a budget beauty buy.
I have sat and done the maths and the products inside the box do total up to around that figure. Not only that, but it includes some retro products from Lush Christmas past and two products that are exclusively available in the Lush Advent Calendar. This means the calendar is your only chance to get your hands on these self-care Sunday saviours. It's also worth working out how much you'd spend across the year on bath and beauty products, and see if its worth the splurge. While some of the products are single-use, others can last several baths, meaning some of these could see you all the way through until next Christnas.
All of the products in the Lush Advent Calendar are vegan, and range from their iconic bath bombs – of which they sell around 14 million a year – as well as bubble bars, fragrance, skincare, soaps, shampoo and shower gels. Not forgetting those retro and gift exclusive goodies, of course. It also sees some new and returning fragrances, such as Hot Toddy and the extremely well-loved Snow Fairy. The cult fragrance has been a fan-fave for 16 years now, and to celebrate Lush have launched 16 products and gifts featuring the fragrance – some of which can be found in the calendar.
This winter, the Lush Advent Calendar 2022 comes in a limited edition box designed by ARTHOUSE Unlimited. It's Lush's seventh year working with the charity, which presents artistic talents of adults living with complex neuro-diverse and physical support needs. It's got two toggle latches that keep it secure, as well as two metal handles either side to make it easier to carry. The reusable gift box is made from recycled paper board and the ribbon is made from recycled plastic bottles, in keeping with Lush's sustainable ethos.
Get your hands on the Lush Advent Calendar for 2022 now before it sells out, and read more about it here:
LookFantastic
LookFantastic's 'Beauty Story' advent calendar completely sold out in 2021, and looks close to doing the same again this year. With a value of more than five times the retail price, it's easy to see why. The calendar comes in at £95 – or £80 for subscribers – with a total of more than £507 worth of products stashed inside, saving more than £400. The calendar has been reduced from £95 to £75, and you can use the code MEGA to bag it for around £66 at the moment, too.
The calendar – designed like a story book – has a seasonal black, gold and red design, with a red ribbon to secure it closed. Inside, you'll find 25 windows stuffed with 26 beauty products from brands such as Elemis, Drunk Elephant and Philip Kingsley, as well as some independent brands like Demi Candle and West Barn Co. Of that 26, there are 13 skin and body care products, four hair care products, seven cosmetics and two fragrance items, which makes for a pretty great mix of pamper products.
The star of the show is the PMD Clean Mini, is worth a whopping £59 on its own, while the Avant Velvet Perfecting Rose Sugar Scrub is worth £58, which I'm sure will be very indulgent. My personal favourites include the Elemis Pro Collagen Cleansing Balm, worth £9.50, which I'm running out of so this couldn't have come at a better time, and the Philip Kingsley Elasticizer Booster, which I've also tried in the past.
The LookFantastic Advent Calendar is an indulgent and luxurious beauty Christmas countdown perfect for discovering new brands and old favourites. Pamper products can prove expensive, but this is a great way to grab everything you need for a Sunday self-care session for under £100 – for over £500 worth of goodies. You can shop the calendar online here.
Revolution
Designed to set you up with 25 days of 'ultimate glam', the Makeup Revolution You Are The Revolution 25 Day Advent Calendar 2022 is one of the few beauty calendars to have a whole 25 doors to open – and it's recently been reduced, too.
Worth £94, the calendar was originally retailing at less than half of the price at £45, but a last minute deal has seen it reduced to just £32, making it the cheapest calendar on this list. I'd consider it perfect for teenagers, offering wearable, affordable beauty at a pocket-money friendly price – but with River Island's new £35 offer for £290 worth of makeup, that's by far the best value for money on the list for an extra couple of quid.
The packaging is a rose gold cardboard design containing 25 boxes concealing a selection of lip glosses, highlighters, eyeliners, accessories and all new exclusive products from Revolution. The most expensive products in the calendar are valued at around £5, while others are between £1 and £4, which means if you fall in love with one of the products, they won't cost a fortune to repurchase in the future, either. And don't forget, a number of Revolution products have often been dubbed 'dupes' for much more expensive brands.
The Revolution You Are The Revolution 25 Day Advent Calendar 2022 is a fantastic beauty advent calendar for those who want in on the trend without spending a fortune. You can pick it up online here.
Glossybox
Filled with 28 beauty products behind 25 doors, Glossybox's Freeze the Moment calendar offers the most products, with three dual doors to discover. Brimming with 14 full size and 14 deluxe minis, brands include best sellers like Glossier, Milk Makeup, 111Skin and Refy.
The calendar features a pretty frosted marble design with a magnetic closure, and could easily be reused as beauty or skincare storage after the festive season is through. Containing products inside that come to a value of £443, the Freeze The Moment advent calendar costs £99, however, various discount codes over the past two weeks have seen it priced as low as £42.50 for 'Singles Day', though that promotion has since finished. You can bag it for £60 with the code ADVENT60, or get it 60p cheaper at £59.40 with the code GLOSSY40 – offering 40 per cent off. Glossybox subscribes also get extra discounts, so if you've been thinking of signing up, now might be the best time.
Some of the products inside this calendar are already firm favourites in my makeup bag, including the Glossier Cloud Paint and Balm Dotcom – worth £27 together. There's alsothe MILK Makeup Rise Mascara which I love, but can never justify buying a full size of, as well as a REFY brow pencil I can't wait to get my hands on after falling in love with their lip sculpt. Meanwhile, the Magnitone XOXO Soft Touch Facial Cleansing Brush is worth £40, and since I already own one, it's saved me a pretty penny on a Christmas gift this year. Tis the season for sharing, after all.
The Glossybox advent calendar will be sure to add a touch of sparkle to your festive season this year, and costing under £100 for £443 worth of products, it's worth every penny. Just don't forget to add those discount codes for the best price.
Arran Sense of Scotland
For those looking for a 'scent-sational' (that was terrible, sorry) beauty advent calendar, the Arran Sense of Scotland offering is a wonderful choice. Packed to the brim with classic Arran fragrances and a selection of exclusive products, the advent calendar will provide a little indulgence during the Christmas countdown with 25 extra special treats to be discovered.
Featuring 25 treats, the calendar is the ultimate way to unwind as you count down the days to Christmas, and serves as a gentle self-care reminder. Proudly made in Scotland, the products include shower gels, shampoo, conditioner, miniature candles and creamy body lotions in signature fragrances inspired by nature, such as After the Rain, Glen Rosa, Seaweed & Sage and my favourite festive scent – Soft Cinnamon.
The navy blue calendar sees a snowy scene with rose gold detailing, and holds £140 worth of pamper products that are just perfect for cosying up with this time of year. Think Scottish Highlands with rain tapping windows, log fires crackling, tartan woollen blankets and the velvetiest hot chocolate. That's what this advent calendar feels like. Shoppers pay just £70 for this 25-day calendar, meaning half of the products inside are completely free – plus you don't pay a penny for delivery.
The Soft Cinnamon candle is a real winner for me, but the After the Rain Body Lotion is equally as dreamy. Each door reminds us to take five minutes for ourselves, and the variety of fragrances allows you to explore the brand at a fraction of the usual cost. The Arran Sense of Scotland beauty advent calendar can be purchased exclusively via their website here.