I was never a hat person until recently. I'd always thought I couldn't pull them off, being totally honest. I started simple with a beret, that I test-wore in Italy. I moved on to a slightly more brave bakerboy hat, with a little encouragement from Sparrowhawk. Then along came Brimstone.
Brimstone hats are for city people. They're for the gig-goers, whiskey-drinkers and leather-wearers. They're stylish and a little androgynous, with a bit of a Bowie vibe going on.
The woman behind the brim is Sophie Wood – actress, dancer and creator.
So, what sparked the idea of creating a line of hats?
'The idea came about because I was trying to find a pretty pork pie hat last year, but I just couldn't find one for women. They were all massive. I decided to buy a plain one and decorate it myself. There's a real gap in the market there so I thought I should sell them.'
'I really wanted a personal element as a USP (Unique Selling Proposition). Each hat has been designed with something in mind.'
They are all hand finished by Sophie at home, lovingly put together with studs, feathers and trims.
The stories behind the hats.
'When I lived in LA, there was a flea market on a Sunday morning at Fairfax High School and it's the wackiest maddest place ever.' Full of colour, the weird and the wonderful, the flea market has everything. 'It's just so boho and colourful!' The Fairfax flea market inspired the blue Fairfax fedora and pork pie hats, featuring a little bit of everything, from feathers, to buttons and lace. The main feature being a colourful peacock feather slotted between two vintage buttons.
Living in London, Sophie admired the style of the women in Marylebone, particularly on the high street. 'They just seem so effortless,' Sophie said. 'I saw one girl wearing really slouchy clothes, that I would have looked terrible in, and some trainers. The put on a hat a similar shape to the Marylebone and some big sunglasses and she just looked amazing.' The sleek black boater hat is detailed with velvet trim, studs and a green duck feather. It's already been seen worn by none other than Heather Baron Gracie from Pale Waves!
The Capulet
Sophie played Juliet in a dystopian, gothic version of Shakespeare's Romeo and Juliet. Because of this, the fedora is entirely black with a faux leather band, studs and a black ostrich feather, which in itself appears a little Shakespearian. 'The show was really important to me, so I really wanted to design something based on that role.'
The Maranello
The story behind this hat is an ode to a lady Sophie crossed paths with in Maranello. 'When I was in Maranello, there was a lady who was just so simply dressed in really clean cut clothes. We were in a factory and she asked if I wanted to go see the production line. She popped her coat on, then had this little silk scarf that she just tied around her neck and she just looked so cool!' The memorable moment inspired Sophie's Maranello hat, just super sleek and Italian with sharp edges and elegant silk. The scarf has been screen printed by local business 51-53 Entrepreneurs Network, who will also be involved in the production of additional accessories.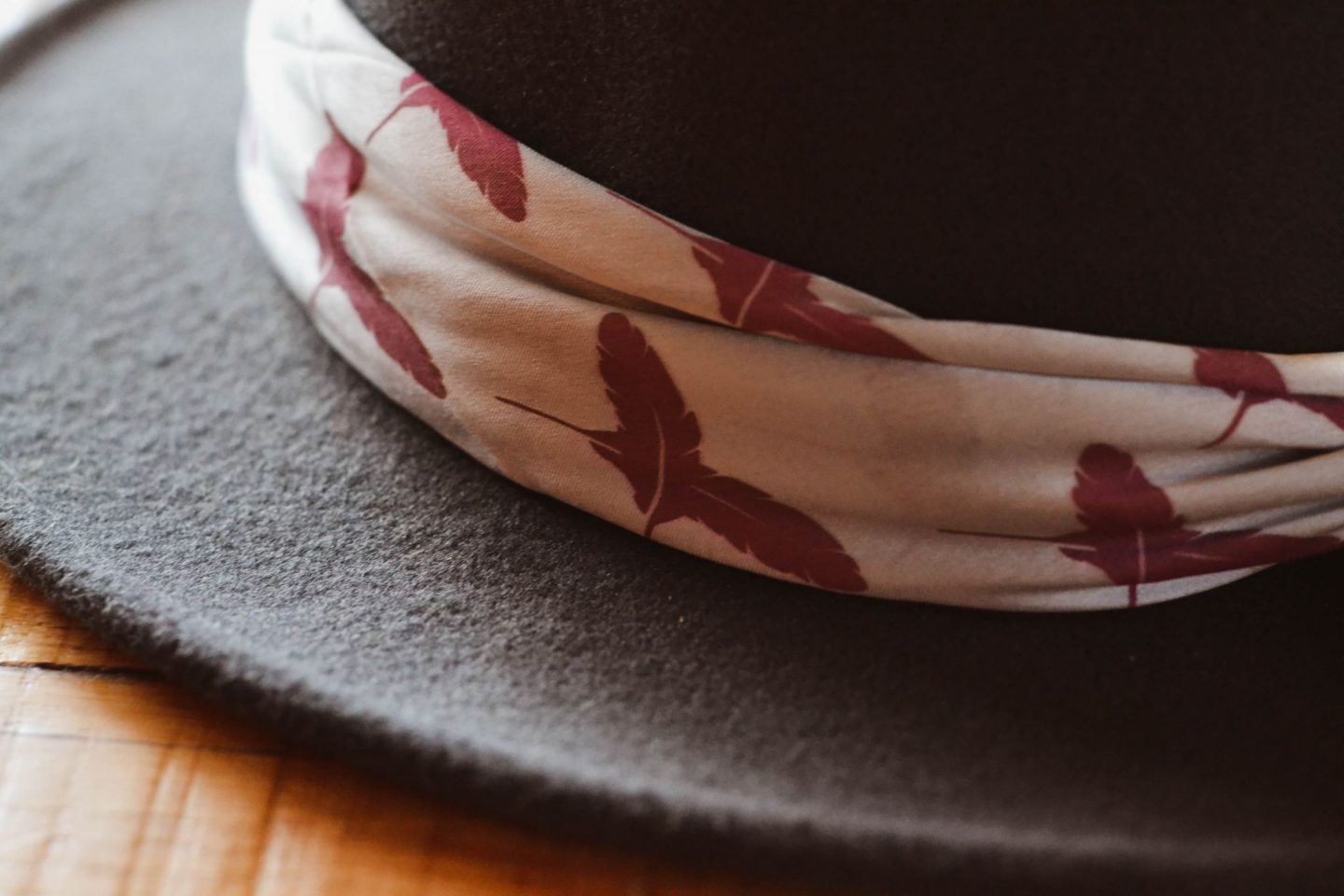 I had so much fun styling two of the Brimstone hats, 'The Marylebone' and 'The Fairfax'!
Here are the outfits:
The Marylebone Outfit 1
An ode to pretty city people. The Marylebone is sleek, stylish and can top off literally any outfit.
---
Outfit Details
Hat – Brimstone – The Marylebone
Shirt – New Look
Bodysuit – Topshop
Skirt – Newlook
Belt – Newlook
Boots – Miss Selfridge
Bag – Accessorize
---
The Marylebone Outfit 2
As I said before – it goes with literally anything. I'm certain that you could style this like the girl who inspired the design with slouchy joggers and big sunglasses and the Marylebone will just make you instantly 10x cooler.
---
Outfit details
Hat – Brimstone – The Marylebone
Dress – Boohoo
Boots – Miss Selfridge
---
The Fairfax Outfit 1
I chose to style the Fairfax fedora because I feel like it's the signature hat for Brimstone. It's the brightest, boldest and embodies the brand perfectly.
I love the bright blue design and how it's intricate detail reflects the story behind the hat is such a cool and unique way.
---
Outfit details
Hat – Brimstone – The Fairfax
Playsuit – Primark
Shoes – Converse
Bag – Nasty Gal
Watch – Adexe
---
The Fairfax Outfit 2
The outfit above is a pretty bright and summery one, but the Fairfax really suits a darker mood too.
This would totally be my go-to gig outfit – black skinny jeans and a leather jacket paired with a band tee and you can't really go wrong. The Fairfax really adds a pop of colour to an otherwise moody get-up.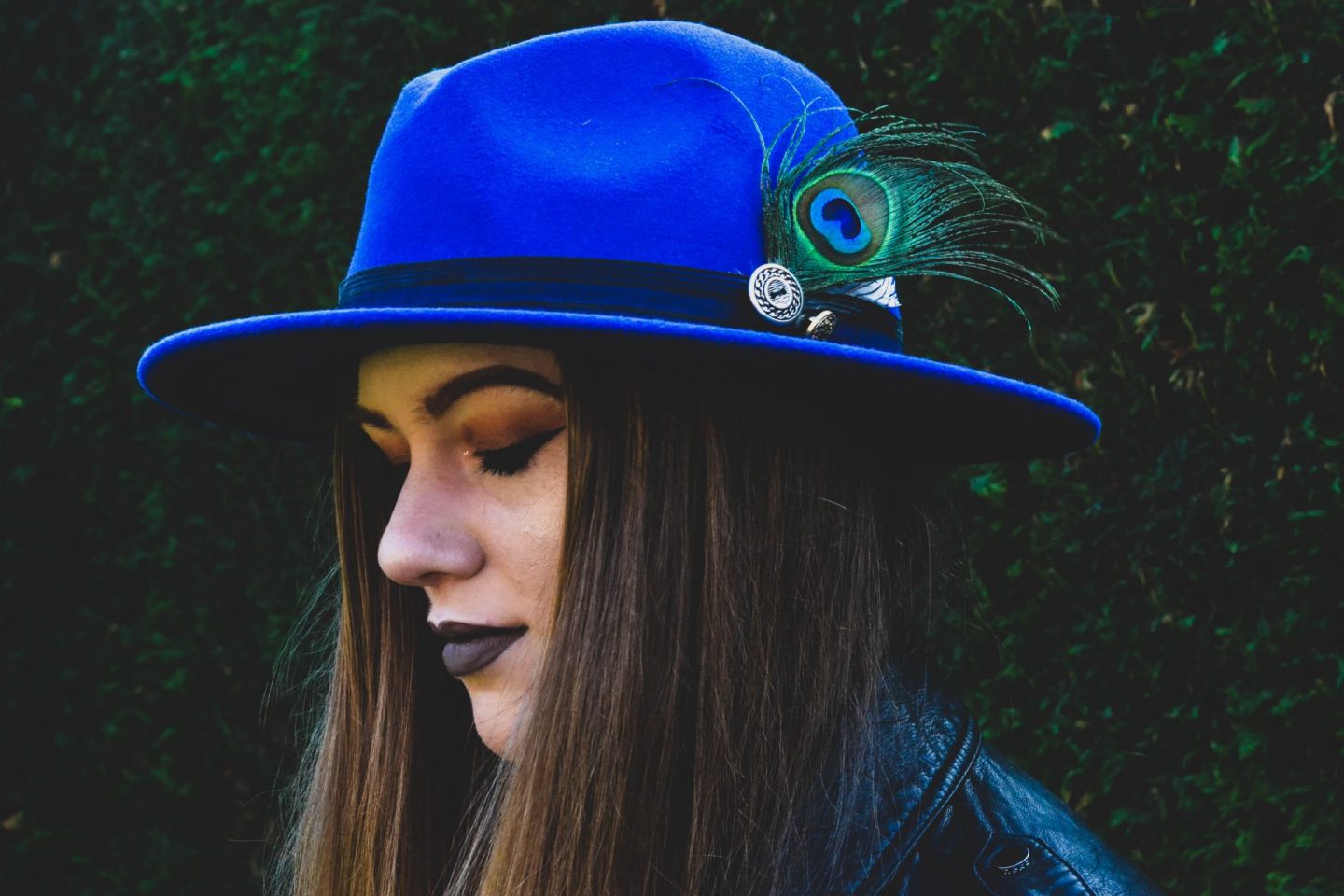 ---
Outfit Details
Hat – Brimstone – The Fairfax
Leather Jacket – Next
Bodysuit – Primark
Jeans – Asos
---
The dream, for Soph, is to eventually have her own boutique store filled with her beautiful and unique designs. She has some very exciting ideas that I'm sworn to secrecy on. You can head over to the Brimstone website and pre-order your fave now! They're the perfect graduation gift, or just go ahead and treat yo'self because honey, we all know you deserve it.